Miscellaneous Items and Impressive Booths from Takara Tomy Group Exhibition 2010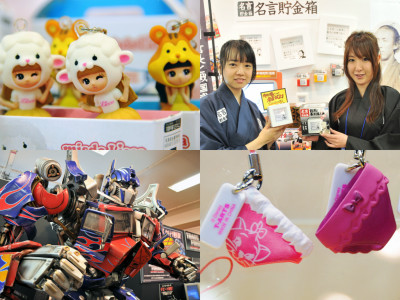 (This article was originally posted in Japanese at 02:04 Apr. 22, 2010.)

So this is the last post for our Takara Tomy Exhibition series. There are so many items ttoo trivial each for a whole post but too considerable not to mention. See all these relaxing, exciting, weird and fun goodies they brought to the site.

Read on for detail.

Optimus Prime has come to promote Transformer Animated Transformer Animated that started airing from this April in Japan.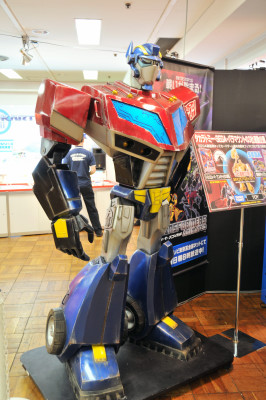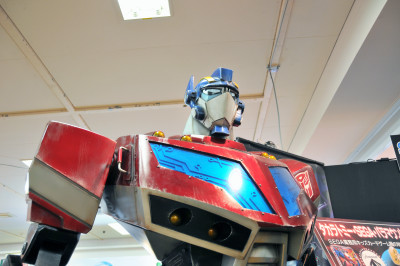 And another Optimus Prime from the motion picture.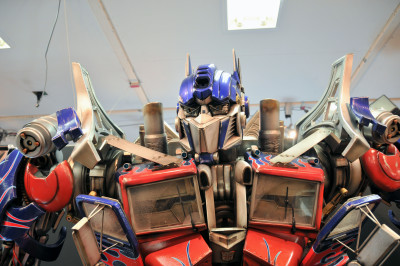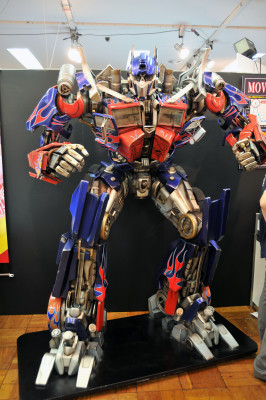 Quite hefty and robust.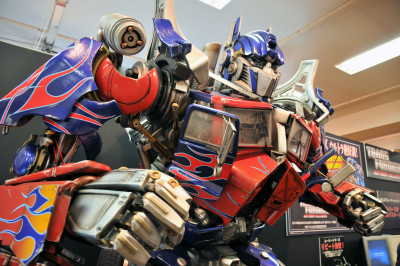 Meigen Chokin-Bako(Great Quotes Penny Bank), an electric piggy bank which shows you some quotes of historical figures.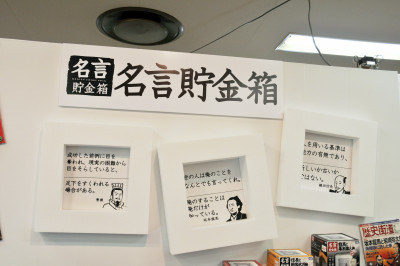 Three versions are sold; "Romance of the Three Kingdoms", "Ryoma Sakamoto and Greats in last days of the Tokugawa shogunate" and "Nobunaga Oda and Shoguns of Sengoku period"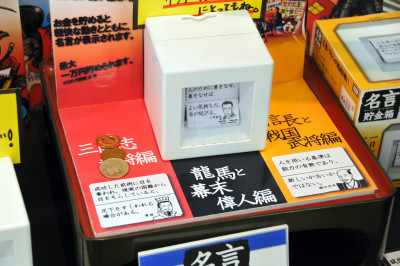 See its move in the video below.

YouTube - Takara Tomy's "Greats' Quote Penny Bank"


Famous history magazine Rekishi Gaido is to supervise these quotes.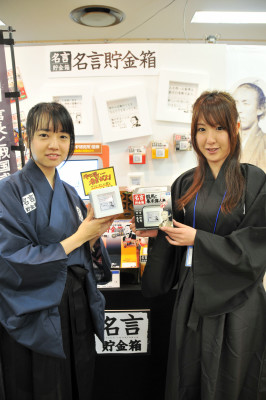 "Nohohon(mimetic word for being happy-go-lucky) Tribe"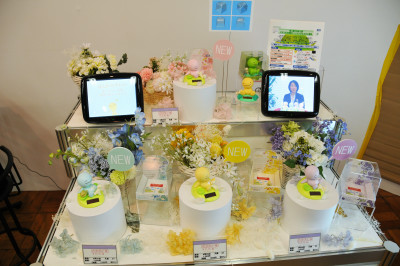 He relaxes you with his slowly waggling head.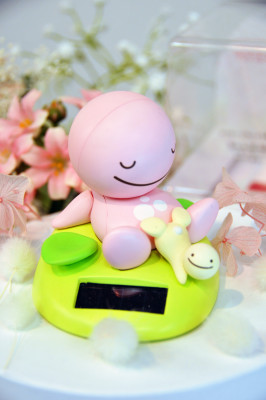 Just watch him in videos below.

YouTube - Nohohon Tribe Figure 1/2


This is the newer version of Nohohon Tribe. He shook his head back and forth to reproduce sleepiness more realistically.

YouTube - Nohohon Tribe Figure 2/2


Booth of "Pinquish" brand.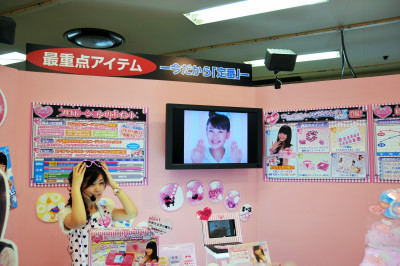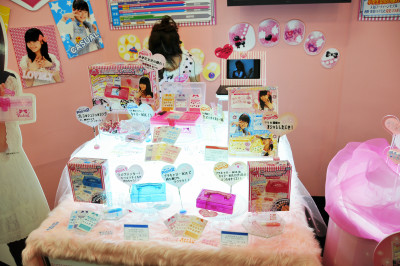 They hired Mami Nishino to promote it to low-teen girls.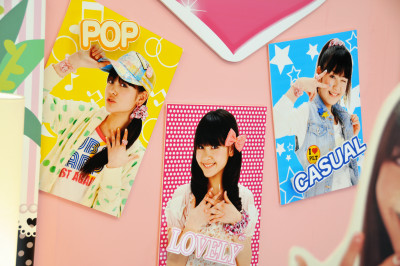 Disney Lingerie Key Chain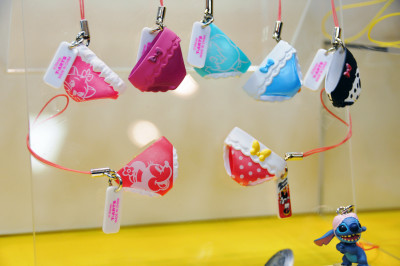 Adidas sneakers, collaborating with Star Wars.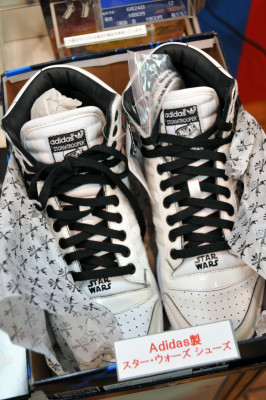 STAR WARS logo.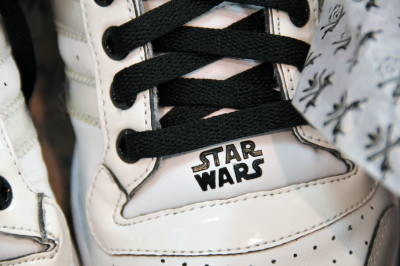 Even wrapping paper has some nice decoration of storm troopers.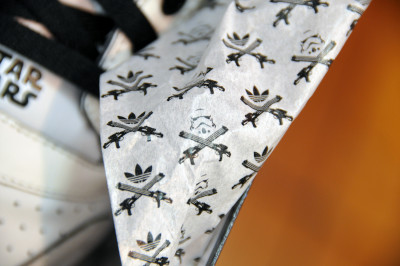 AT-AT plastic model. They also had it before, but this one is much more buffed up in decorations.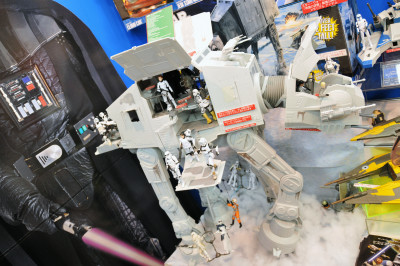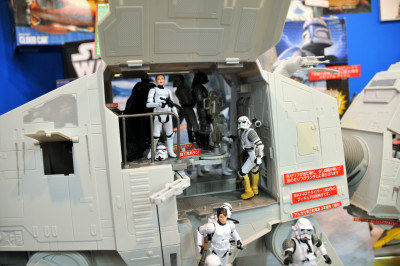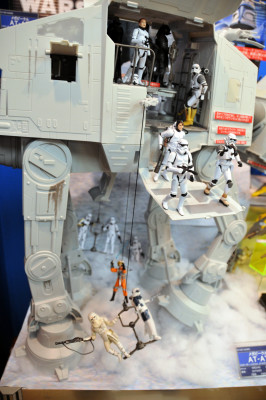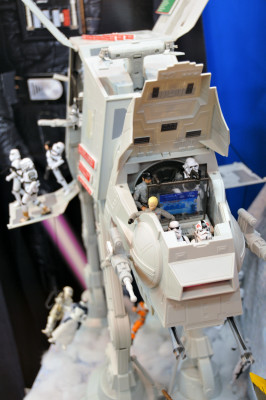 It speaks some lines from the movie. This is the list.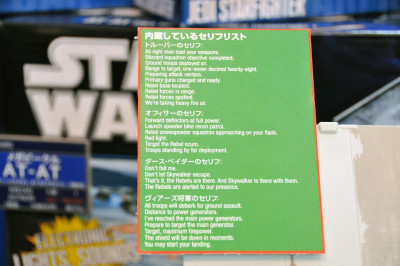 A toy of light saber General Grievous in the animation Star Wars Clone Wars, now airing in Japan.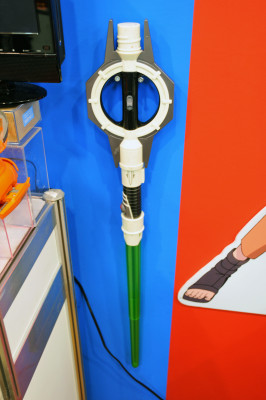 Exhibited here are specially customized model for advertisement campaign.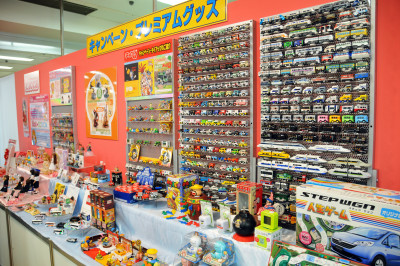 Choro-Q wind up cars themed on Yatterman and Pok émon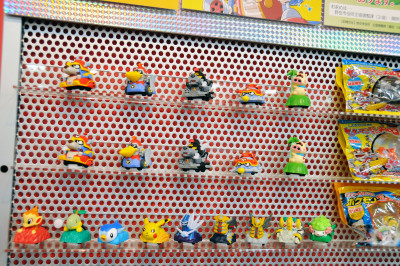 Figurines themed on Inglorious Bastards.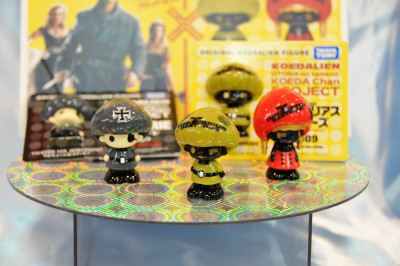 Goodies for Mister Donut's campaign.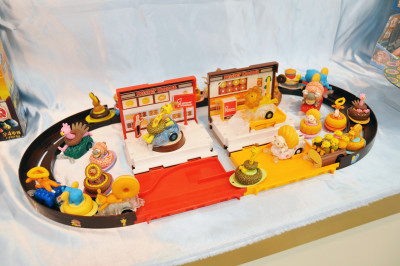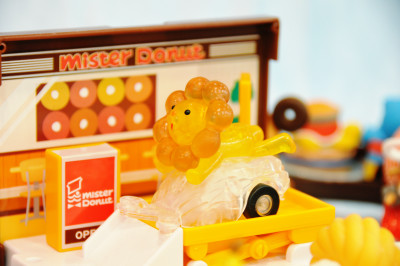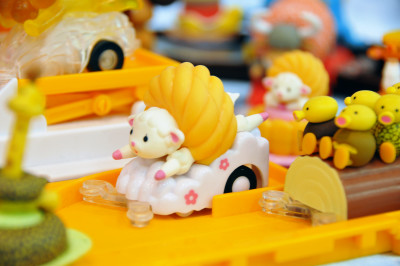 Licca chan dress-up doll in various school uniforms.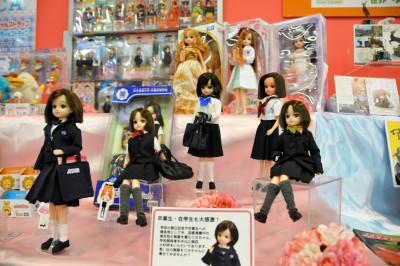 "There are matching Licca chan for every kids"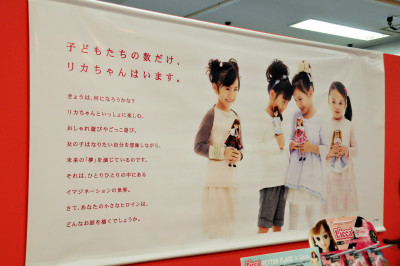 As they say, they accept orders for Licca chan in uniform of the specified school. You can get a Licca chan in the uniform you actually worn.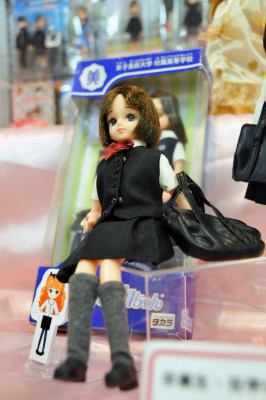 Sample Licca chan doll in uniforms.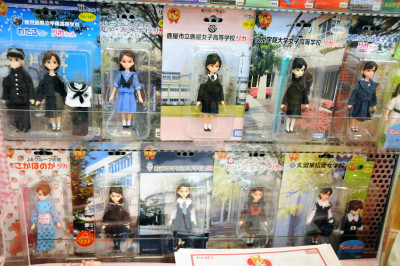 Kanoya Girls' Highschool in Kagoshima.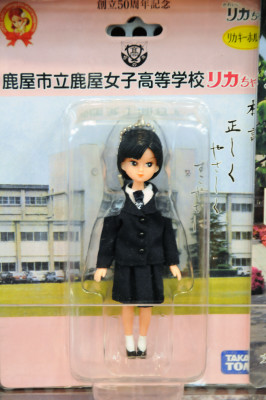 Kurume Shin-ai Girls' School in Fukuoka.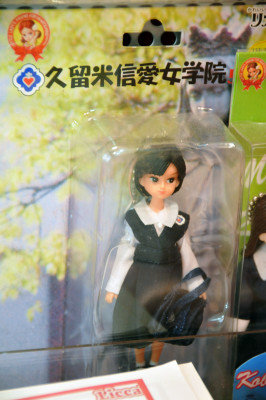 Goodies for tie-in ads.


We never thought there has been so many Licca-chan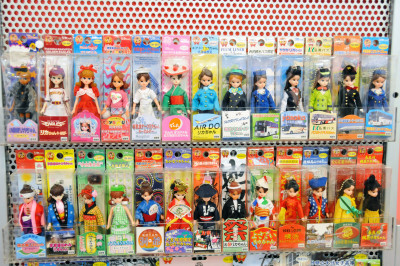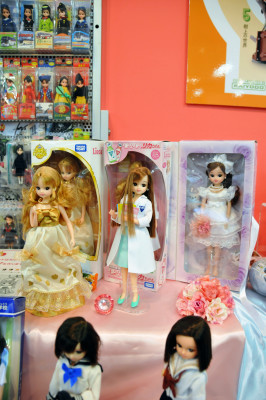 Guess what? They got Licca chan for mouthwash.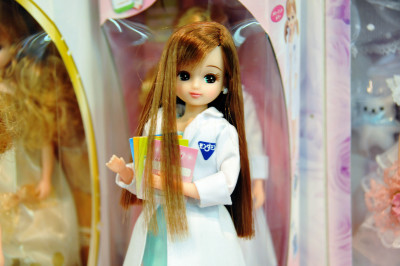 And so many other trivial goodies.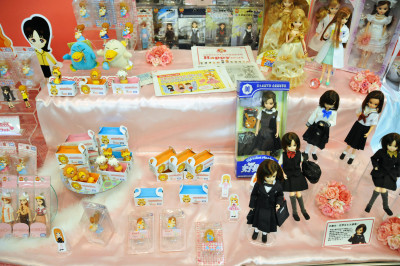 Licca chan in Mister Donut's uniform.


Liccha chan figurines themed on donuts and mascots.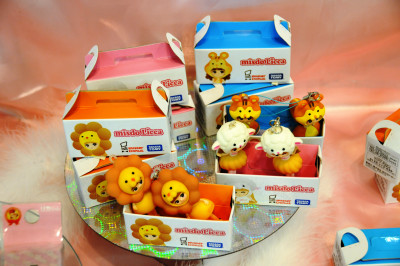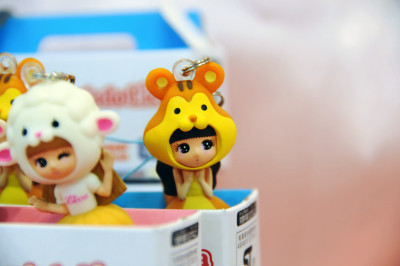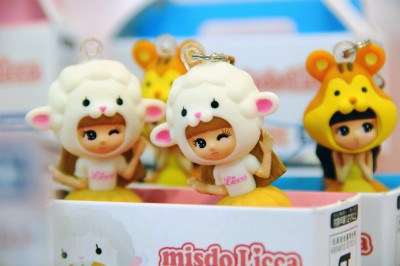 Licca chan in Pon De Lion(a mascot character of Mister Donuts) costume.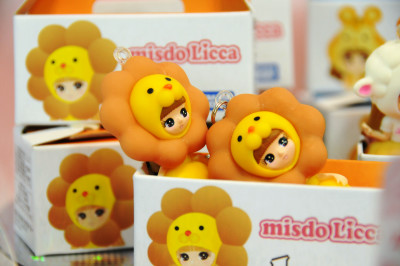 Licca chan and Ico-Chan collaboration(a mascot character for Japan Railway West's IC railway pass).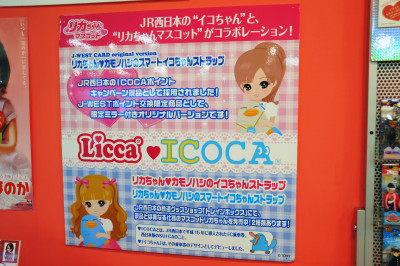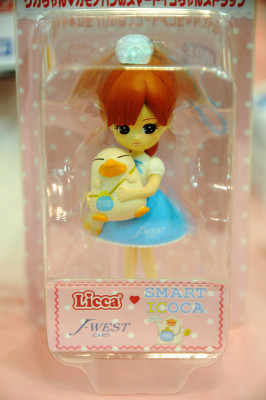 A sweet combination with Sagahonoka(one of a strawberry breed).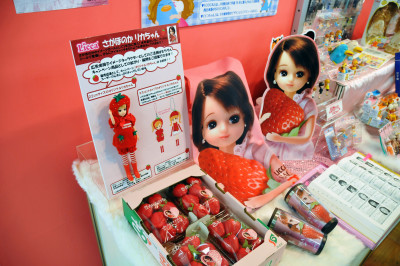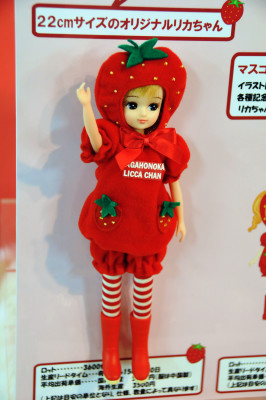 You can see her name in yearbook among other physical talents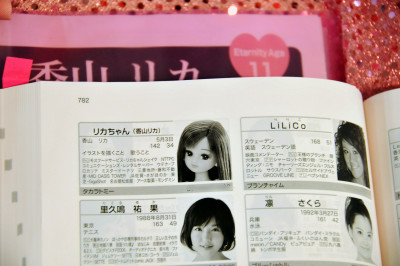 "40 years' Tomica Collection" is to be held in Osaka from Apr. 23-25, and Apr. 29-May 5.


Pla-rail Exhibition is to be held from Apr. 28 to May 5 in Ikebukuro, Tokyo.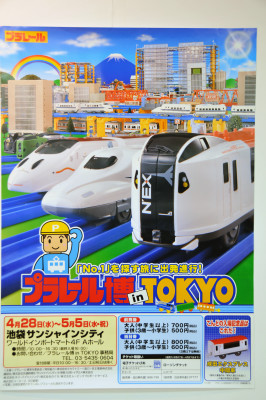 An animation movie Konchu Monogatari Mitsubachi Hutch -Yuki no Melody is to open from July 31.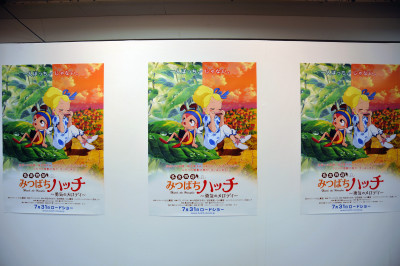 Related post:
Takara Tomy Business Exhibition 2010: Table Of Contents - GIGAZINE

Toys, Not Food: Ingenious Balloon Models of Vacuum Packed Foods - GIGAZINE

Takara's Jenny Doll Revamped as "Fashionista Jenny" - GIGAZINE

Cuddly Stuffed Toys and Figurines of New Poke'mons Zorua and Zoroark - GIGAZINE

Sepia-Tone Colored Model Car is Just Perfect for long-running Tomica's 40th Anniversary - GIGAZINE