Cast Members performed theme song "Love Love Minky Momo" from the Minky Momo Musical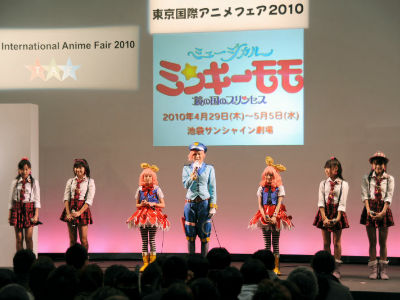 (This article was originally posted in Japanese at 12:06 Mar. 30, 2010.)

On coming April 29, musical "Minky Momo" premieres at Ikebukuro Sunshine theater. In Tokyo International Anime Fair 2010, actresses briefed about the musical and showed some songs, dances and new costumes worn in the play.

Read on for detail.

Magical Princess Minky Momo Official Web Page

Actresses lined up for the presentation.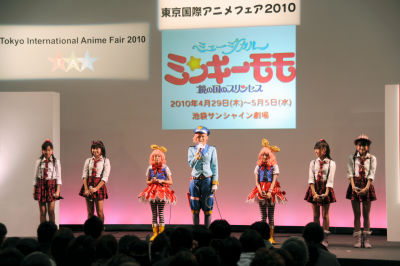 Asami Katsura as Momo(adult)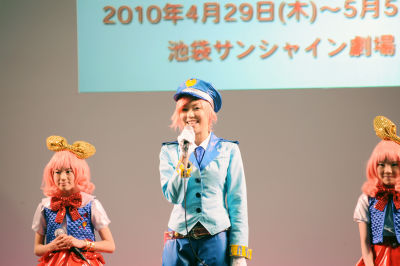 Anna Ichioka as Momo(child)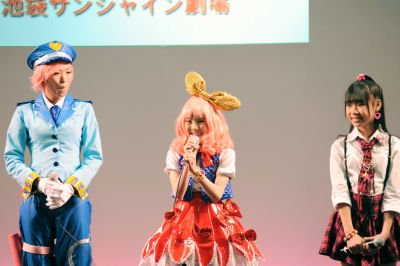 Miku Katsunuma as another Momo(child)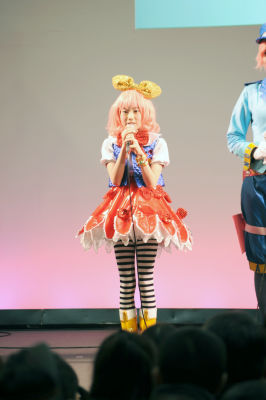 Greetings by Dream Minkys.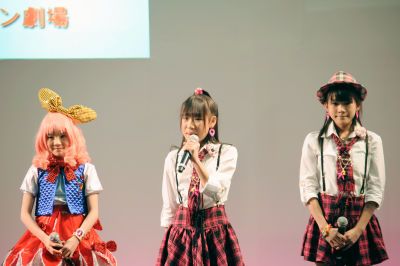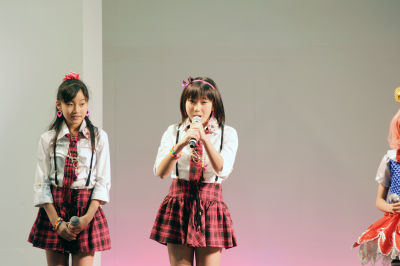 Sayaka Akimoto as the villain Nightmare.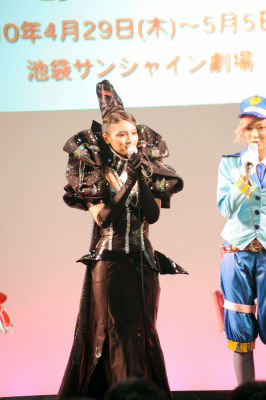 Other casts were introduced on a screen; Yoshiya Yukimura as Sketchbook(dog), Anna Hattori as Lubil(bird) and Takayo Oyama as Moncha(Monkey)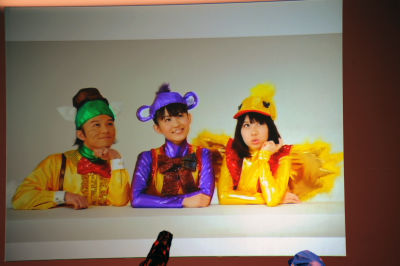 Shin Nawata as Momo's father, and Chisa Yokoyama as her mother.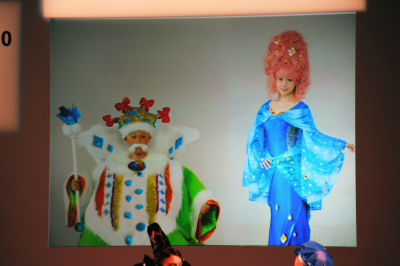 Katsura asked Akimoto how she feels in her costume. As a member of pop singer group AKB48, she often appears in a school uniform-like costume. So this gorgeous black dress gives us quite a strong impression.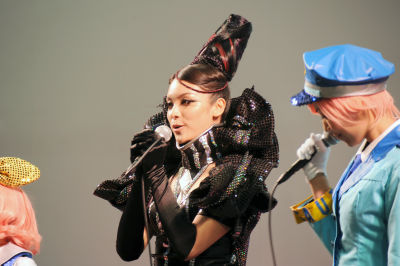 Anna Ichioka told how happy she was to be in the costume.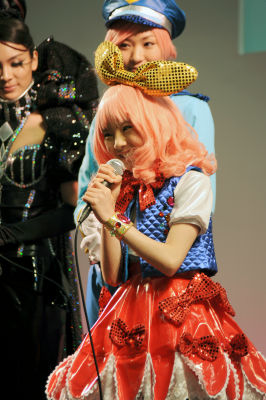 Miku Katsunuma told about her role "Like child Momo turning to matured Momo, I would like to turn into Momo from me, Miku katsunuma"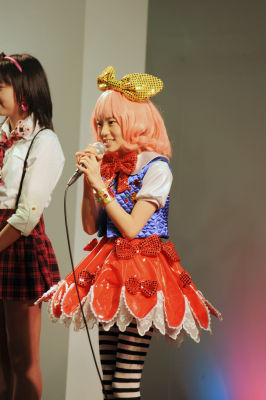 Katsura also told impression on her police costume.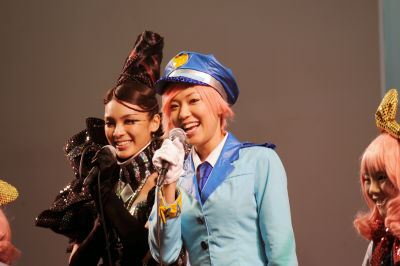 Dance and song show of "Love Love Minky Momo" by actresses. Two young Momos joined Dream Minkys' performance.
YouTube - "Love Love Minky Momo" On Stage


And while Akimoto was asking Ichioka "Do I scare you?"...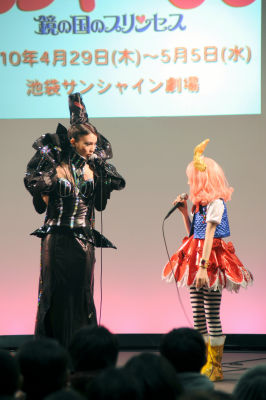 Katsura finished changing her costume and came on to the stage again.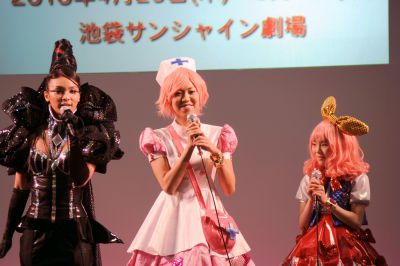 Dream Minkys told us about everyday practice.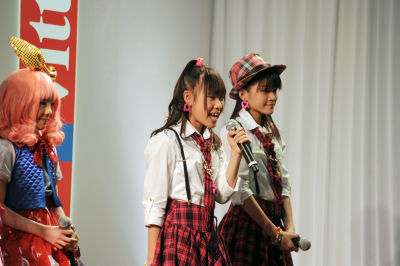 Since they were on their spring vacation, the practice was held from 11:00 to 20:00.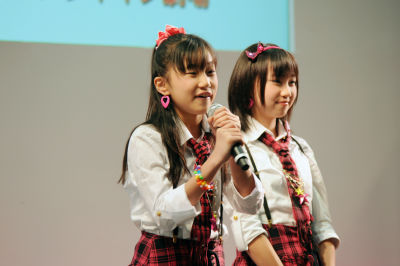 Ichioka concluded the show with determination to be a greatest heroine for children who come to the show.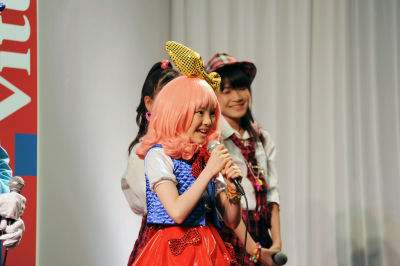 And the show finished at actresses' bow.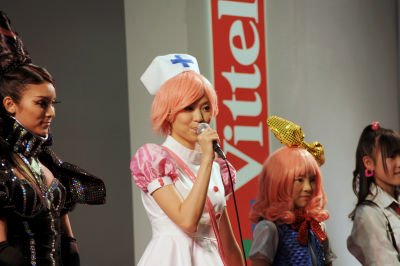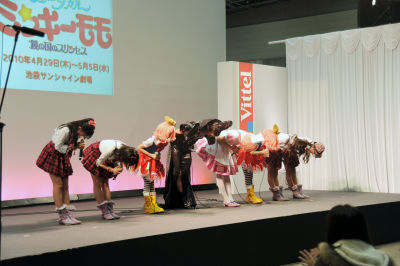 Related Post:
Tokyo International Anime Fair 2010: Table of Contents - GIGAZINE

Actresses in Cosplay announced "Magical Princess Minky Momo" musical at a conference - GIGAZINE

TAF 2009: New Project of MINKY MOMO kicking off for the 30th Anniversary, and a gigantic DANCOUGA - GIGAZINE

TAF 2009: MINKY MOMO Concert with original voice actress Mami Koyama and singer Manami Komori - GIGAZINE