"Ichirin-sha" directed by character designer Ushio Tazawa of "The Place Promised in Our Early Days"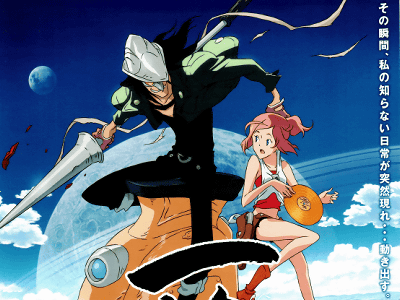 (This article was originally posted in Japanese at 10:40 Mar. 27, 2010)

Ushio Tazawa, character designer/chief animation director of the highly acclaimed anime film The Place Promised in Our Early Days(2004) written and directed by Makoto Shinkai, is to make his directorial debut.

Supported by Anime Innovation Tokyo, the feature-length film is to be called Ichirin-sha. It literally means Unicycle but the kanji "車"(sha: wheel) in "一輪車"(ichirinsha: unicycle) is replaced by another kanji "者" which also reads sha but stands for one(as in someone and everyone).

Read on for details and pics.
A flyer was distributed at TAF2010.


Set in a planet similar to Earth where rebellion of mechanical beings are threatening humankind, Sharin, the last existing "Ichirin-sha" travelling around the world on a worn-out motor-unicycle, meets a lone mysterious girl in an abandoned city.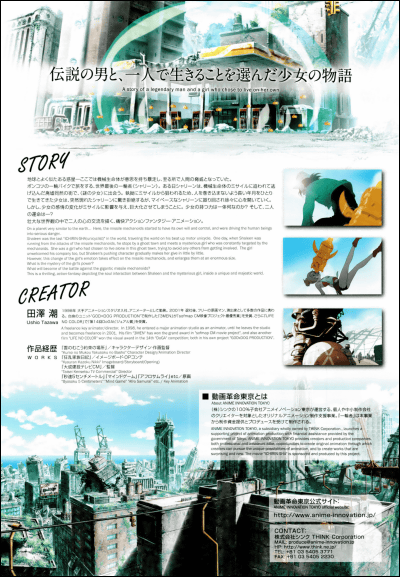 Categorised as a "piquant action fantasy", the anime will be produced by Nomad of Rozen Maiden and Kämpfer. The soundtrack will be composed by NARASAKI of Hanamaru Kindergarten and Paradise Kiss.

Related Posts:
List of New Anime: Spring 2010 - GIGAZINE

Makoto Shinkai now working on a new anime movie, with "5 Centimeters Per Second" staffs - GIGAZINE

Tokyo International Anime Fair 2010: Table of Contents - GIGAZINE
in Anime, Posted by darkhorse_log