The 3rd "Machi★Asobi" Tokushima Anime Festival to be held from May 2nd to 4th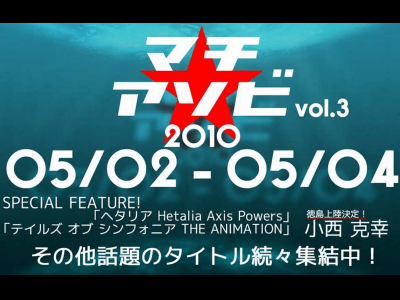 (This article was originally posted in Japanese at 23:00 Mar. 20, 2010.)

1st and 2nd Machi★Asobi, a group of anime related event held in Tokushima, achieved a successful outcome as a non Tokyo-based anime event. And for those who hadn't had a chance to visit the site, they are to hold the 3rd Machi Asobi in May, one of the most beautiful seasons in Japan.

Read on for detail.

MachiAsobi
http://www.machiasobi.com/

[Info] Machi★Asobi Vol.3 Scheduled! | Machiasobi

"Machi★Asobi" is a combined event held all over Tokushima city, including anime screenings, voice actors' open-air concert, ita-sha exhibition, aerial tramway with special announcements and all kinds of other events related to anime and Tokushima. Previous two Machi★Asobi ended in big success, gathering as many visitors as anime events in metropolitan area.

The 3rd Machi★Asobi is themed on Hetalia Axis Powers and Tales Of Symphonia THE ANIMATION. Katsuyuki Konishi dubbing Royd Irving in Tales of Symphonia is already scheduled to participate in the festival.

Related Post:
Review on the Hamburger Awarded the Tokushima Hamburger Prize - GIGAZINE

Local Tokusatsu Hero "Soryushin Mavel" Saved The Day! - GIGAZINE

Illustrations and Autographs of Manga Artists and Voice Actors at Machi★Asobi Anime Festival - GIGAZINE

The 2nd day of Tokushima Machi★Asobi Festival ended with unexpectedly many visitors - GIGAZINE

Shonen Jump's "JUMP SHOP" Hits Tokushima in Anime Fes "Machi★Asobi Vol.2" - GIGAZINE
in Anime, Posted by darkhorse_log