Toshiba to release Faster and "Ten Times Tougher" SSD by 2011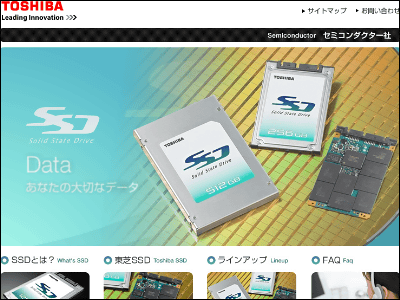 (This article was originally posted in Japanese at 12:13 Mar. 01, 2010.)

Toshiba, a leading company in flash dirives, is to release new SSD products which are "ten times faster and tougher" than existing products.

Read on for detail.

Big Volume Memory Media SSD Toshiba to release products for enterprise use by in 2011

According to a coverage by Nihon Keizai Shimbun, Toshiba is to release new big-capacity SSD with 1,000% durability and linkage feature with traditional HDDs.

The attempt is to pursue preceding Intel and Samsung. The new product to be put into the market will be constructed of new flash memory chip with new firmware, which enables faster data reading and writing.

Competition in SSD market is getting intense. Priorly, Sandisk started shipping of their new SSD SANDISK G3 for north America and Europe market. Intel and Micron Technology announced that they are now developing 25nm NAND flash memory for higher performance.

Toshiba competes with them not only by performance of their SSD products but also by fair rate of share in HDD market, especially in 2.5" products. Combining high-performance SSD and affordable HDD into a composite memory media will be a key for the company to survive in the market.

Related Post:
Photo Review on Sandisk's New "Extreme Pro" CF and "Memorystick Micro" - GIGAZINE

Chocolate Bar Silicone Sleeve for 2.5" Hard Drive - GIGAZINE

Poorman's SSD Do-It-Yourself kit CR-9000 - GIGAZINE