Capybara Craze! Abundance of Giant Rodent Stuffed Toys at AOU 2010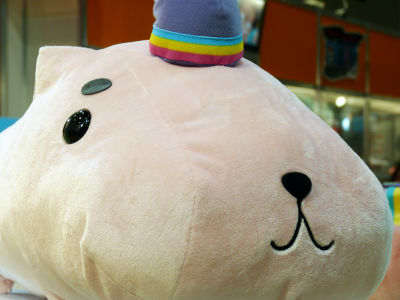 (This article was originally posted in Japanese at 14:24 Feb. 19, 2010)

Capybara is the largest species of rodent in the world. Closely related to the guinea pig, they look like giant hamsters. Lately they's becoming more and more popular in Japan for some reason, and this might be a global trend (some people are lucky enough to keep them as pets).

Five years ago, capybara was turned into a yuru-chara named "Kapibarasan". A bunch of Kapibarasan products were on display at the "Prize Show" showcasing new toys and novelty items for prizes at the arcades, held at a site adjacent to AOU 2010 Amusement Expo.

Fluffy goodness after the cut!
(Japanese)New Character "Iwai-san" ::Kapibarasan Blog

Kapibarasan was the main feature at Banpresto's booth.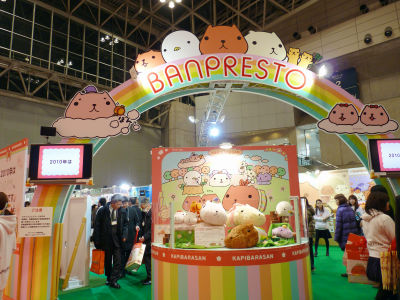 New character "Iwai-san"(lit. Mr. Celebration) joined the capybara family to celebrate the fifth anniversary. His design is themed on Shinto priest. The smaller one with red bow is "Koiwai-san", Iwai-san's assistant priestess.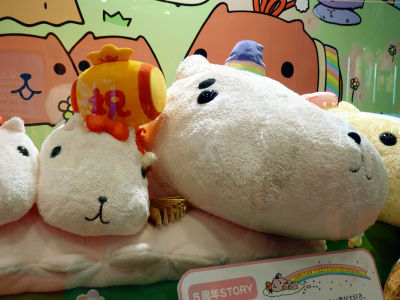 With Heian-ish eyebrows.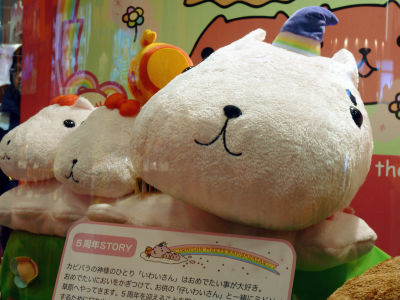 Kapibarasan is a laid-back character, loves onsen, spaced out half the time.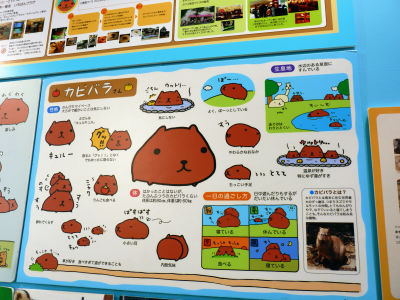 Kapibarasan is friends with Alpaca.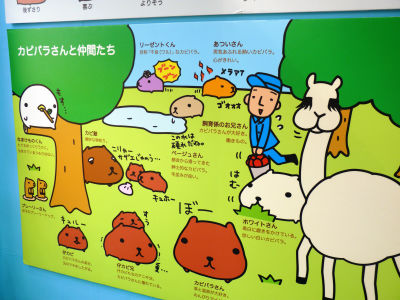 Yonkoma(four-panel comic strips) were on display.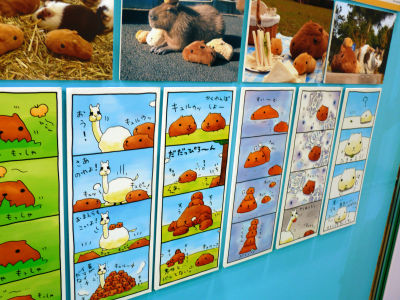 Kapibarasan with a real capybara.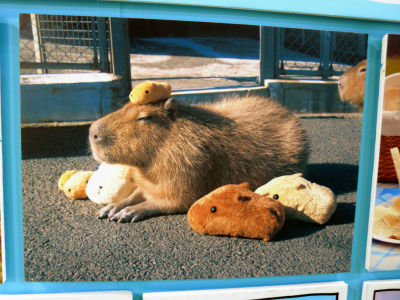 Kapibarasan Flower Mascot.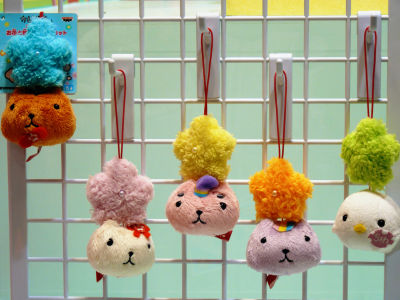 Little Stuffed Kapibarasan, wrapped around the waist with Noshi.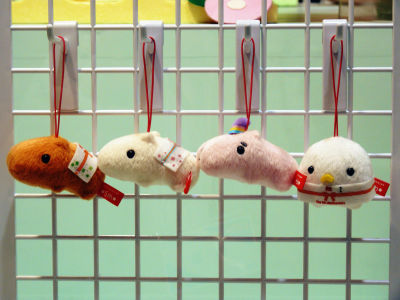 Fluffy Kapibarasan purse with 5th anniversary rainbow bowtie.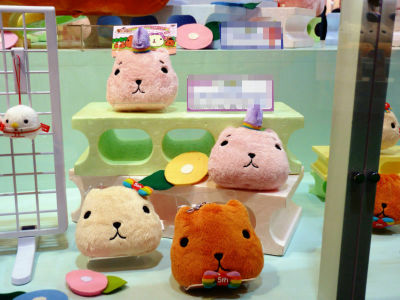 Another smaller purse.


Kapibarasan Lucky Mascot with lucky charms such as four-leaved clover and Uchide no kozuchi.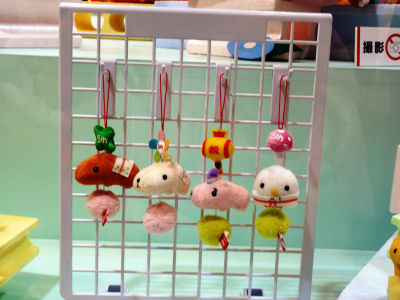 More stuffed toy.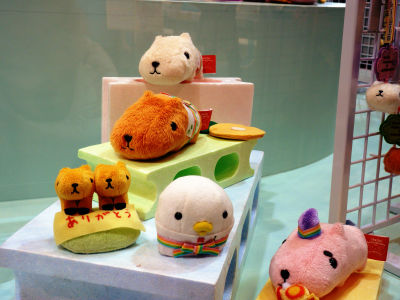 There were many people taking pictures and even a girl wearing Kapibarasan hoodie at the booth. Apparently, it's quite popular.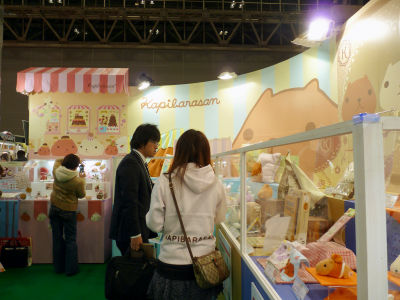 Related Posts:
Adorable Speaking Stuffed Toy of Softbank Mobile's "Oto-san" Dog - GIGAZINE

150 Goofy Mascots Gathered at "Yuru-Chara" Festival: Hikone, Shiga - GIGAZINE

Yaoi Fangirl "801-chan", Prize-Winning "Wataru" and Other Unique "Yuru-Chara" Mascots from Kansai - GIGAZINE

Chaotic Gang of "Yuru-Chara" Mascots from Tokai and Hokuriku - GIGAZINE

Armed Force Yuru-Chara, Godfather of Yuru-Chara and Yuru-Chara Singer appeared in Yuru-Chara Festa - GIGAZINE