Record Digital TV to PS3 and USB harddisk with "torne"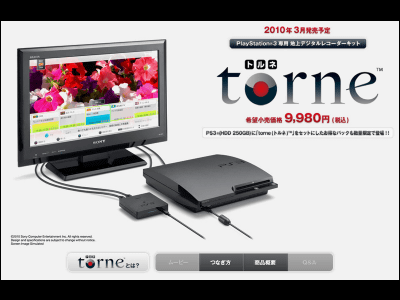 (This article was originally posted in Japanese at 15:58 Jan. 14, 2010.)

Say good bye to bunch of messy TV peripherals and replace it with your cool looking PS3. "torne" will make your PS3 into TV tuner and recorder.

"torne" kit comes with tuner box and related softwares. The kit can be easily connected to your PS3 via USB. The product will be sold at 9,980 Yen(about $108 USD) from this March.

Read on for detail.

PlayStation.com|torne

PlayStation.com(Japan) | News | PS3 Peripherals DTV recorder kit "torne" MSRP 9980 Yen(incl. Tax) starts selling in March

Installing softwares to PS3 and connecting tuner box via USB will easily turn your PS3 to DTV tuner and recorder. The kit is priced 9980 Yen(about $108 USD)

In addition, SCE is to release "Plyastation 3 DTV Recorder Pack", a set of 250GB PS3 and "torne". The set will be sold at 42,800 Yen(about $466 USD)

By using 2.5" HDD, you can easily change your PS3 to ideal Blu-ray HDD recorder. The kit can also record onto outer USB HDD so there's no difficult operation needed.

The kit can also record while you are playing games(except while playing PS2 games), upscaling DVD videos, playing MP3 files. No more messy TV stands with dusts and spaghetti-ized power cables. This simple kit will replace them.

Specs:
Product Name: torne
Model Number: CECH-ZD1J
Release Date: March 2010.
Manufacturer's suggested retail price: 9980 Yen(about $108 USD)
Bundled items: PS3 softwares(BD-ROM), PS3 tuner, antenna cable, USB cable(type A-mini B), B-CAS card
Format: ISDB-T
Channels: VHF 1~12ch、UHF 13~62ch、CATV C13~C63ch
Recording Format: MPEG-2 TS(MPEG-2, AAC)(direct rec)
Power Consumption: 2.5W
Size: 100*24*112mm
Weight: about 130g

Application Specs:
Viewing and Recording Full-HD videos, EPG support, subtitle broadcasting support, bi-lingual support, data conversion to PSP format, PSP remote play support, quick playing, visual scene search, internet access

Related Post:
The Complete Instruction of "KeyHoleTV", the world-wide P2P TV viewer - GIGAZINE

The mobile "Digital TV Tuner" became true by compact B-CAS key card - GIGAZINE

TV magazine cover knocked over by "Love Plus" heroine Aika Takamine - GIGAZINE

List of New Anime: Winter 2010 - GIGAZINE