Katanagatari "Cracked", Production Studio Explained the Leakage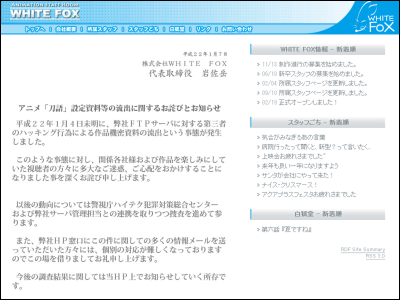 (This article was originally posted in Japanese at 23:29 Jan. 07, 2010)

The opening anime and other materials of the upcoming anime series Katanagatari got leaked on January 5. The sheer abundance of the leaked data was unheard-of and it seemed highly unlikely that they were mistakenly uploaded by human error nor intentionally done as a promotional ploy.

There were talks about law enforcement becoming involved, and lately the anime's production studio WHITE FOX made an official announcement that the whole incident was due to their server being hacked.

Read on for details.
(Japanese)Latest News - WHITE FOX

Apologies and Announcement concerning the Data Leakage of Anime "Katanagatari"

Leakage of classified data occurred early on January 4, 2010, when our FTP server was hacked by a third party.

We would like to deeply apologise to all concerned parties and audience who were anticipating the airing.

We are now investigating this incident in cooperation with Metropolitan Police Department's Cyber Crime Investigation Center.

Additionally, we would like to thank all of whom informed us of information concerning this incident via our website, as it is becoming difficult to reply each.

Progress of the investigation will be reported on this website.
Above is the announcement posted on WHITE FOX's website in the name of the studio's president and CEO Takeshi Iwasa. Let's hope no serious harm was done and the investigation will go well.

Thankfully, the anime episodes themselves weren't leaked (since they are probably still in production) and there were no spoilers unless you read all the scripts and storyboards that came out on P2P network. So any law-abiding anime fan can still look forward to the airing.

Katanagatari, based on Isin Nisio's popular light novel series, is to be an epic 12-episodes "monthly anime" aired on Fuji TV and BS Fuji. The first episode will come out in the end of this January so the series will conclude by the end of 2010.

Related Posts:
Opening Animation, Storyboard and other Internal Documents Leaked of Upcoming Anime "Katanagatari" - GIGAZINE

List of New Anime: Winter 2010 - GIGAZINE
in Anime, Posted by darkhorse_log