Singer Nana Mizuki of "Kohaku" Fame Stars the New "Pretty Cure" Anime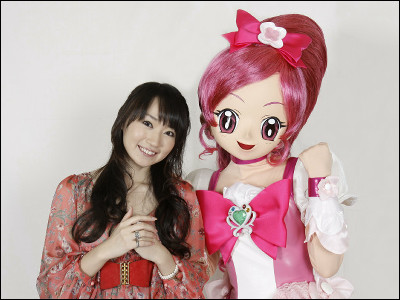 (This article was originally posted in Japanese at 10:13 Jan. 06, 2010)

Singer/voice actress Nana Mizuki has recently performed her song Shin'ai on NHK's annual New Year's Eve music show Kohaku Uta Gassen 2009, and there seems to be no doubt she's the It girl for 2010.

Today it was announced that Mizuki got the leading role of the Heartcatch Pretty Cure!(coming February 2010), 7th TV series in the hugely popular Pretty Cure franchise.

Read on for details and pics.
(Japanese)"My Dream Came True!" Nana Mizuki as New Pretty Cure - SANSPO.COM

(Japanese)Nana Mizuki "Ecstatic!" for Pretty Cure Lead - Sports Houchi

Nana Mizuki is to voice the role of Tsubomi Hanasaki/Cure Blossom, the main heroine of Heartcatch Pretty Cure!.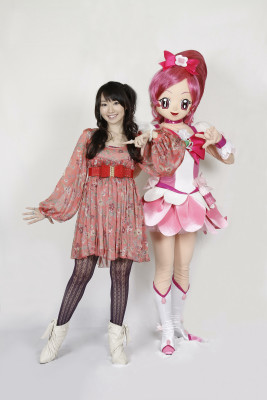 Nana Mizuki is from Niihama, Ehime. She was known as a good singer there, entering local talent shows since she was little. She came to Tokyo after being discovered by an agency, following her dream to be an enka singer. However, she chanced up on a job as a voice actress first and made her voice acting debut in 1998 as Chisato Kadokura in the video game NOëL: La Neige. Her singing career started much later in December 2000, not as an enka singer but an anime song singer, with her debut single Omoi which included theme song for TV anime Mamimume☆Mogacho.

From there on, her career advanced successfully if not rapidly. Her biggest break as a voice actress must have been the role of Fate Testarossa in Magical Girl Lyrical Nanoha(2004) and its sequels. Nanoha also brought her the first real break as a singer with its opening theme Innocent Starter which was released as Mizuki's 10th single and ranked #9 on the Japanese Oricon charts. Since then, Mizuki's releases have charted steadily higher, establishing her as one of the more popular singers in Japan. On June 3, 2009, her album Ultimate Diamond peaked at #1, making her the first voice actress to top the weekly Oricon albums chart.

One of her biggest dream came true when she performed in NHK's Kohaku Uta Gassen this New Year's Eve, and she says another one just came true when she passed the audition for the leading role of Heartcatch Pretty Cure!.

"Doing the main heroine in a children's anime show was one of my dream," she says. "It makes me smile just imagining one day I'll be called 'PreCure no One-chan! (Pretty Cure's girl!)' by kids. I'd like to bring music to little children all over the country through Pretty Cure. Maybe I get to do concerts at grade schools."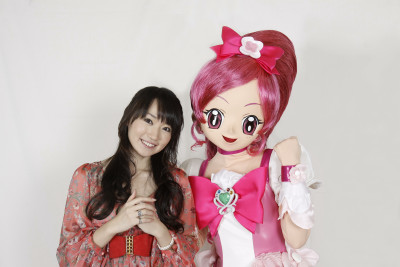 Fumie Mizusawa will co-star as Cure Blossom's partner Cure Marine/Erika Kurumi .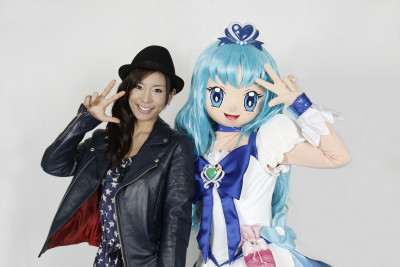 Mizusawa is known for her role as Juliet in Romeo x Juliet.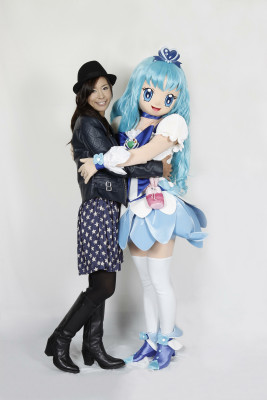 It was a bit of a surprise when conclusion of the highly successful Fresh Pretty Cure! was announced, but the new series looks promising.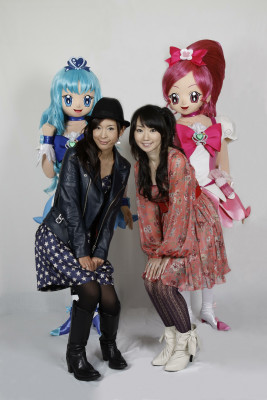 © ABC/Toei Animation

Related Posts:
Figures related to "Pretty Cure" Franchise -WONDER FESTIVAL 2009 [SUMMER] - GIGAZINE

Animated Panel and Life-Size Figures of CURE PASSION from "Pretty Cure"- TOKYO TOY SHOW 2009 - GIGAZINE

Movie of "Fresh Pretty Cure!" to come out on October 31st - GIGAZINE

"Anison Kouhaku 2009" Music Show to be held on New Year's Eve - GIGAZINE

Ryukishi07 and PEACH-PIT Collaborates in Anime Adaption of a PSP game, with songs by FictionJunction - GIGAZINE
in Anime, Posted by darkhorse_log