Light novel "Full Metal Panic!" to conclude, author told on his blog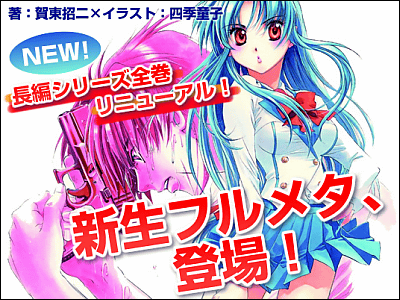 (This article was originally posted in Japanese at 12:46 Jan. 06, 2010.)

Breaking 2 years silence, a new volume of Shoji Gatoh's Full Metal Panic! comes out to close its 12 years long history.

Read on for detail.

New Year's Greeting - GATOH.COM blog style

Full Metal Panic! follows a highchool boy Sosuke Sagara who belongs to covert military organization as a skilled mercenary. He is send to a highschool, tasked to protect a girl Kaname who has a supernatural power. Having aspects of both serious military-action and rom-com, it has been one of the most successful light novel, becoming anime three times(including the one done by famous Kyoto Animation) and adopted to comic twice.

According to author's blog, the final volume of the novel is now in progress and "could be delivered by spring" he says. Since the last volume ended at just before the final showdown, the new book will be cathartic for many readers who's been hungering for the continuation.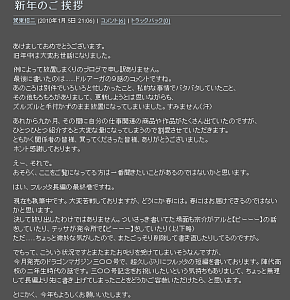 Well...then.
I know what you visitors wish to know the most.

Yes, the finale for Full Metal Panic!.

Actually, I'm working on it right now. It's quite a difficult job, but the book could be delivered by spring.

You might have thought that I had given it up. Really, I have kept writing the final part. Just before posting this, I was working on a scene of Sosuke talking with Al about ***********, Tessa doing *********** at control station...and such. I keep writing and deleting the whole part over and over again and that's why I made you waiting for such a long time.
On March issue of Dragon Magazine coming out on Jan. 20, 2009, there will be a short spinoff story commemorating the 300th issue of the magazine. While the main plot depicts serious situation, this short story follows characters' life in their school in comical touch. It will be a good breather for fans.

Maybe we should add "at earliest" to his words but it's the author's own words so the publication of the final volume by spring seems quite possible. But we've learned by now that delay should always be expected with these things.e It makes us anxious that there are so many light novel series left unconcluded for a long time, like famous Haruhi Suzumiya series(we have been waiting for it more than 2 years).

Related Post:
FULL METAL PANIC! going live-action starring Zac Efron - GIGAZINE

Teen Mystery Novel "Bungaku Shojo" Series Adapted to Anime Film by Production I.G - GIGAZINE

The latest game footage of "Modern Warfare 2" revealed - GIGAZINE
in Note, Posted by darkhorse_log