"2010 will be the last year for Vagabond" Author Takehiko Inoue Announced on his Web Page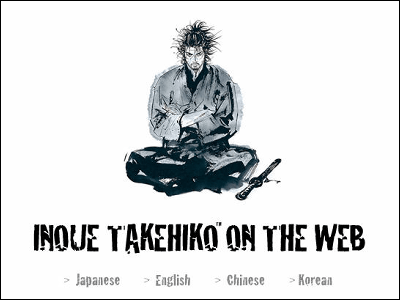 (This article was originally posted in Japanese at 12:39 Jan. 05, 2009.)

Famed manga artist Takehiko Inoue announced on his webpage to conclude 12 years' history of "Vagabond", the story of legendary swordsman Musashi Miyamoto within this year.

Actually the story hasn't got to its best part, a famous duel with another swordsman Kojiro Sasaki, of which all samurai fans are familiar with and all Vagabond readers were anticipating for. Only a year seems too short for the story to get there.

Read on for detail.

:: Inoue Takehiko on the web ::
http://www.itplanning.co.jp/what.html

Here's author's comment from his web page.
Latest News "Year of the Tiger"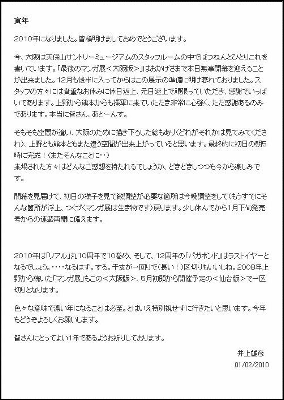 The red-lined sentence are the part telling "2010 may be the last year for Vagabond, commemorating its 12th anniversary...or going to be, or should be"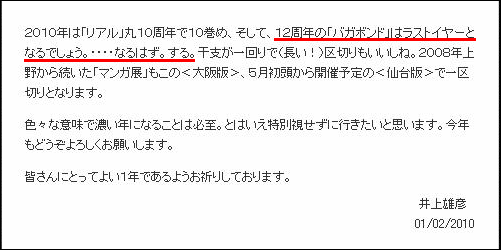 The original story by Eiji Yoshikawa serialized on Asahi Shimbun from 1935 to 1939 and it has been said to be a benchmark for other Musashi novels. Inoue has been adding dynamic touch to this chronicle of great swordsman. It's regretful to see its end, but it's also quite interesting to know what Inoue brings to the last duel.

Related Post:
Top 15 Most Captivating Manga at the Moment - GIGAZINE

Original manga manuscripts and enlarged panels at Japan Media Arts Festival - GIGAZINE

TAF 2009: Trailer of "Musashi: The Dream of the Last Samurai" and a talk show featuring Mamoru Oshii - GIGAZINE
in Note, Posted by darkhorse_log