Half of Train Delays are from "Suicide", Ministry of Transport revealed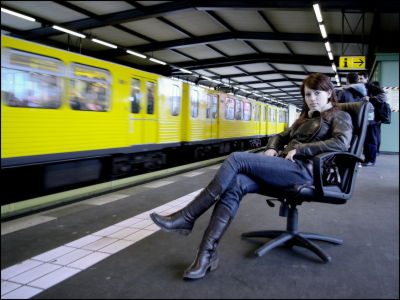 One of the things Japan can boast about is the punctuality of public transportations. Usually they run on time, accurate to the second. Delays or cancellations are quite rare.

But Ministry of Land, Infrastructure, Transport and Tourism reported a sad fact. The number of delays in metropolitan area is significantly increasing mainly due to suicides

Read on for detail.

Half of 40,000 Train Delays are due to the suicide - Metropolitan Area : Social : YOMIURI ONLINE

The survey was done by Ministry of Land, Infrastructure, Transport and Tourism, gathering datas from 12 major public transportation operators in Tokyo, Kanagawa, Saitama and Chiba.

In the account year 2008, the number of train delays over 30 minutes and cancellation in the metropolitan area was 40,600, 4,400 more than year 2007.

Numbers of train delays and cancellations by reason.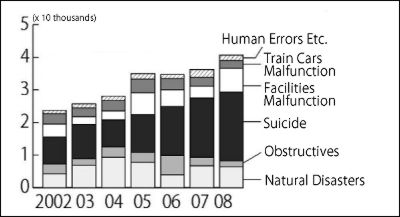 As seen in the graph above, nearly half of these delays(21,100 cases) were due to suicides. It's 2,900 more than year 2007. "Facilities Mulfunction" follows it by 7,200 cases.

Numbers of incidents that affected trains in the metropolitan area.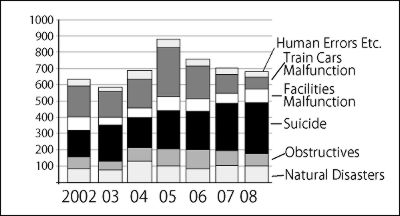 You see the sum is decreasing since 2005, but the share of suicide is increasing. The number of suicides causing delays increased from 288 to 307 in 2007-2008 alone, while other causes decreased.

We are not sure if the increase in suicide is due to financial depression in these days or it's just a result of overcrowding. Anyway, it's a sad news though.

Related Post:
Top 10 Things You Should Do In Japan - or maybe not - GIGAZINE

"Miracle Train" - personification of Tokyo Train Stations going OVA anime - GIGAZINE

Macross Train, Macross Billboards and Macross Columns advertising the "Macross Frontier" Movie - GIGAZINE

Kitaro and Neko Musume's announcements on Kitaro Train - GIGAZINE
in Note, Posted by darkhorse_log