Famed "Life-Sized Gundam" to be reassembled in Shizuoka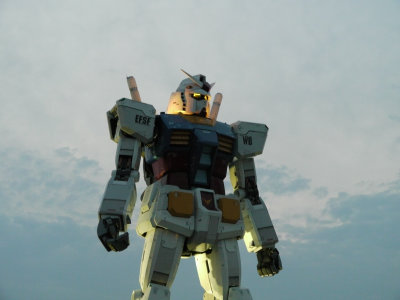 (This article was originally posted in Japanese at 10:50 Dec. 23, 2009.)

The Life-Sized 60ft tall RX-78 Gundam commemorating its 30th anniversary was one of the great exhibition of this summer, calling large number of visitors to the site Odaiba.

The famous robot was removed after the exhibition at Odaiba. But a coverage by Sankei shimbun revealed that Gundam is to be erected again at Shizuoka in July, 2010.

Read on for detail.

(Jp)Life-Sized Gundam to stand again on Shizuoka - MSN Sankei News

According to an interview to Bandai officials, the Odaiba Gundam is to be reassembled at Japan Railway Higashi Shizuoka Station by strong appeal from Shizuoka city. The city is famous for plastic model industry including the robot's manufacturer Bandai and world-famous Tamiya.

The exhibition is to be held from July, 2010 to May, 2011. The site will be visible from Shinkansen so passengers will be able to enjoy both the speed of the bullet train and view of the robot.

After the exhibition in Shizuoka, Gundam will be relocated to other prefectures and eventually brought to Bandai Hobby Center, Bandai's Shizuoka factory headquarter.

Related Post:
Photo Coverage on LIFE SIZE Gundam in Odaiba, Tokyo - GIGAZINE

The REAL SIZE Gundam in TOKYO looks even cooler on night - GIGAZINE

The Most Campiest Mobile Suit Ever! Pink Gundam with Lace Garters - GIGAZINE

Life-Sized Tetsujin Rolled Out at Shin-Nagata, Kobe - GIGAZINE

HOWTO: Curve out life-size anime characters with CHAINSAW - GIGAZINE

Saint Seiya's "Libra's Gold Cloth" reconstructed in Life Size - GIGAZINE
in Note, Posted by darkhorse_log