Sony shows optimized LCD settings to play FINAL FANTASY 13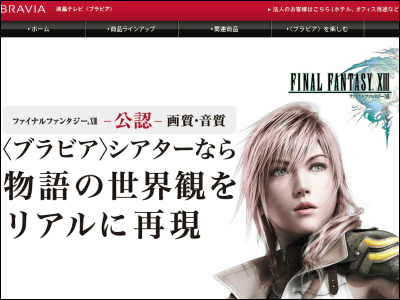 (This article was originally posted in Japanese at 00:00 Dec/ 19, 2009.)

Final Fantasy XIII has achieved a million sales in the first day of release. Its high-quality graphic is one of the reasons for the buzz and to make these images better, Sony is introducing parameters of optimized settings for their BRAVIA LCD televisions.

Read on for detail.

Final Fantasy XIII -Official- Image and Sound Configuration | Liquid Chrystal Television BRAVIA | Sony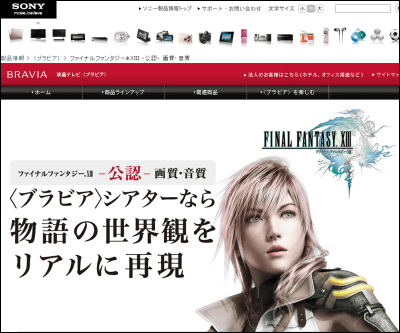 Supported BRAVIA models are V5, J5, W5, F5, ZX5 and XR1. Setting parameters are "FF13 Certified", which promises these displays to bring out the best of the game's beautiful graphics.

They also introduce certified audio devices for FF13. RHT-G550, RHT-G950, RHT-G1550, HT-CT100 and HT-CT500 are certified as official "FF13" models.

Also, original video contents will be distributed exclusively for BRAVIA via Applicast service from late December, including the guide above.

You can see parameters at the link below.

Final Fantasy XIII -Official- Image and Sound Configuration | Liquid Chrystal Television BRAVIA | Sony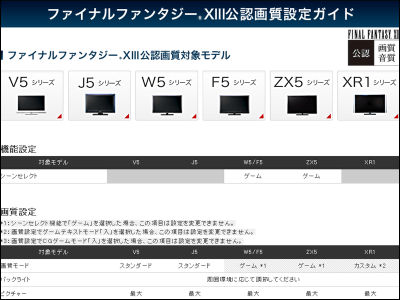 Related Post:
FINAL FANTASY XIII "ELIXER" Tonic to Hit the Stores in December - GIGAZINE

"Final Fantasy 13" Hands-On! Package and Contents - GIGAZINE

Videos of Final Fantasy 13 Tutorial to get a grip on the Battle System - GIGAZINE

Ten Songs from "Final Fantasy 13" Downloadable in MP3 via Official Website - GIGAZINE

9 More In-Game Footages From FINAL FANTASY 13 - GIGAZINE

FF13 Official Site Describes How to Cooperate With your Summon - GIGAZINE
in Note, Posted by darkhorse_log