Moe Sake "Tomulier" with moe character voiced by Rie Tanaka of Suigintou and Lacus Clyne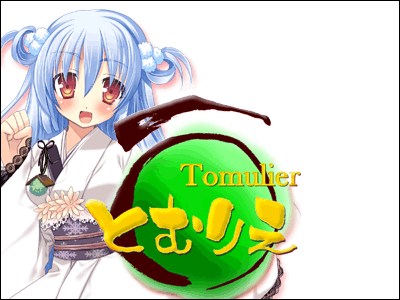 (This article was originally posted in Japanese at 14:00 Dec. 14, 2009)

We've seen moe pudding, moe watermelon, moe curry, moe cookies and a whole lot of moe products, but this might be the first of its kind, with the original character having voice.

"Ojoh", first in the newly launched moe sake line by established brewery Kaitou Otokoyama Shuzou(since 1716), features popular voice actress Rie Tanaka of Rozen Maiden(Suigintou), Mobile Suit Gundam SEED(Lacus Clyne) and Hayate the Combat Butler(Maria) for the original character Ojoh, fairy of sake.

Read on for details and pics.
(Japanese)Moe Sake Tomulier Official Website

Fairy Ojoh resides in the snowy mountains of Minamiaizu, Fukushima. Her "White Breath" brings out the fragrance of sake, making it fruity and clear.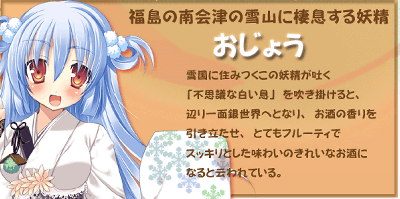 Here's a video of Ojoh introducing her namesake "Ojoh".
YouTube - Moe Sake "Tomulier" Series - Ojoh Version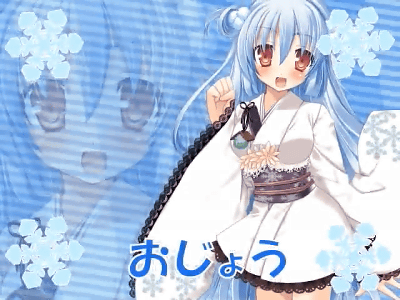 Another fairy "Tomulier" works as a navigator to teach the pleasure of sake to Ryuichi, a brewer's son who can't hold his drink. Voiced by up-and-coming voice actress Nami Mizuno, illustrated by Yoshikazu Tajima, who designed Ojoh as well.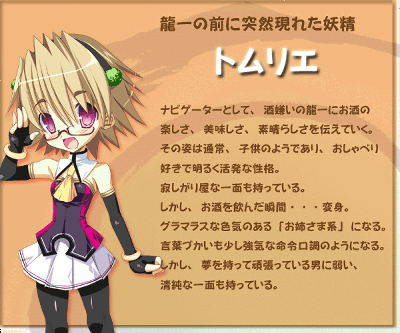 The childish Tomulier turns into quite a seductress after a drink.
YouTube - Moe Sake "Tomulier" Series - Tomulier Version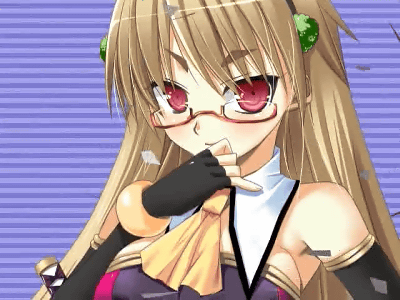 Aside from these videos, you can also hear some random phrases by Ojoh and Tomulier by clicking the green button on the bottom right of the website.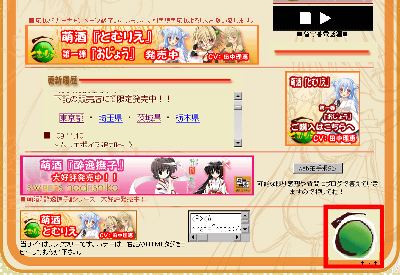 Both fairies seem to have tsundere characteristics, so don't be shocked when they say pretty rude things like "Nani sawatten-noyo, kono hentai! (What are you touching? You perv!)" or "Jiro-jiro mirunja nai wayo, baka! (Don't stare, you idiot!)"

Moe Sake "Ojoh" by Kaitou Otokoyama is now on sale at 1,450 yen (about $16) for a 500ml(1.06pt) bottle. Available at bottle shops in Kanto region and websites of each store.

By the way, Tomu, the group of sake retailers who initiated this "Tomulier" project, has released another moe sake "Sweets Nadeshiko" series in the past as well as "How To Cook Sushi" kit and "How To Enjoy Sake" kit which will also make great souvenirs.

Related Posts:
Top 10 Things You Should Do In Japan - or maybe not - GIGAZINE

Geekiest Refreshment ever! "Comic Green Tea" on sale Exclusively at Tokyo Big Sight - GIGAZINE

Confections featuring NEON, Nipponbashi's mascot designed by Noizi Ito - GIGAZINE

Buddhist Temple Attracting Young Visitors with Moe-Characters of Gods - GIGAZINE
in Note, Posted by darkhorse_log