The 2nd "Machi★Asobi" anime festival in Tokushima to be held for 2 weeks from Jan. 16 2010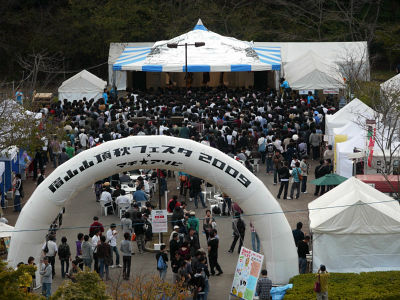 (This article was originally posted in Japanese at 12:00 Dec. 14, 2009.)

Far beyond all expectations, the epic anime event "Machi★Asobi" held by anime studio ufotable and Tokushima city this autumn resulted in a great success, gathering 12,000 visitors from all over Japan in three days.

The event earned a great reputation and answering huge requests, they gave greenlight for the 2nd Machi★Asobi in January with much longer period of time.

Read on for detail.

[Info] Machi★Asobi vol.2 Launched! | Machi Asobi

Machi★Asobi is a combined event of sightseeing and anime-related exhibition for visitors to make the most of the beauty of Tokushima city. The event is co-held by ufotable of Kara No Kyokai and Tokushima-city Tourism Association.

Though the event is to be held in rather provincial area, Machi★Asobi consists of gorgeous anime events like talk show of voice actors, open-air concert, a hero show, free movie showing and such, which previously could be seen only in metropolitan area.

Officials told us that there had been so many negative comments before the previous event. Even in these days, anime is thought as a entertainment for kids, and won't be a object for grown-up's sightseeing. Also there was no preceding event in this scale held in non-metoropolitan area. Few people in anime industry predicted the success.

As it turns out, the event was wildly successful, gathering 12,000 visitors and 8,619 aerial tramway(with an announce of Maaya Sakamoto's voice) passengers for the site. About a half of them were non Tokushima residents from neighboring prefectures like Kagawa or Kansai region. Some of them were from as far as Hokkaido and Kyushu.

The 2nd Machi★Asobi expands its term to 2 weeks, from Jan. 16 to 31, 2010. No concrete schedule for individual events held in this festival has been announced yet, but we are sure that there be a great collaboration of traditional Tokushima city and beautiful anime artworks. It will be a great experience for all visitors.

Related Post:
"Bizan Autumn Festa 2009 X Machi★Asobi" held in Tokushima - GIGAZINE

The 2nd day of Tokushima Machi★Asobi Festival ended with unexpectedly many visitors - GIGAZINE

Voice Actress Maaya Sakamoto's Special Announce On Bizan Aerial Tramway in Machi★Asobi - GIGAZINE

Review on the Hamburger Awarded the Tokushima Hamburger Prize - GIGAZINE

Ita-Sha Exhibition held at Tokushima Machi★Asobi festival Vol.1 - GIGAZINE

Ita-Sha Exhibition held at Tokushima Machi★Asobi festival Vol.2 - GIGAZINE

Ita-Sha Exhibition held at Tokushima Machi★Asobi festival Vol.3 - GIGAZINE

Local Tokusatsu Hero "Soryushin Mavel" Saved The Day! - GIGAZINE
in Note, Posted by darkhorse_log