Google released "Google Japanese Input" Front End Processor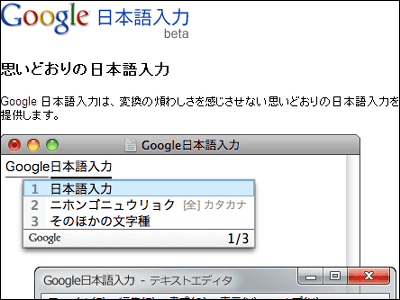 (This article was originally posted in Japanese at 11:27 Dec. 03, 2009.)

Google is surely trying to dominate the world of language. Today they released "Google Japanese Input" front end processor.

You guys may not be familiar with front end processor(FEP, or called input method by Microsoft) software. Since we have so many different letters meaning different but read same, we need some softwares to automatically understand context and choose proper letter, and this is what front end processors do.

Google combined this FEP with enormous dictionary generated from words automatically cropped from the Internet. This will be a FEP with great accuracy and vocabulary.

Read on for detail.

Google Japan Blog: Input Japanese as you thought - Google Japanese Input

According to their official blog, they released "Google Japanese Input" for 32bit Windows and Mac OSX Leopard with Intel CPU today.

"Google Japanese Input" automatically generates vocabulary table of proper nouns and idiomatic phrases from various site on the Internet. It enables smooth kana-kanji conversion by predicting the word from already typed letters. They also suggests proper words for mistypes. These will enables users to input much more with fewer key typings.

The interface.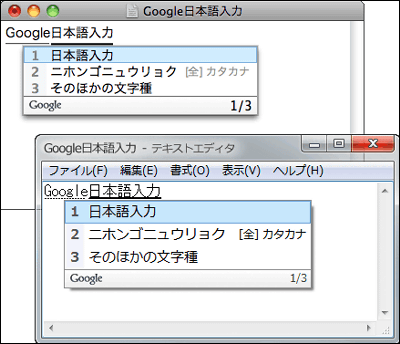 This "Google Japanese Input" was developed under Google's "20% Rule", which encourages engineers to spend 20% of their work time freely for projects of their interests. The software is just on their Beta so they are waiting for user's feedback.

So, for readers interested, downloads are available from the link below.

Google Google Japanese Input - Download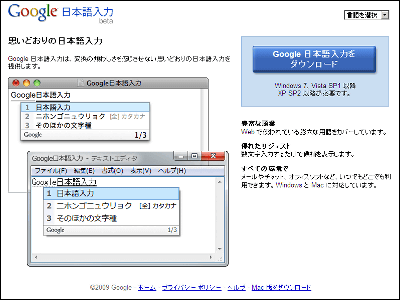 We have been wondering what Japanese FEP that Google Chrome OS will adopt but this Google Japanese Input will be a strong candidate. If this software would be brushed up, we will be able to use it on their Android OS too.

Related Post:
Google Street View Respects Privacy of a ...Statue? - GIGAZINE

The Mysterious Giant Circle in Chiba found on Google Earth - GIGAZINE

Guessing Google's imaginary opponent in Japan from their Usability Poll - GIGAZINE

Google Reshooting Street View in Japan from lower angle - GIGAZINE

Vocaloid software makes Android a true Diva: CEATEC JAPAN 2009 - GIGAZINE

The Complete Instruction of "KeyHoleTV", the world-wide P2P TV viewer - GIGAZINE