Faithfully Actualized "Mad Hurricane" Robot from 80s Anime "Plawres Sanshiro"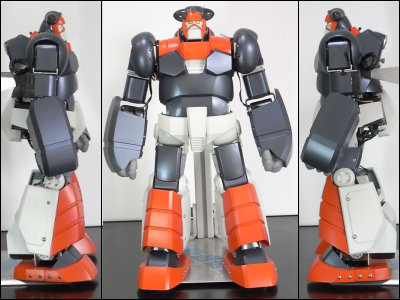 (This article was originally posted in Japanese at 00:00 December 01, 2009)

Aired in the '80s, anime series Plawres Sanshiro was hugely popular in Japan and it's also got fans in the Middle East and Europe from what we've heard. "Plawres" is short for "Plastic Model Wrestling", the fictional game which protagonist Sanshiro competes in and eventually excels at, with his custom-made PlaWrestler (miniature biped robot with super LSI) Juohmaru.

The anime and manga was one of the earliest and most successful examples of the now familiar Bildungsroman-with-fictional-competition-of-fictional-(or sometimes actual, tied-in with toy manufacturer)-game/toy/hobby genre, as in Rideback, BASQUASH!, or Battle Spirits Shonen Gekiha Dan of late.

The PlaWrestler robots were fictional and a bit futuristic at the time, but today it's possible to make them for real. Here's a real-life Mad Hurricane, the formidable rival robot of Sanshiro and Juohmaru, recreated true to the original design.

Videos and pics after the cut!
MAD HURRICANE
http://web.kyoto-inet.or.jp/org/seburo/1F/madorder.html

1/1 scale. 40cm(16in) high, weighs about 2.5kg(5.5lbs). Mad Hurricane is in Super Heavy Class.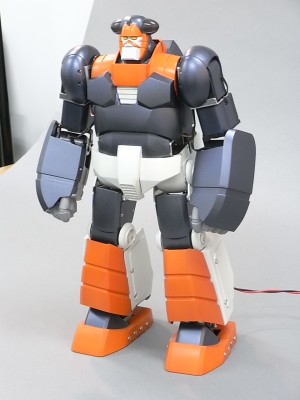 This Mad Hurricane was created by Dai-Nihon Giken who's been making real all sorts of fictional mecha, weapons and even a cute little maid-robot. You can see Mad Hurricane's design sheets by original manga's author Minoru Kamiya on Dai-Nihon Giken's website (for those who can't find the links in Japanese, the drawings are here and here.

Formidable. In the real world, high-power servo motor is yet to achieve the compactness as in the manga, so the design is slightly adjusted to look smooth with a bigger motor.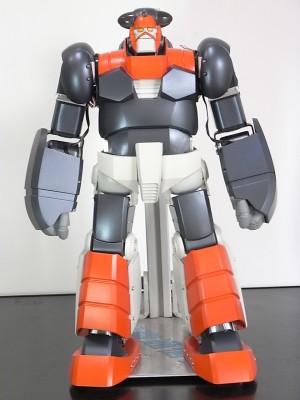 The joints had to be armoured to make it closer to the original design, which limit the range of motion: gaining wide motion capacity means looking bony. This tradeoff between joint motion and design was solved (not perfectly, but moderated at least) by fitting heel motor into the shin compartment.


To minimise the gaps, the skirt covering the hip joint is connected by spring to follow leg motions.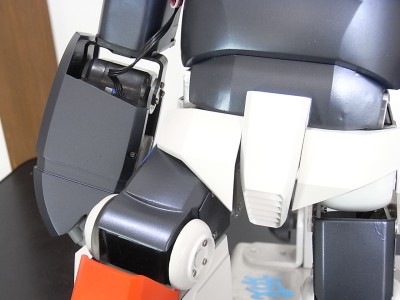 Face.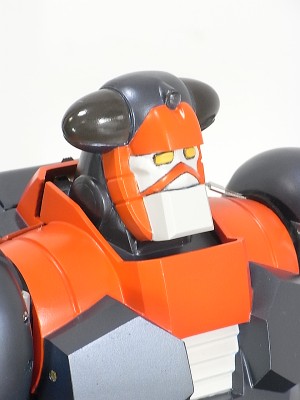 Profile.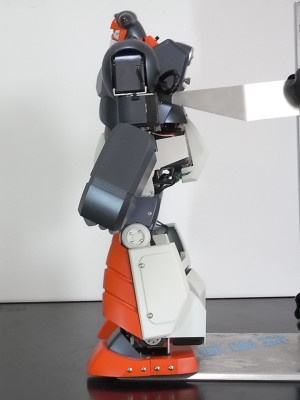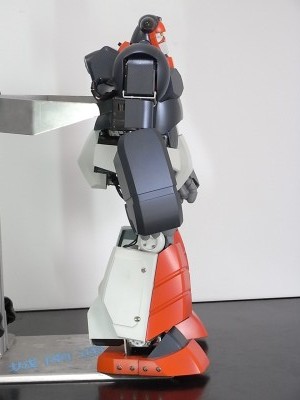 Rear.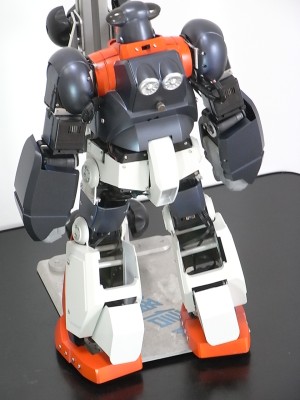 The switch is hidden in the back.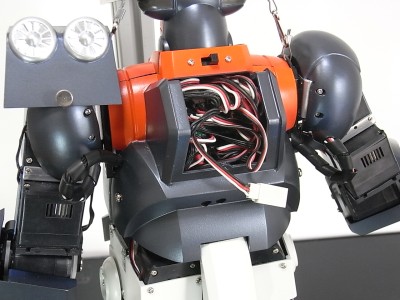 See it in action, punching and kicking.
YouTube - Mad hurricane Attack motion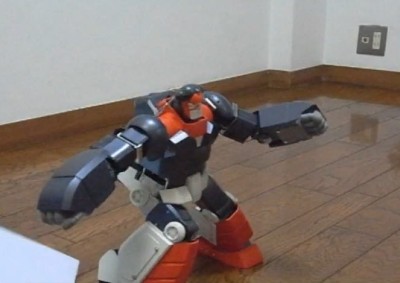 This one is prototype. Performing 180 splits, lying down and standing up.
YouTube - Mad Hurricane motion test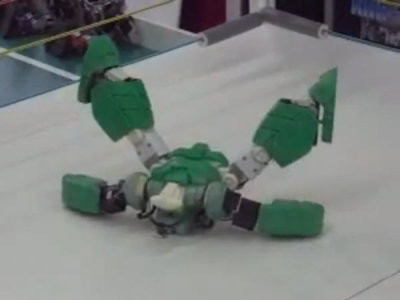 Focused to be lightweighted, strong and as close as possible to the original design, major exterior parts are made by 3D printer Dimension. Dimension's cartridge (equivalent of ink in 2D printers) costs 150,000 yen (about $1,720) each, out of which only two Mad Hurricanes can be printed.

Mad Hurricane will be build-to-order, assembled, coated and finished completely by hand so there will be only 30 limited sets. They're now accepting orders online for 800,000 yen ($9,175).

You can see coloured illustrations of Mad Hurricane and other characters from the Gallery on manga artist Minoru Kamiya's website.

Kamiyake
http://www.k4.dion.ne.jp/~godarrow/

©Jiro Gyu/Minoru kamiya, Akita Shoten 2009

Related Posts:
Beautiful Stainless Steel Unit-00 of "Evangelion SUS Figure Project" - GIGAZINE

Let's Combine! Full Model Change on Combattler V - GIGAZINE

7ft. Sculpture of Giant Robot DEMONBANE - WONDER FESTIVAL 2009 [SUMMER] - GIGAZINE

KOBIAN, the robot with rich and true body expression - GIGAZINE

Video of Adorable Robot Girl "hina" Making Coffee - GIGAZINE

Top 20 Awesome Robots in Anime History - GIGAZINE