Lotteria to proudly release REFUNDABLE "Irreproachable BLT Burger"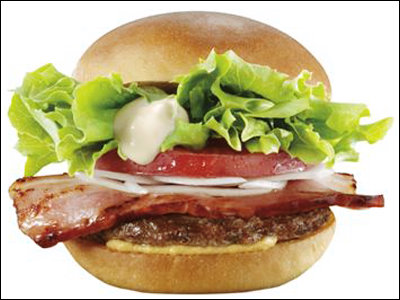 (This article was originally posted in Japanese at 12:38 Nov. 27, 2009.)

Fastfood chain Lotteria's "Zetsumyo Hamburger(Zetsumyo means 'Irreproachable' or 'just right')" has become one of the most popular fast food in Japan, declaring "Full-refund Guarantee" for unsatisfaction.

And here comes another item for Zetsumyo lineups. Their new "Zetsumyo BLT Burger" is a epoch-making hamburger which they say "pushed back the boundaries of the traditional fast food". And of course, it's refundable again!

Read on for detail.

Lotteria to Release totally unconventional Zetsumyo BLT Burger

Lotteria is releasing "Zetsumyo BLT Burger" from Dec. 4(Fri) at 420 yen(about $4.84 USD). According to the press release, Lotteria has added a strip of 3.5mm thick bacon to existing "Zetsumyo Burger" to meet request from customers.

The bacon is smoked for 7 hours(twice longer than usual bacons)with cherry chips, which makes it real juicy, matched with vegetables.

Refunding will be done for customers who weren't satisfied with the hamburger during first 2 weeks from the sale starts. For former Zetsumyo burger, only 0.2% customer demanded the refund, which shows its high-quality.

Related Post:
Never Call this a "Fast Food"; Eating "Windows 7 Whopper" is like an endless hill climbing - GIGAZINE

Review on the Hamburger Awarded the Tokushima Hamburger Prize - GIGAZINE

Eating "Quarter Pounder Lettuce and Tomato" at McDonald's Secret Lab - GIGAZINE

Photo Tour on "Studio M", McDonald's Secret Laboratory - GIGAZINE