Making the most of Sandisk's "Extreme Pro" Compact Flash Card with Nikon's DS3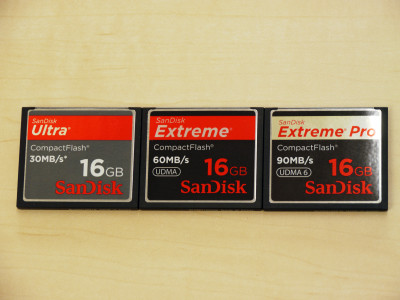 (This article was originally posted in Japanese at 19:17 Nov. 26, 2009)

Data transfer rate from your digital camera to memory card matters the most when your taking continuous shots. The faster the better, you can say, but top-notch memory cards like Sandisk's compact flash card "Extreme Pro" has transfer rate as fast as 90MB/sec, which can of course more than fulfill the requirement of ordinary cameras but takes a top-notch camera to make the most of.

Since we could borrow Nikon's top-end model D3S which is one of the selected few cameras that can make the most of "Extreme Pro", we took advantage and compared "Extreme Pro" with its predecessor "Extreme" and "Ultra" on DS3's rapid-shooting mode.

Here's our review with videos and pics.
Sandisk's compact flash card lineup.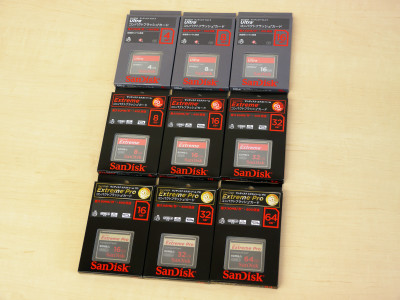 64GB "Extreme Pro" has the largest capacity out of nine.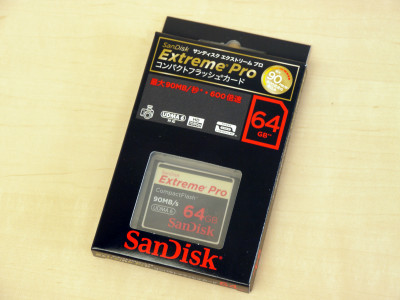 We compared "Ultra", "Extreme" and "Extreme Pro" of the same size (16GB).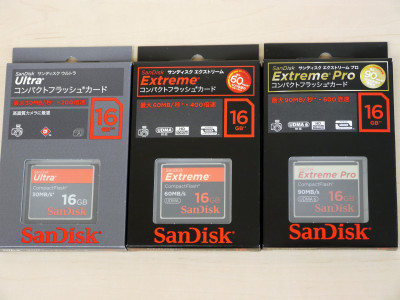 Ultra has 30MB/s transfer rate.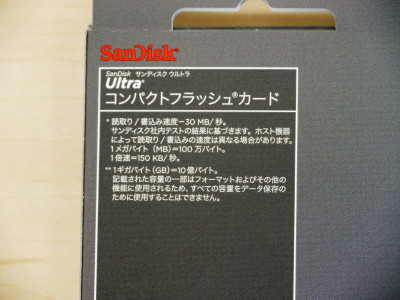 Extreme, 60MB/s.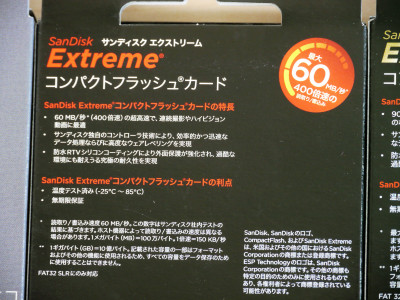 And Extreme Pro with 90MB/s transfer rate.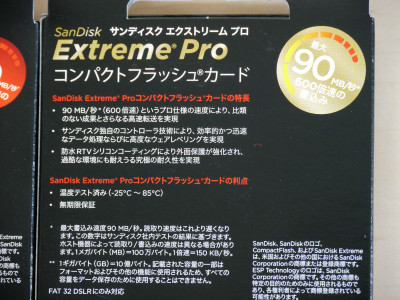 Memory card slot of "D3S" is hidden in the right hand grip.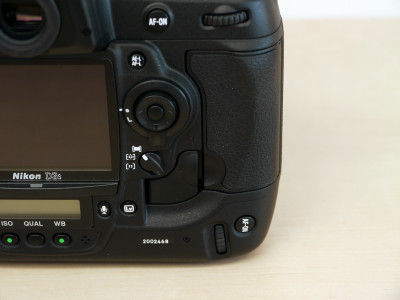 Flip the cover of release button.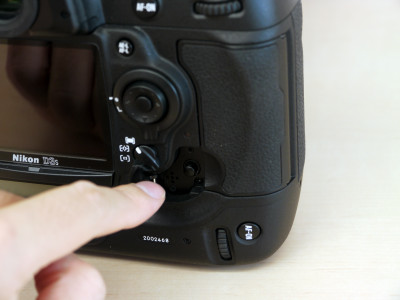 Press the button to unlock.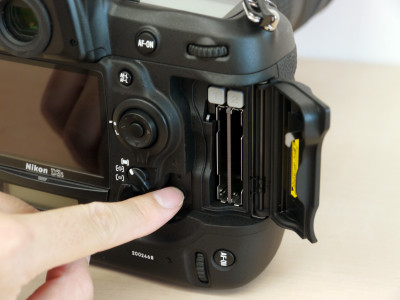 Two slots. Two 64GB compact flash will allow you lengthy video shooting.


Release mode dial is set to S(Single shot) at first.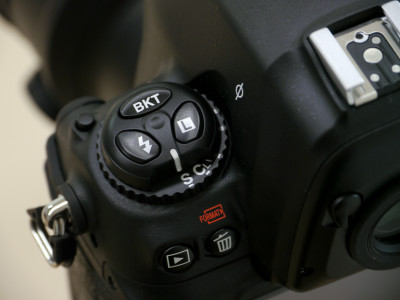 Turn the dial to CH(Continuous High-speed shooting).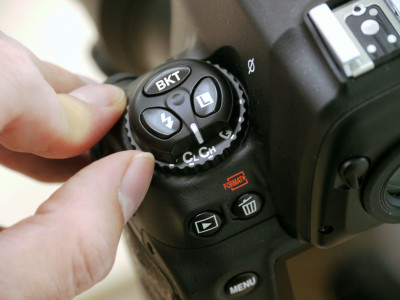 The subject is a little green alarm clock.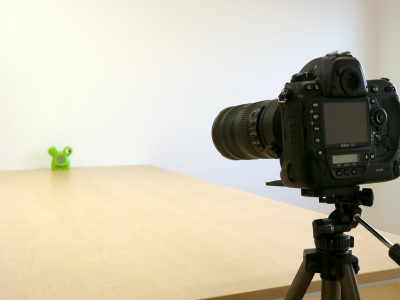 First we shot with recording mode set to "FINE" (JPEG highest quality). This one is "Ultra".


Next with "Extreme". You can hear the difference.


And "Extreme Pro".


"Extreme Pro" does sound slightly faster but hard to tell the difference since "Extreme" has fast enough transfer rate for this level. So next we tested the three with recording mode set to "RAW+FINE" (RAW+JPEG highest quality).

"Ultra". Obviously slower than "FINE" mode.


"Extreme" is faster than "Ultra" but not much different.


With "Extreme Pro" you can feel the difference.


You can record RAW and JPEG separately to each flash card in the two slots, so two "Extreme Pro" will give you the maximum speed. Indeed useful in an extreme shooting.

Previous Post:
Hands-on of Nikon's D3S flagship SLR camera with many pictures - GIGAZINE

Continuation:
Video Comparison; How "Quiet" is Nikon D3S's "Quiet Shutter-release mode"? - GIGAZINE

Related Posts:
Turin Olympic Gold Medalist Shizuka Arakawa Demonstrated at Sandisk's Conference - GIGAZINE

Sandisk presented "Extreme Pro" Compact Flash series and "Memorystick Micro" for PSP Go - GIGAZINE

Video review on Casio's "EX-FS10", the 1000fps super high speed camera - GIGAZINE