Susan Boyle on World Domination? "I Dreamed a Dream" to be Theme Song of Secret Society Eagle Talon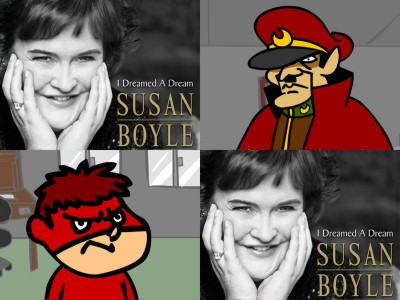 Susan Boyle's debut album I Dreamed a Dream came out in japan today on November 25, 2009. The Scottish singer with amazing voice seems to have not much in common with the scheming guys at Himitsu Kessha Taka no Tsume(Secret Society Eagle Talon), but for some reason her famous number is going to be featured as the theme song for the upcoming third Eagle Talon movie.

Read on for details and pics.
Eagle Talon is a series of Flash anime created by FROGMAN. It was originally distributed via video sharing websites and a TV series Himitsu Kessha Taka no Tsume Count Down is currently running on TV Asahi.

Here's the official site of the anime. You can click the cute little teddy (who's actually the 40-year-old mad scientist Dr. Leonardo) on bottom right to skip the trailer.
Himitsu Kessha Taka no Tsume Count Down & THE MOVIE3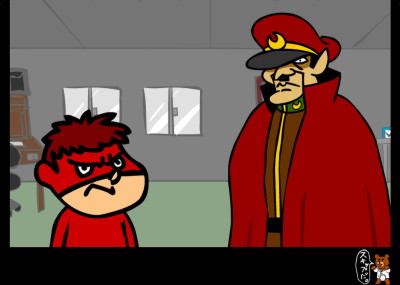 The theme song will be Susan Boyle's most famous number I Dreamed a Dream.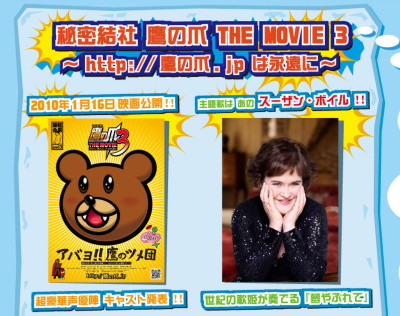 Despite being a secret society aiming for world domination, Eagle Talon consists of loveable specimens such as the Chancellor who dreams for a better world where everyone can pursue their happiness peacefully, Yoshida-kun from rural Shimane who is an affectionate and caring son to his dearest mother, the shy Phillip who can't speak without a microphone, and Dr. Leonardo who bears a striking resemblance to a teddy bear but frantically denies being one.

The poster features Dr. Leonardo. The movie will hit the theatres in Japan on January 16, 2010.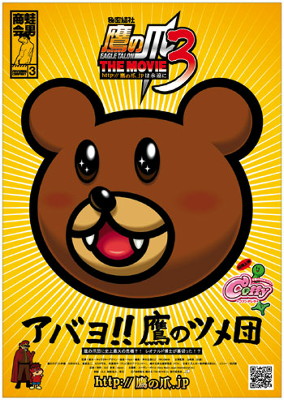 Advance ticket is now on sale at 1,500 yen (about $17).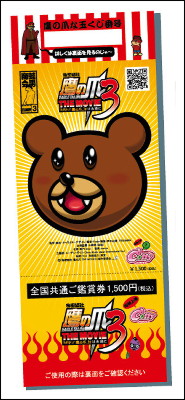 Related Posts:
List of New Anime: Autumn 2009 - GIGAZINE

Ryukishi07 and PEACH-PIT Collaborates in Anime Adaption of a PSP game, with songs by FictionJunction - GIGAZINE