"Nadesico" Director Tatsuo Sato Undertaking anime adaption of "Mini-Skirt Space Pirates"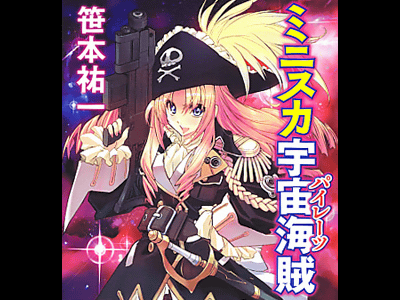 (This article was originally posted in Japanese at 15;30 Nov. 17, 2009.)

Tatsuo Sato is a famed anime director, known for Sci-Fi animes like Martian Successor Nadesico of 1996 and Stellvia of the Universe of 2003. Now he is into his new work, an anime adaption of the light novel Mini-Skirt Space Pirates by Yuichi Sasamoto, a veteran known for realistic depiction of spaceships and dramatic storytelling in his Sci-Fi works.

Read on for detail.

Asahi Shimbun Publishing Latest Publications: "Mini-Skirt Space Pirates" to go Anime!

Mini-Skirt Space Pirates is a Sci-Fi light novel, telling the life of a girl who belongs to highschool space yacht club. One day a man, describing himself as a subordinate of her father, the legendary space pirate, appears in front of her and persuades her to inherit her father's position.

Author Yuichi Sasamoto is a veteran author known for various Sci-Fi light novels and reportage on space exploitation, such as ARIEL, Hoshi no Pilot(The Space Pilot) and so on. Mini-Skirt Space Pirates is his latest work published from Asahi Novels label.

Director Tatsuo Sato was first spotlighted on Akazukin Chacha of 1994, co-working with Akitaro Daichi and Hiroaki Sakurai. In 1995, he made his debut as an anime director on NHK's Soar High! Isami. He did the direction and screenplay of Martian Successor Nadesico in 1996, which became a great hit along with Neon Genesis Evangelion, which led the anime boom in those days. It's quite regretful that there has been no mention of Nadesico and Stellvia continuation, which were both quite popular among fans but was discontinued for uncertain reasons.

Not only on Sci-Fis, he shows his virtuosity on various kind of stories like school drama Shingu: Secret of the Stellar Wars or period anime Ninja Scroll.

So, how this collaboration works? We should keep our eyes on this. The animation production will be done by Satelight and to be aired in 2011.

Related Post:
Taiga Aisaka of Toradora! won intense final of Anime Saimoe Tournament 2009 - GIGAZINE

Teen Mystery Novel "Bungaku Shojo" Series Adapted to Anime Film by Production I.G - GIGAZINE

FULL METAL PANIC! going live-action starring Zac Efron - GIGAZINE

Stills from the 1st episode of "Taisho Baseball Girls" - GIGAZINE

Anime Film "The Vanishment of Haruhi Suzumiya" to Come Out in February, 2010 - GIGAZINE

Blu-Ray of "Spice and Wolf II" Vol. 2 comes with Special Feature "Stretch with Wacchi" - GIGAZINE
in Anime, Posted by darkhorse_log