"Anison Kouhaku 2009" Music Show to be held on New Year's Eve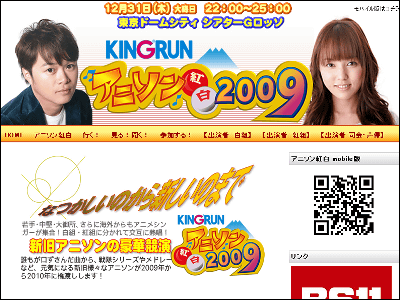 (This article was originally posted in Japanese at 14:00 Nov. 17, 2009)

NHK's Kouhaku Uta Gassen, commonly known as Kouhaku, is an annual music show on New Year's Eve held since 1953, probably the most long-standing and famous TV show in Japan.

This year they're also holding a special programme Anison Kouhaku 2009 on the other side, with all-star cast of popular anime song singers and voice actor/actresses from all generation. The singers will compete in the red team(female) and white team(male) just like the traditional Kouhaku.

Read on for details.
(Japanese)KINGRUN Anison Kouhaku 2009 nihon

According to the official website of "Anison Kouhaku 2009" above, the show will be held at Theatre G Rosso in Tokyo Dome City from 22:00 December 31, 2009 to 01:00 January 1, 2010. The show will be broadcasted live on BS11(NHK's cable channel) and digital radio A&G+(9302ch).

Aside from the singers performing their popular songs, many voice actors and actresses will make appearances and the "Ten Big Anime News of the Year" will be presented.

The participants and their best known songs/works are as follow. The songs to be performed in the show will be announced on the official blog.

White Team
Shinichi Ishihara: Kamen Rider AGITO, Tatakae! Red Baron
Akira Kushida: Kinnikuman, Space Sheriff Shaider
Psychic Lover: Lost in Space(Tytania), Tokusou Sentai Dekaranger
Isao Taira: Space Runaway Ideon, Braiger
Takayoshi Tanimoto: Dragon Ball Kai, Zatch Bell!
T-Pistonz: Inazuma Eleven
Ken Narita: Cyborg 009, Denshi Sentai Denziman
Takayuki Miyauchi: Choudenshi Bioman, Kamen Rider BLACK RX
Anison Singers: Toei Animation Medley
Ichirou Mizuki: Mazinger Z, Babel II

Red Team:
Azumi Inoue: My Neighbor Totoro, Before Green Gables
Takako Ohta: Creamy Mami, the Magic Angel
Mayumi Gojo: Futari wa Pretty Cure, Ojamajo Doremi
Sister MAYO: Hare+Guu, Mahou Sentai Magiranger
Choi Sun Duk: Element Hunters(Korean version)
Rica Matsumoto: Pokemon
MIQ: Aura Battler Dunbine, Heavy Metal L-Gaim
Satoko Yamano: Maple Town, Doraemon(video games)
Anison Singers: TMS Entertainment Medley
Mitsuko Horie: Candy Candy, Hana no Ko Lunlun

Voice Actor/Actress:
Atsuko Enomoto: Kare Kano, Pretty Cure Splash Star
Nozomu Sasaki: YuYu Hakusho, Akira
Azusa Kataoka: Onegai My Melody, Saint October
Tomokazu Seki: Neon Genesis Evangelion, Mobile Suit Victory Gundam
Sayaka Narita: Ai Yori Aoshi
Wataru Hatano: Nogizaka Haruka no Himitsu, Akaneiro ni Somaru Saka
Madoka Yonezawa: K-On!, Saint Knight's Tale
Tomokazu Sugita: Gintama, The Melancholy of Haruhi Suzumiya, Genesis of Aquarion
Emily Kato: Bakemonogatari, Lucky Star

The ticket will go on sale at 10:00 a.m. Saturday, December 5, 2009.

Ticket Info::KINGRUN Anison Kouhaku 2009

Related Posts:
Osaka's Got Talent! Videos from the Elimination of NHK's Anison Karaoke Contest - GIGAZINE

Elimination of Animax's All-Japan Anison Grand Prix 2009 to be live-broadcasted on Internet - GIGAZINE

Details announced of Animax's All-Japan Anison Grand Prix 2009 - GIGAZINE

Anison Rules! Anime songs dominated 7 out of Top 10 CD sales ranking - GIGAZINE
in Anime, Posted by darkhorse_log