"Minakoe.jp" showed drastic change on Japanese Blogsphere Statistics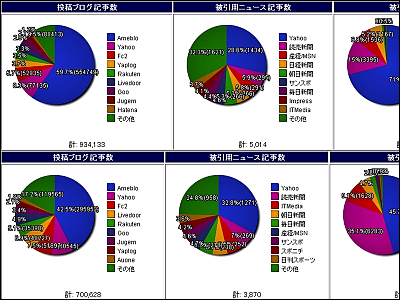 (This article was originally posted in Japanese at 14:15 Oct. 30, 2009.)

Regretfully blog ranking service Technorati Japan closed on Oct. 23 to show "the end of the beginning" of Japanese blogsphere.

Inheriting their duty, Tokyo based web service provider 1st Class, Inc. opened a search engine "Minakoe.jp"(literally means "Everybody's voice" in Japanese) and began to rank every blogs written in Japanese. Last week they published pretty impressive statistics, which shows some drastic changes in market share of blog operators and video sharing sites.

Read on for detail.

Minakoe.jp > Blog Media Competitive Landscape in detail.
(Japanese)http://minakoe.jp/detail_stat.html

Market share as of Oct. 29(Thursday), 2008



Market share as of the same day in 2009.



Let's start with "Total Posted Articles". 2008 is on the left, and 2009 is on the right.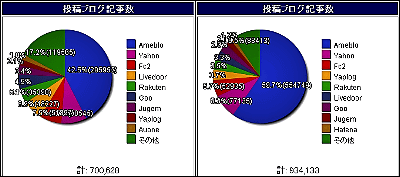 On 2008, Ameblo(blog hosting service) had only 42.5% share, but in a year it grew up to 59.39%. Also Yaplog is catching them up, with growing number of articles posted, from 14,615 posts to 33,950 posts.

Next. "Number of Cited Articles". 2008 is on the left, and 2009 is on the right.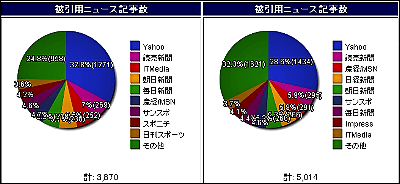 Web-originated news site ITmedia slumped from third to ninth place, while newspaper-originated websites such as Nihon Keizai Shimbun and Asahi Shimbun is making rapid progress, which means our web has now more and more "non-computer oriented people".

Last. "Number of Cited videos". 2008 is on the left, and 2009 is on the right.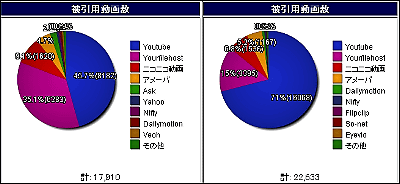 Youtube took the most share by 71.0%, which shows the fact that the site has become the standard for most people. Famous NicoNico Douga has only 1536 cited videos, which shows negative effect of their "enclosuring" like registration system and difficult-to-embed flash video players.

As you can see in closure of Geocities, a great free web hosting service from early days, the process of selection is making a drastic change in web industry recently.

The web is gradually becoming a place not only for forerunners but also for "everybody". More services currently only for the real world will be adapted to the Internet and you will have to spend more time using the Internet.

You would not be able to see clear indications of the change, but slowly the Internet is changing, whether someone likes or not.

Related Post:
Guessing Google's imaginary opponent in Japan from their Usability Poll - GIGAZINE

WPA encryption broken completely: Japanese Academic Researcher implemented falsification attack - GIGAZINE

Taiga Aisaka of Toradora! won intense final of Anime Saimoe Tournament 2009 - GIGAZINE

Best 8 Moe Characters of the Year in Anime Saimoe Tournament 2009; Final on Oct. 17 - GIGAZINE

IPSJ added 23 computers to "Computer Heritage" - GIGAZINE

"NetWorx" Monitors Your Network Usage and Tells You When to Stop Net Surfing - GIGAZINE