Confirmed: New Nintendo DSi images unveiled, coming with 4.2" display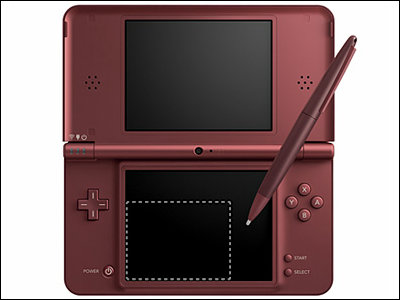 (This article was originally posted in Japanese at 16:43 Oct. 29, 2009.)

The rumor was true. Today Nintendo officially announced their new Nintendo DSi console. Named "NintendoDSi LL" the console comes with 4.2" display, almost the same size as Sony's 4.3" LCD. Compare the size of display between DSi LL and existing DSi on the image above. The rectangle drawn in dashed line is the size of existing DSi's screen.

Read on for detail.

(JP) DSi revised with larger LCD with wider angle of view! - To be released on Oct. 21 at 20,000 JPY -

Nintendo says that they are to relase new Nintendo DSi LL from Oct. 21 at 20,000 JPY(about $220 USD). Three color variations of "Dark Brown", "Wine Red" and "Natural White" are to be provided.

Wine Red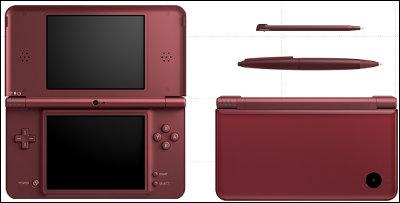 Dark Brown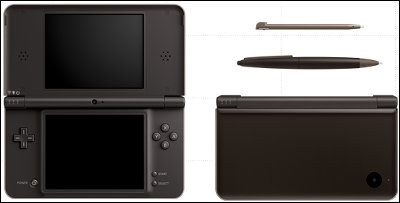 Natural White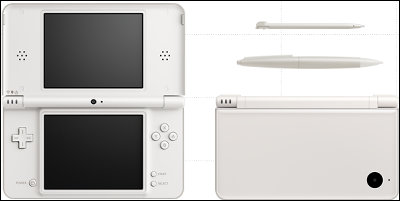 Reflecting users' demand for a larger display, Nintendo DSi LL has 4.2" LCD. It's 193% larger than former Nintendo DS lite's display so it becomes easy to play games with someone side by side. Larger dislay also contributes to easy reading with larger fonts. Angle of view is also improved.

In addition to emcased touch pen, extra stylus with 129.3mm(about 5") length will be attached.

Three softwares are pre-installed, such as "Brain Age Express: Arts & Letters", "Brain Age Express: Math" and "DS Rakubiki Jiten". Pre-installed software may vary from regions.

Comparing Nintendo DSi LL, DSi, and DS Lite.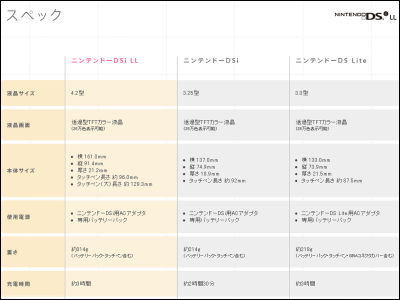 Further information can be obtained from the link below.

NintendoDSi LL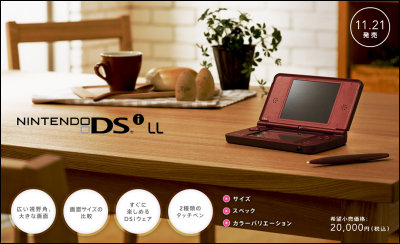 Related Post:
Rumor of Nintendo releasing New Nintendo DS in a year with larger LCD - GIGAZINE

Tokyo Game Show 2009: Table of Contents - GIGAZINE

Nintendo Sued Domestic "Game Backup Device" distributers - GIGAZINE