Shogakukan's Children's Magazine "Shogaku Gonensei" and "Shogaku Rokunensei" to Cease Publication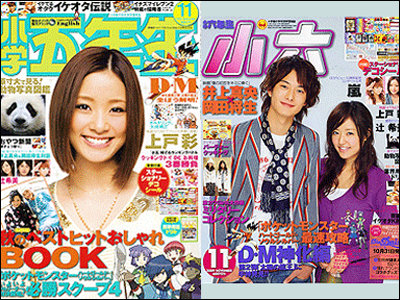 (This article was originally posted in Japanese at 14:54 Oct. 26, 2009)

Unlike Shogakukan's manga magazines such as Shonen Sunday or Ikki, children's magazines Shogaku Gonensei and Shogaku Rokunensei must be practically unknown outside Japan, but they are the longest standing magazines by the publisher with 87 years' history, launched in 1922 at the company's foundation.

Shogaku Gonensei(fifth grade of primary school) and Shogaku Rokunensei(sixth grade of primary school) are part of Shogakukan's children's magazines line titled by the year of children's studies. You can say most of the Japanese population is at least aware of the magazines' existence if not a one-time reader. Today it became clear that these two long-established magazines are closing down in the end of this school year.

Read on for details.
(Japanese)"Shogaku Gonensei" and "Shogaku Rokunensei" Discontinued - MSN Sankei News

(Japanese)Shogakukan Closing Down "Shogaku Gonensei" and "Shogaku Rokunensei" - Mainichi Shimbun

According to the news articles above, Shogakukan revealed their decision to close down "Shogaku Gonensei" and "Shogaku Rokunensei" at the end of this school year (which means the final issue will be the March 2010 issue, to be published in February, 2010).

Although they might come across as some idol magazines these days, Shogakukan's "Shogaku --nensei" magazines were originally launched as educational-entertainment magazines aimed at students of the specific age containing age-appropriate manga and stories, articles, study-tips, quiz and games. They also traditionally come with furoku(supplements) such as stickers, papercraft and stationery.

They are not categorized as manga magazines but some of the gems in Japanese manga have been serialized in the "Shogaku --nensei" magazines. One of the notable titles recently is the award-winning sex-ed manga Naisho no Tsubomi serialized in Shogaku Gonensei since 2005. Both Shogaku Gonensei and Shogaku Rokunensei reached their highest circulation in 1973 coinciding the launch of the Doraemon manga, Gonensei selling 635,000 copies and Rokunensei 460,000 copies. But they both hardly managed to maintain circulation of 60,000 in recent years.

Shogakukan also announced their plan to launch new educational manga magazine "GAKUMANPLUS" after closing down the two magazines.

Related Posts:
The 54th Shogakukan Manga Award announced - GIGAZINE

Front Page: 50 covers representing 50 years of SHONEN SUNDAY - GIGAZINE

Bandai's Communication Robot "My DORAEMON" - GIGAZINE

Museum where you can enjoy Fujio F. Fujiko's comics such as "Doraemon" "21-emon" will open in 2009 - GIGAZINE
in Note, Posted by darkhorse_log