Linux founder Linus Torvalds spotted at Akihabara, giving Windows 7 a big thumbs up!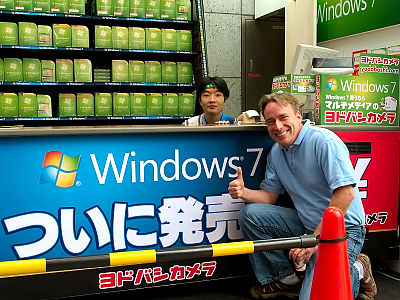 (This article was originally posted in Japanese at 15:30 Oct. 23, 2009)

So Windows 7 went on sale last week and we're sure all of you are loving it. On the day of release a Windows-enthusiast was spotted taking souvenir shot in front of a promotion booth at Yodobashi Camera, Akihabara. Later it came out that this friendly looking guy with big smile is none other than Linus Torvalds, father of Linux.

Everything seem hunky-dory here, but did Linus buy Windows 7 in the end? Apparently not!

Read on for details and pics.
Picasa Web Album - Chris - Japan Linux Symposium (1)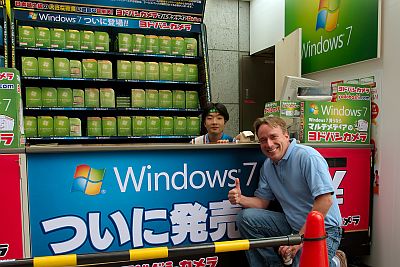 Linus was visiting Japan for the Japan Linux Symposium held at Akihabara.

Picasa Web Album - Chris - Japan Linux Symposium (2)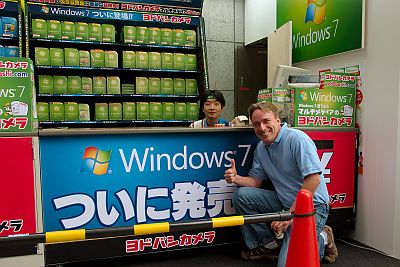 Microsoft tried to torpedo the success of the Japan Linux Symposium by launching their Windows 7 product that same day. They even had setup a big promotion booth across the street from the conference center.

During a break, we decided to make some fun of Microsoft and dragged Linus over there. When we arrived there, Linus was sold immediately on the product as you can see in the picture. At least that's what the sales guy thought. He obviously had no idea who he was dealing with. But in the end Linus surprisingly did not buy a copy. Wise man!
The poor salesguy. He must have been ridiculed a lot by friends when this pic went all over the web.

Related Posts:
CeBIT 2009: How were Ubuntu guys doing in CeBIT 2009 booth? - GIGAZINE

Software Hand-On of Sharp's new Linux PDA "Netwalker" - GIGAZINE

Hands-On: Sharp's new Linux PDA "Netwalker" - GIGAZINE