Closeup Review on Sony's New Ultra-Slim Laptop VAIO X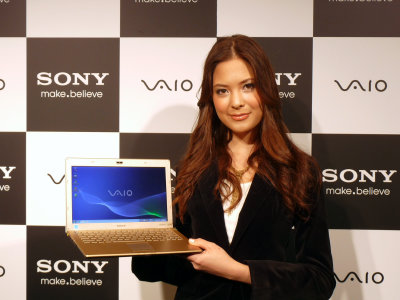 (This article was originally posted in Japanese at 14:39 Oct. 08, 2009.)

In CEATEC JAPAN 2009, Sony exhibited VAIO X, the world's lightest Laptop.

In spite of its slim enclosure, the laptop enabled high durability qualifying 150kgf pressure test and long battery hours up to 20.5 hours.

Read on for detailed photos of the product.

The VAIO X.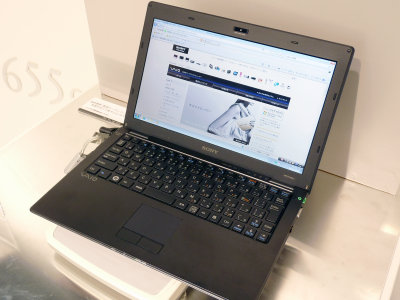 The keyboard. Separated keytops are roomy enough to type.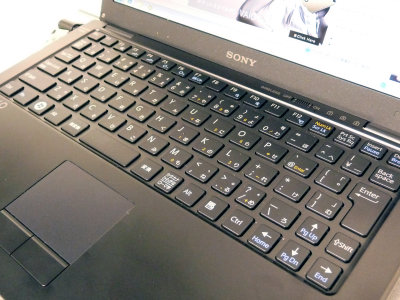 Hardware switch for wireless LAN enables longer battery life.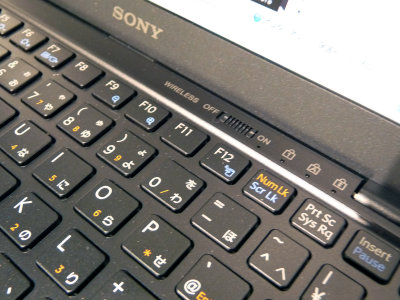 11.1" Wide-aspect LCD(1366*768 pixel)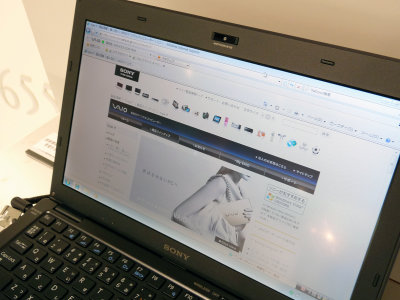 "Motion Eye" Web Camera mounted on top of LCD panel.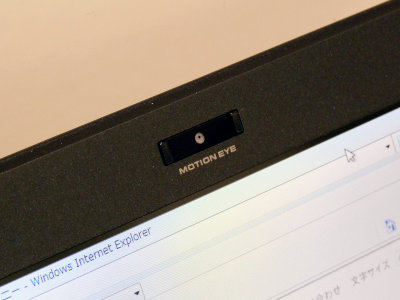 LAN and display port on the right side.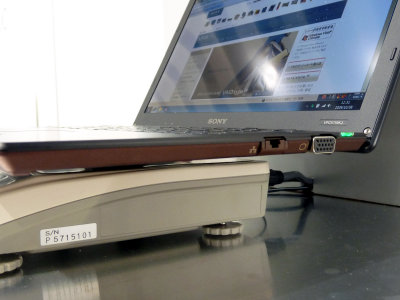 Two USB port and power port on the left side.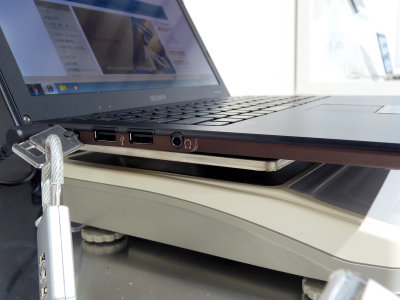 Small plug.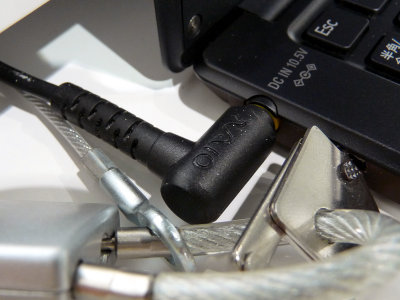 Both SD memory card and Memorystick slot are prepared.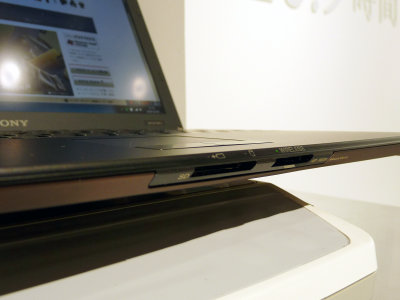 No ridiculous battery bumps on back.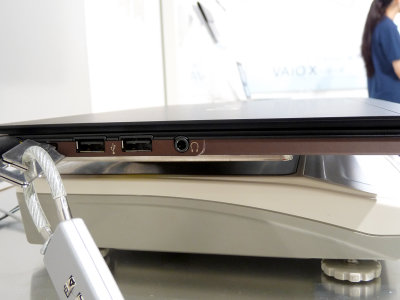 It's slimness makes D-sub 15pin connecter looks big.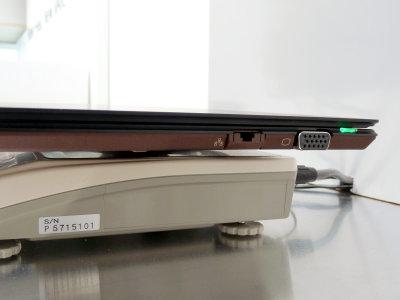 Using carbon panel for LCD backing for durability.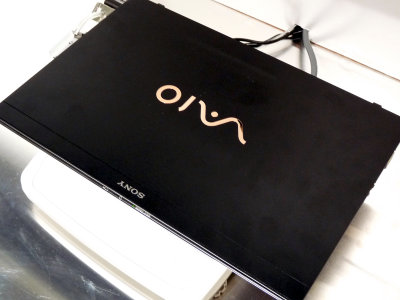 Seems like thin portfolio or something.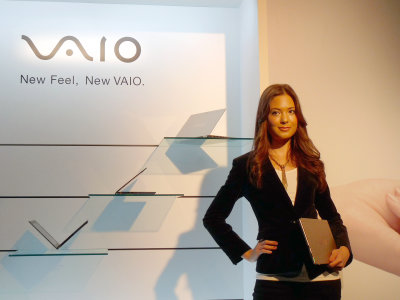 X-Large size battery. Priced 24,800 JPY(about $280 USD).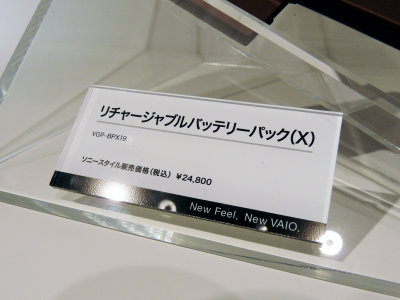 Mounted on base panel of the laptop.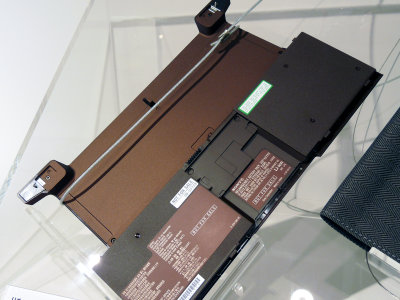 Backside of the X-large battery. This will ruin the laptop's slimness a bit, but its 20.5 hour operating hour is worth it.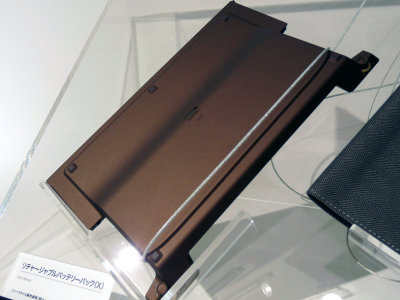 Fabric carrying case is priced 4980 JPY(about $56 USD)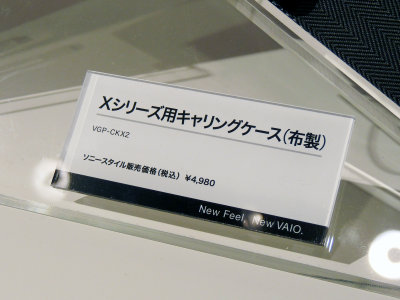 Woven in fashionable herringbone pattern.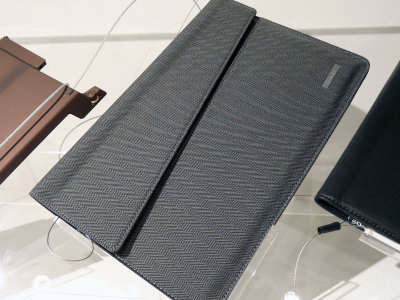 Opening.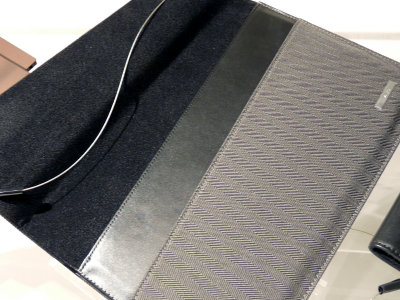 All leather carrying bag.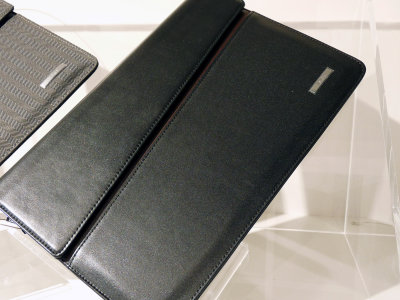 Two-colored.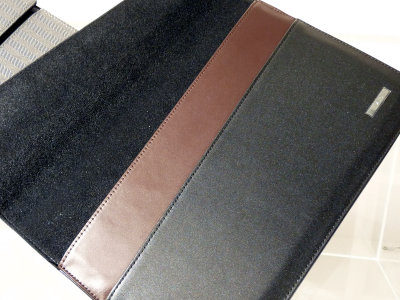 Priced 9980 yen(about $113 USD)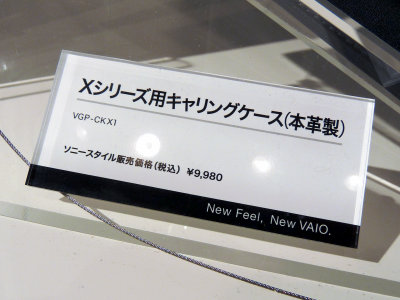 Gold colored enclosure is also available.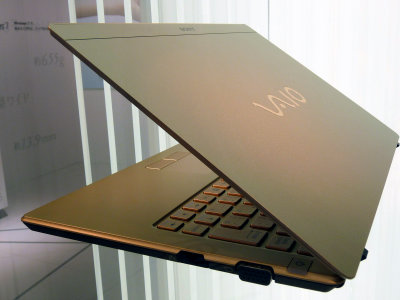 Gold to the keyboard.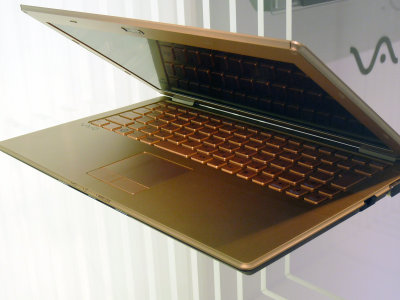 System property of the laptop.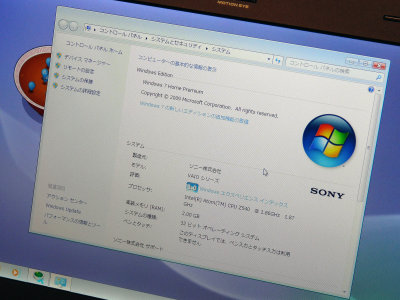 Windows Experience Index. A little powerless on graphic drawing.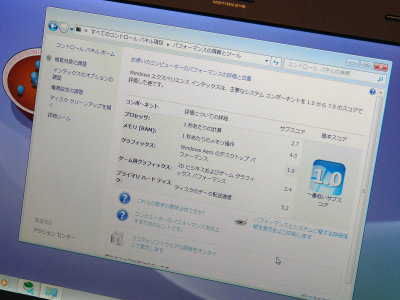 The Spec of Basic Grade Model:

CPU Intel ATOM Z540(1.86GHz)
Main Memory: 2GB
Strage: 64GB SSD
LCD: 11.1" Wide-aspect LCD(1366*768 pixel)
Network Connection: wireless LAN, wireless WAN(NTT Docomo)
Bluetooth and web camera embedded.
OS: Windows 7 Home Premium.
Price: 110,000 JPY(about $1,240 USD)
130,0000 JPY for MS Office preinstalled model(about $1470 USD)


Here's VAIO X's official site. They offer price simulation for suctomized VAIO X models.

Concept of X Series | X Series | Product Information | Personal | VAIO Personal Computer | Sony

Related Post:
Sony's Ultra Thin "VAIO X" Photo Review: CEATEC JAPAN 2009 - GIGAZINE

Conceptual VAIOs and Wristwatch Walkmans using Flexible Organic EL: CEATEC JAPAN 2009 - GIGAZINE

Software Hand-On of Sharp's new Linux PDA "Netwalker" - GIGAZINE

Paper-Thin and Flexible, "Flexble OEL Display" shown at NHK Tech Lab Public viewing 2009 - GIGAZINE