Robo Geisha Director's Live Action "Dogu-Chan the Ancient Girl" now airing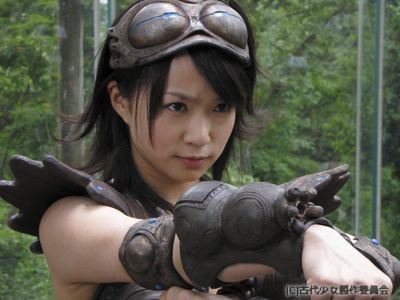 (This article was originally posted in Japanese at 17:00 Oct. 07, 2009.)

Noboru Iguchi, the director of the bizarrest action movie Robo Geisha has brought another weird live action TV drama Dogu-Chan.

Dogu-chan, a reincarnation of dogu(small ceramic figurine made in ancient Japan), fights with evil in the modern society with her buddy Dokigoro and fights the evil in the modern society Makoto.

Although it's a late night show, casts are gorgeous. Gravure idol Erika Yazawa stars as Dogu-Chan, while Masataka Kubota of K-tai Investigator and Tatsuya Kamikawa of Komyo ga Tsuji assist her.

The airing started from 25:25 Oct. 7. Here are some clips from this weeks episode and advance clips from next weeks. May contain some spoilers so watch out.

Read on for detail.

(JP)Dogu-Chan the Ancient Girl [MBS Official Site]
http://www.mbs.jp/doguchan/

Ep.1. "Yokai Koibito(Carp Man, or pun for Lover in Japanese)": Archaeologist Kenzo(Tatsuya Kamikawa) strike an ancient dogu.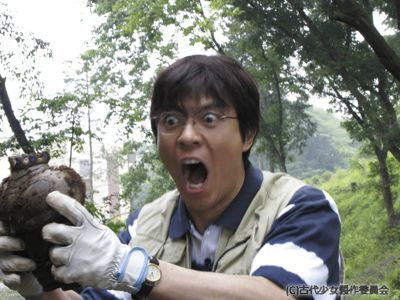 Makoto(Masataka Kubota), a highschool boy accompanying Kenzo somehow woke Dogu-Chan from long sleep and selected as her valet.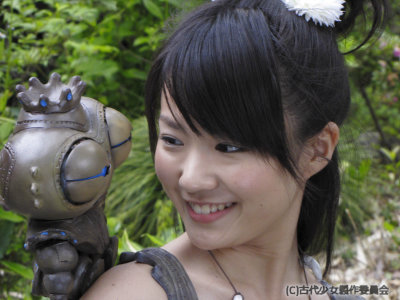 At the same time, cult priestess Uona was gathering member as "Koibito(lover...probably parody of 20th Century Boys)". Somehow Makoto was targeted by them.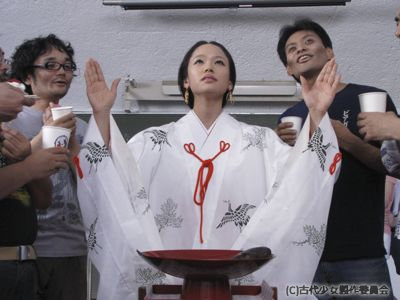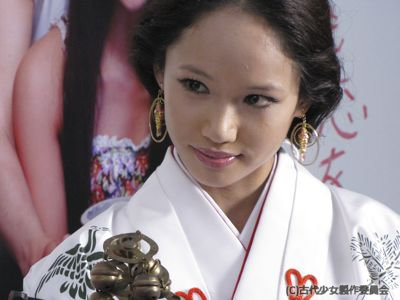 Can Dogu-Chan protect Makoto?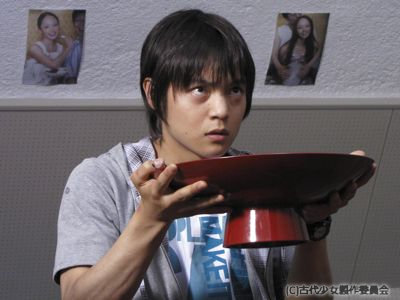 Ep.1. has an orthodox plot, the introduction of characters and circumstances. But it's still in good tempo and makes us feel the 30 minutes airing time short. Who can think of the story like ancient dogu girl reincarnates and fights with yokai monsters?

Ep.2. "Yokai Chichideka(lit. Big tits)": Makoto finally quits being a stay-at-home son and went to his school for being home with Dogu-Chan is so disturbing. Not surprisingly Dogu-Chan accompanies him, which is unacceptable for class representative Kimika.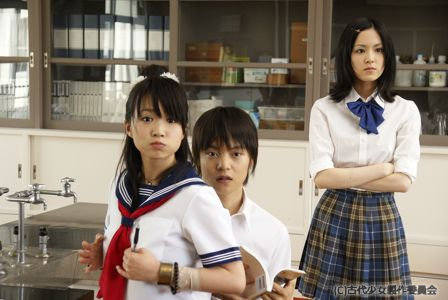 Munakata, H-cup chick appeared as substitute science teacher.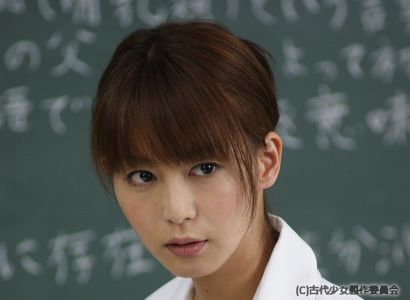 Makoto's childhood friend Shintaro was caught by her gorgeous breast.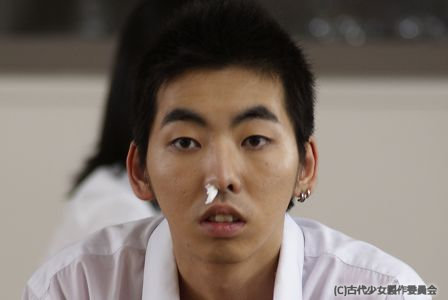 But...Ms. Munakata was the Yokai Chichideka!!!


In Ep.2 the story shows its aspect as a school drama, while Big-Boob-Men chase protagonists like zombie horror.

In spite of these cheep plots, these two episodes are still impressive with Erika Tanizawa's spirited acting performance. Noboru Iguchi, Takashi Shimizu of Jyuon and some others co-directs episodes alternately, so there will be more Dogu-Chan with different atmosphere.

The airing is on every Thursday at 25:25 on MBS and other stations, although no schedules confirmed for airing in eastern Japan. Some goodies are to be made and to be sold on the Internet.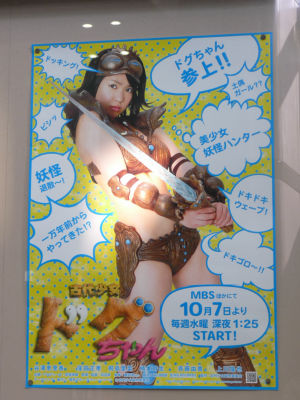 Here's a 15 sec. commercial.
YouTube - Dogu-Chan the Ancient Girl CM (15sec)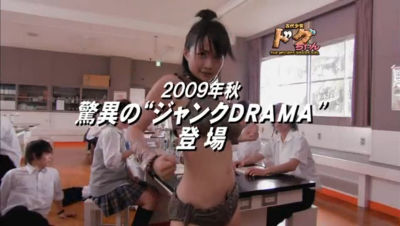 Promotion video is prepared at the official site.

(JP)Dogu-Chan the Ancient Girl [MBS Official Site]


♦Staffs:
Planning and Produce; Takuma Tosaka
Original Idea: Noboru Iguchi
Director: Noboru Iguchi, Keisuke Toyoshima, Takashi Shimizu, Ryuta Miyake, Takuma Tosaka
Screenplay: Noboru Iguchi, Jyun Tuguta, Ryuta Miyake, Jyunya Kato
Special Makeups: Yoshihiro Nishimura
VFX: Tsuyoshi Kazuno
Production: MBS, King Record

Related Post:
"Watshi no Yasashikunai Senpai" to be the First Live-Action by Director Yamamoto of "Kannagi" - GIGAZINE

Tezuka's Darkest Manga "MW" adapted to Live-Action Film - GIGAZINE

Trailer of "Kamui Gaiden", live-action film adaption of the Ninja Manga Classic - GIGAZINE

FULL METAL PANIC! going live-action starring Zac Efron - GIGAZINE

Gambling Manga "Kaiji" adapted to Live-Action Film starring Tatsuya Fujiwara - GIGAZINE

"GANTZ" Going Live-Action Starring Ken'ichi Matsuyama and Kazuya Ninomiya - GIGAZINE