50th Anniversary of Mascot Character Yanbo and Marbo of "Yanmar Weather Forecast"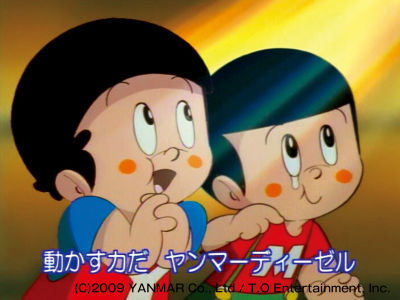 (This article was originally posted in Japanese at 15:25 Oct. 06, 2009)

Yanbo and Marbo are twin boys starring the short TV programme "Yanbo Marbo Weather Forecast" sponsored by engine and agricultural machine manufacturer Yanmar, widely known in Japan for their catchy jingle.

The programme started airing in 1959 and celebrated its 50th anniversary this June. And now, an official 112-page guide book bundled with DVD is on its way.

Read on for details and pics.
Yanbo and Marbo in their earliest form. Being identical twins, it's hard to tell which is which if not for the "Y" and "M" on their sweaters.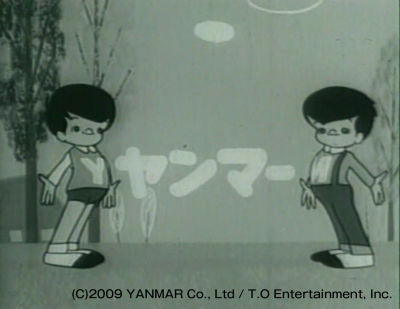 Growing a bit chubby, and the difference in their hairdo becomes more pronounced.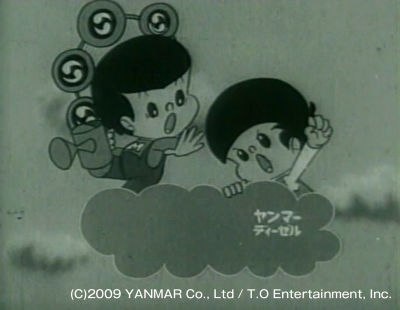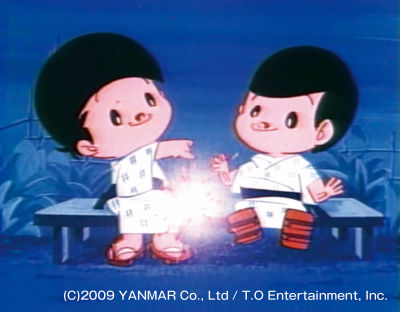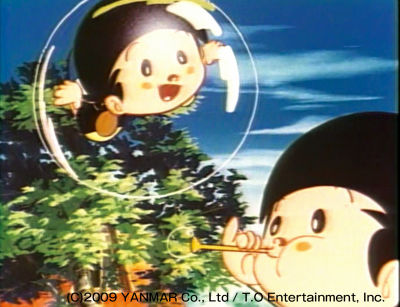 The eyes changed.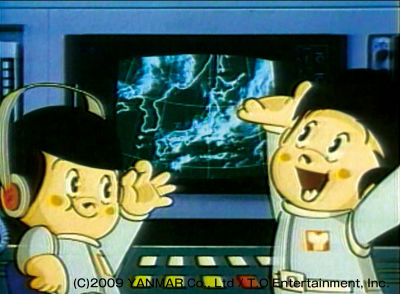 From thre on, the character design haven't changed much, pretty much the same Yanbo and Marbo of today.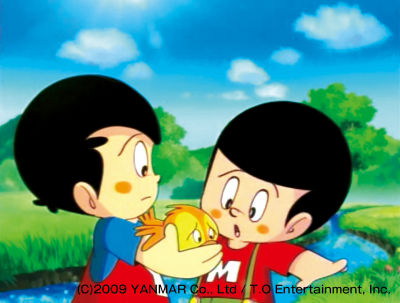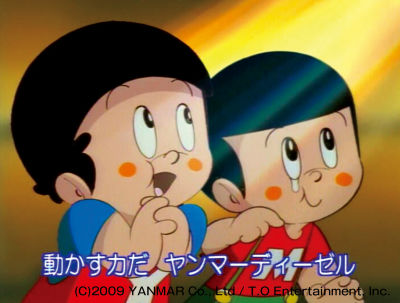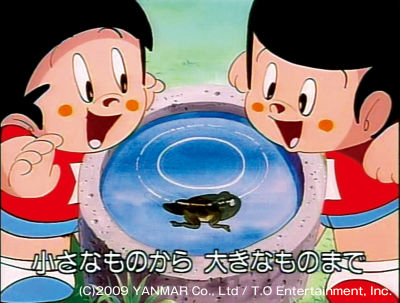 Obviously, the name Yanbo and Marbo comes from the company's name Yanmar. "Bo" is like "kun" or "chan", used to adress boys. The original character design of Yanbo and Marbo is by animator Yasuo Nakamura, who also did all the revisions up to date.

The official guide book includes Nakamura's interview and previously unreleased illustration, cutouts from the anime, colouring book, stickers and even some recipe of Yanbo and Marbo's charaben. It comes with a DVD of 50 versions of opening/ending anime of the forecast programme. To be on sale on October 20 at 1,500 yen (about $17).

Here's a link to a video of Yanbo and Marbo posted on YouTube. The video includes four versions of opening anime: "Fishing('65)", "Monkey('68)", "Landing on Mars('68)", "Safari('08)" and "Future Vehicle('09)".

YouTube - Yanbo Marbo Weather Forecast (2009: 50th Anniversary Special)

In case you're wondering, the lyric goes like this:

Boku no namae wa Yanbo (My name is Yanbo)
Boku no namae wa Marbo (My name is Marbo)
Futari awasete Yanmar da (the two of us make Yanmar)
Kimi to boku to de Yanmar da! (You and me make Yanmar!)
Chiisana mono kara ohkina mono made (From the smallest things to the biggest things)
Ugokasu chikara da Yanmar Deezelu (Power to move, Yanmar Diesel)
Related Posts:
Bath bombs in candy wrappers looking just like Fujiya's "Milky" Candy - GIGAZINE

HOWTO: Curve out life-size anime characters with CHAINSAW - GIGAZINE