Game Developer Funded a Scholarship to their NDS Educational Software Users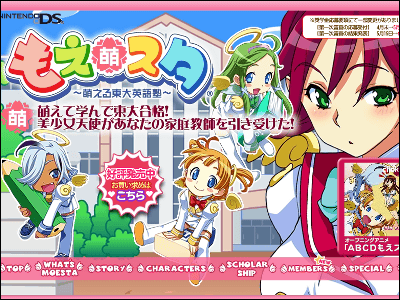 (This article was originally posted in Japanese at 11:17 Oct. 06, 2009.)

You might have heard of intensified competition in school entrance exam in Japan. In this cruel war, students would do anything to exceed others and win admission, and there are huge chances for market players to earn some money.

Moe-Sta - Moeru Todai Eigo Jyuku(lit. Study with Moe mind - English study for University of Tokyo Entrance Exam) is a combination of educational software and date-sim. Cute girls teach you English and when you reach some level in English study, the date-sim mode also advances.

The game company had announced that they will fund a scholarship to players who is accepted by University of Tokyo, which ranks the highest among others. And finally two successful applicants appeared to receive Scholarship.

Read on for detail.

***Moe-Sta - Moeru Todai Eigo Jyuku***
http://moe-sta.jp/

Moe-Sta Scholarship Requirements:
1. Applicant must be a player of Moe-Sta studying English.
2. Applicant must pass Univ. of Tokyo's entrance exam of 2009.
3. Applicant must be able to participate in press events.
4. Applicant must subscribe himself at Moe-Sta Official Site.

About 1000 people applied and two people finally won the scholarship. They both said that the education program is well constructed and well specialized for Tokyo University's entrance exam. Also, game part is made gorgeous with famous voice actresses, which made the software a good relaxation.

There's no knowing whether these two used other text books or not. But studying through gaming seems to be proven as a efficient method, not only for elementary education, but also for extreme challengers.

Related Post:
TAF 2009: Moe-personification of Super Robot!? "Toei Robot Girls" launched - GIGAZINE

Get Fit Watching Girls in French Maid Outfit with Moe Workout DVD "Maid-san shiki Radio Taiso!" - GIGAZINE

"MoeSD" -the Micro SD featuring MOE-able characters released - GIGAZINE

Furry, Fluffy and Moe! "Nekomimi" Cat Eared Head Band with Canalphones - GIGAZINE

Buddhist Temple Attracting Young Visitors with Moe-Characters of Gods - GIGAZINE

Delicious "Moe" Beef Curry with huge chunks of meat, in a package illustrated by Aoi Nishimata - GIGAZINE

First in Industry! Moe Packaged Battery to Power Your Gadgets - GIGAZINE

Moe Pudding "Milky Gold" with Aoi Nishimata's Bishoujo Character - GIGAZINE

"Moe" Soy Cookies featuring Bishojo Characters - GIGAZINE