Winners of "FUJITSU Mobile Phone Design Award 2009": CEATEC JAPAN 2009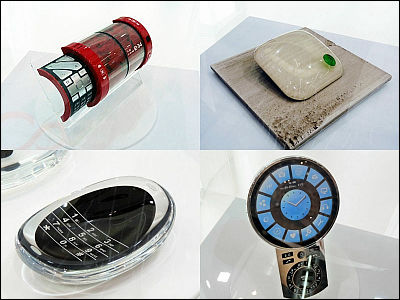 (This article was originally posted in Japanese at 23:47 Oct. 06, 2009)

FUJITSU MOBILE PHONE DESIGN AWARD 2009 opened in May, 2009, accepting applicants in two categories: the "Practical Category: Mobile Phones for 2011" of which the winning models will have a chance to be commercialised in near future, and the "Dream Category: Mobile Phones of the Future" of futuristic and dream-inspiring design concepts. The winners were exhibited at CEATEC JAPAN 2009.

Pics after the cut!
Fujitsu Hosts Mobile Phone Design Award 2009 : FUJITSU

Fujitsu's booth at CEATEC JAPAN 2009.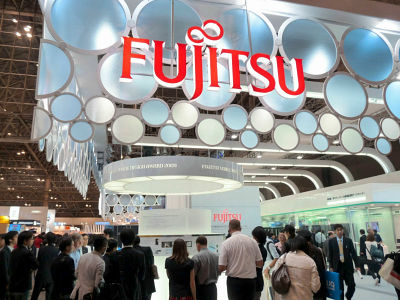 The judges.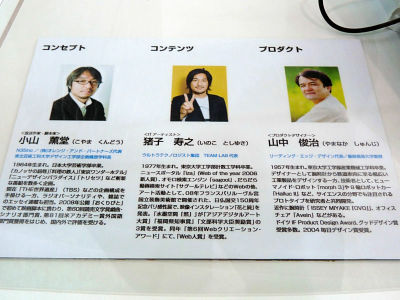 "KA○RA" (reads KAWARA, which means "roof tiles" in Japanese) received the Judge's Special Award.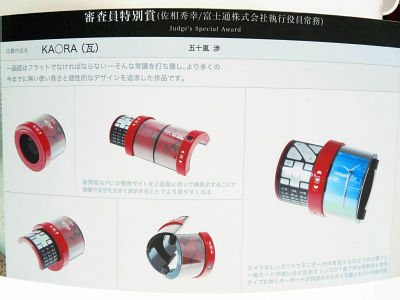 When expanded, the two displays can act as one, making it easier to browse websites designed for PCs.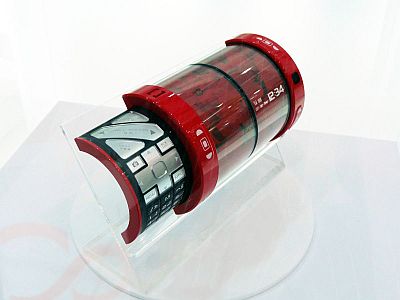 The key pad slides like this.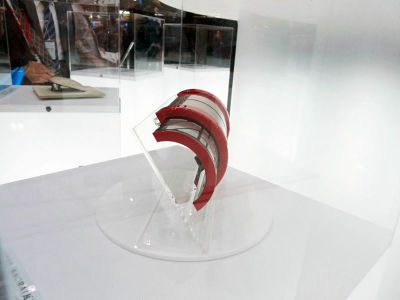 "chamelephone" also received a Judge's Special Award. The Judge's Special Award are given one award per judge, and the prize is 100,000 yen (about $1,000).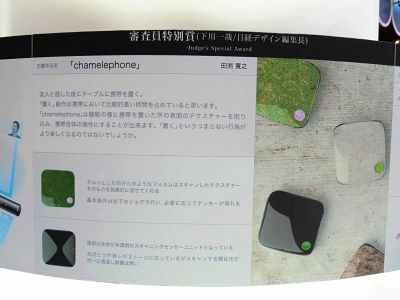 The texture scanned by the scan-sensor unit will be displayed on the screen, making an illusion that the whole handset is transparent.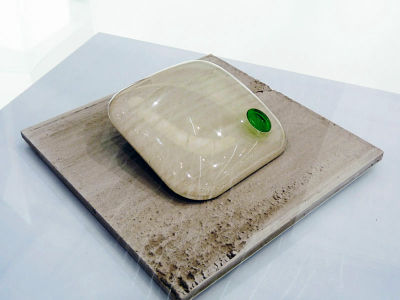 Basic operation can be handled by the green jog dial, and a keypad will appear on the touchscreen when necessary.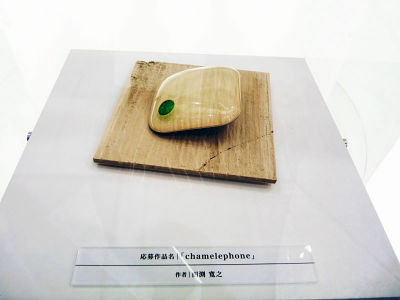 Judge's Special Award "Adjustick". The pen-like object will project keyboard and screen.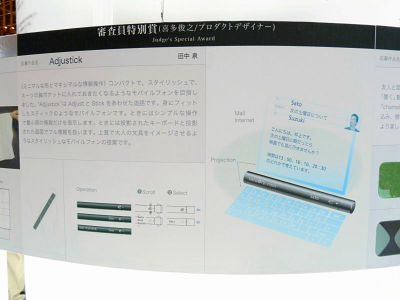 No texting while walking, which must be the downside.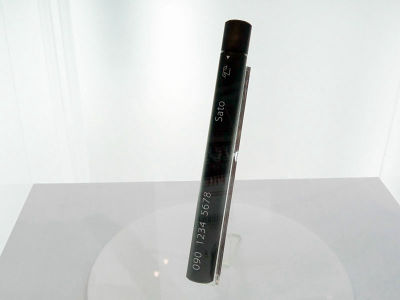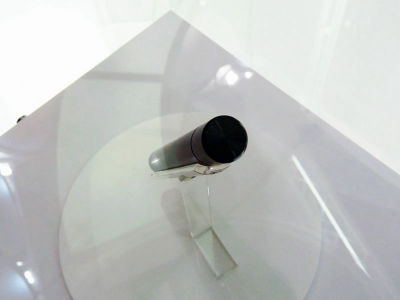 It can be carried around in your breast pocket just like a pen.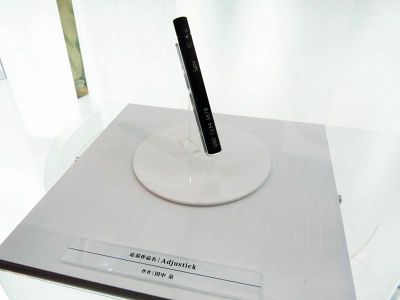 "FOLD-A-PHONE" received the Runner-up Prize in Dream Category.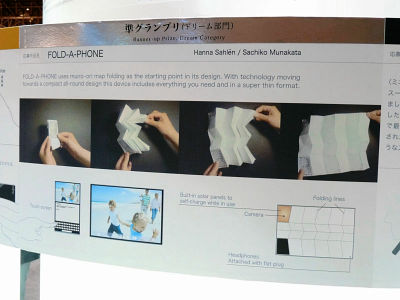 It uses Miura-fold invented to simulate large solar panel arrays for space satellites. It contains touchscreen, camera and built-in solar panels to self-charge while in use.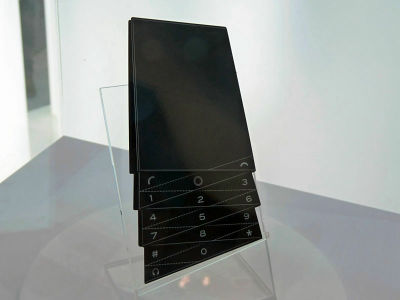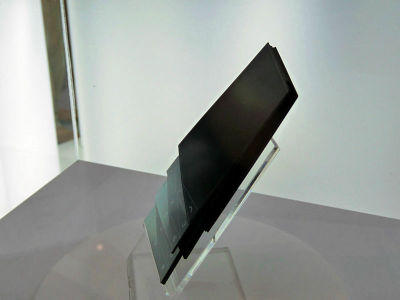 And the Grand Prize went to "Gesture" by Jin-gwon Go, winning him 2,000,000 yen (about $20,000).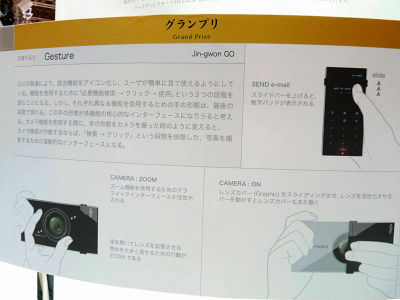 True to the name, most function can be handled by gestures, like performing lens-twisting action to zoom the camera.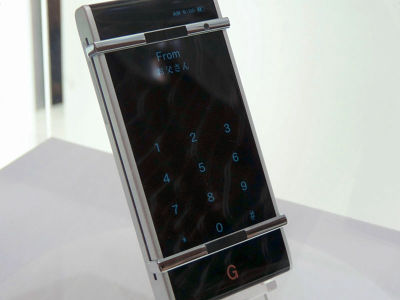 The two slide bars are essential to determine the next function you'll use. The key pad will appear when you slide up the bar vertically, going into calling/texting mode. To activate camera mode, hold the handset horizontally and slide the bar like opening the lens of a camera.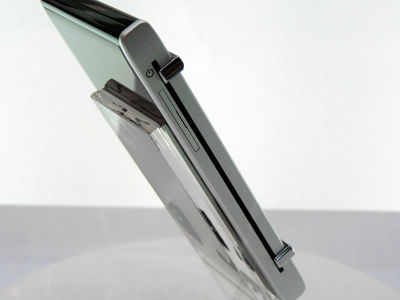 "SOAP." received Runner-up Prize in Practical Category.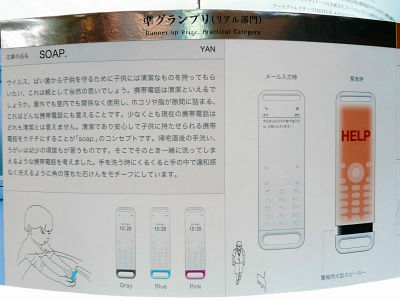 The design is themed on a bar of soap, focused on hygiene.


Waterproof and washable, it can be washed with soap every time you wash your hand when you come home.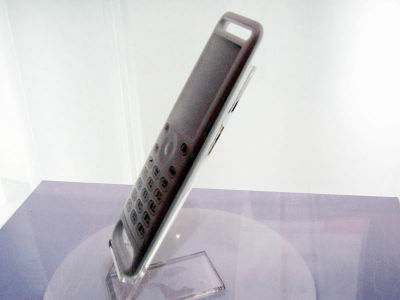 "F-Circle" received Judge's Special Award.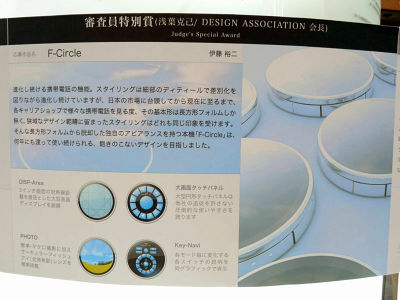 The circular touchscreen will make a change when every other handset is rectangular.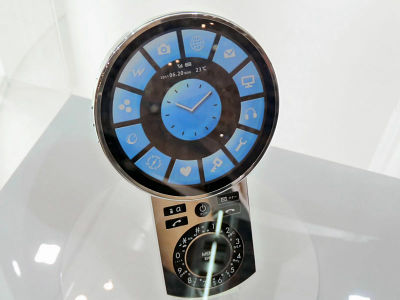 Diameter of the display equals the diagonal length of an ordinary 3 inch screen.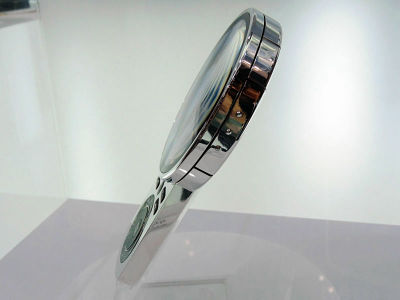 Carries circular fisheye lens for the camera.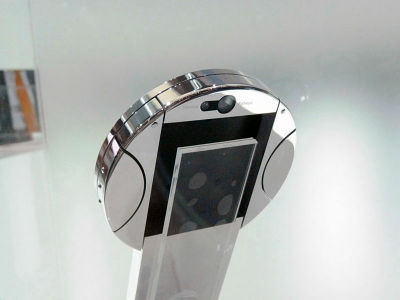 "Osusowake-tai" (could be translated as "Sharing Mobile"), Judge's Special Award.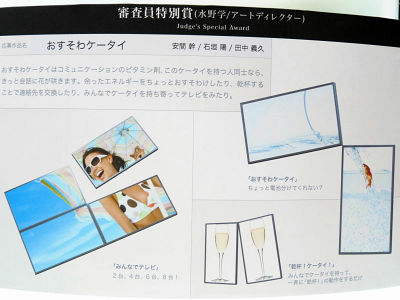 Four handsets can act as a large screen to watch television, and you can share battery among friends.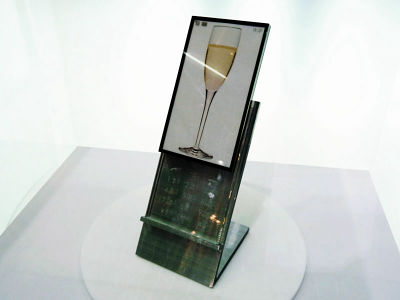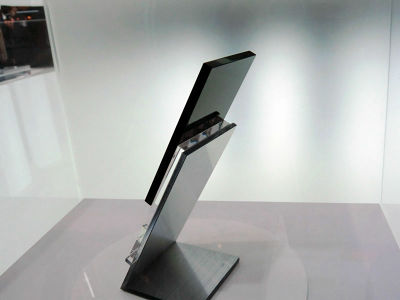 "Amoeba Phone", Judge's Special Award.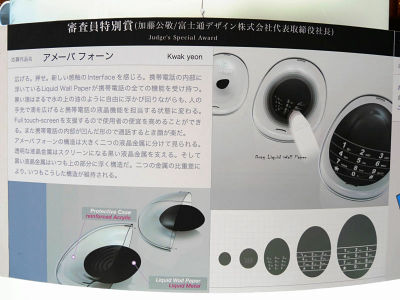 "Liquid Wall Paper" of liquid metal floating in the protective case (reinforced acrylic) will act as a touchscreen when in use.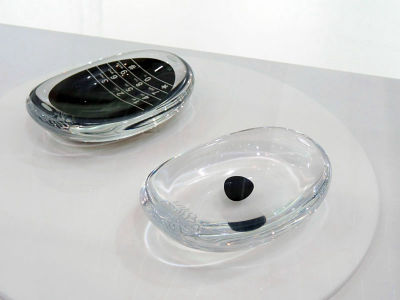 When idle, the black liquid metal will float freely in the clear liquid metal.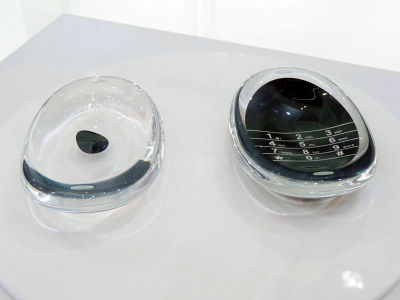 The soap dish-like shape will fit the curve of your face when speaking.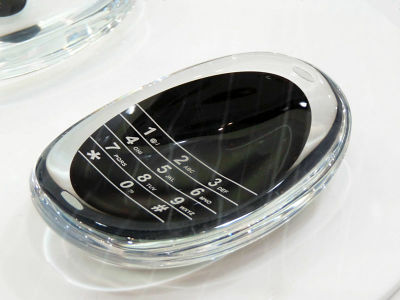 Related Posts:
Table of Contents - CEATEC JAPAN 2009 - GIGAZINE

Wooden Cell Phone "TOUCH WOOD" by NTT docomo: CEATEC JAPAN 2009 - GIGAZINE

KDDI's "Polaris" cellphone handset learn and analyze everything about you - GIGAZINE

Unique (and almost too odd) Concept Designs of Willcom Terminals - GIGAZINE