Eyeball Remote Controller by Docomo: CEATEC JAPAN 2009

(This article was originally posted in Japanese at 14:34 Oct. 06, 2009.)

NTT Docomo developed epoch-making remote controller which can control portable electronics devices with the movement of muscles around the eyes.

At their booth in CEATEC JAPAN 2009, we filmed a working sample of this surprising remote controller.

Read on for detail.

The actual product. You can see electrodes around a speaker.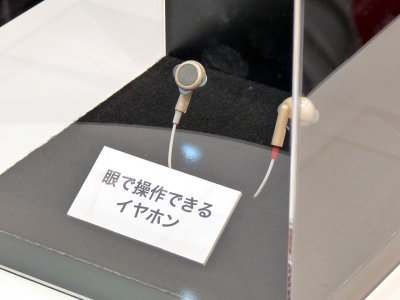 These electrodes catches slight change in electric potential caused by muscle movement.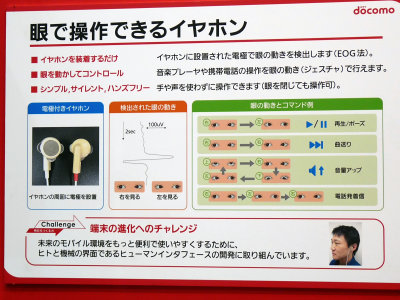 They demonstrated its operation at the site.


Watch his eyeball movement causing change in graph shown on display.

YouTube - Earphone with Eyeball-Operated Remote Controller


Related Post:
Table of Contents - CEATEC JAPAN 2009 - GIGAZINE

Minority Report Coming Real with Gesture Remote Controller: CEATEC JAPAN 2009 - GIGAZINE