Review on "Inazuma Eleven 2 Kyoi no Shinryakusha Fire/Blizzard" demo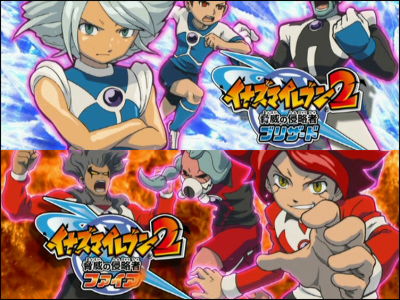 (This article was originally posted in Japanese at 17:10 Sept. 28, 2009.)

At Tokyo Game Show 2009, Game developer Level 5 handed demo game software and demo video disc of Layton franchise, Ninokuni: The Another World, and Inazuma Eleven 2. Here's our quick review on videos and demo games of these coming DS games. It's only a demo version so the final version could be changed from this demo version. Let's start with Inazuma Eleven 2: Kyoi no Shinryakusha Fire/Blizzard.

Read on for detail.

Inazuma Eleven 2 Kyoi no Shinraykusha Fire/Blizzard
http://www.inazuma.jp/inazuma2/index.html

Good Points:

-Impressive world setting

The game's objective "Fight with space invaders" is quite distinctive and impressive for a soccer game. The actions and special effect is gorgeous. Won't make us boring. The game is interesting enough to make us curious on TV anime. The tempo of the game is rather quick and crisp, though there is so much animation and special effect in the game. The demo contains just the beginning part of the game so we can't tell how it will be on the later parts. Hope it is in good tempo.

The key art of Inazuma Eleven. Aliens in commando-like costume. All following clips are from demo video of the game.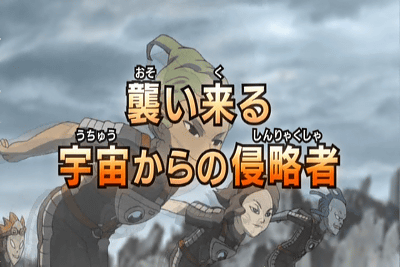 Protagonist Mamoru Endo. The beam is actually an soccer ball kicked by aliens.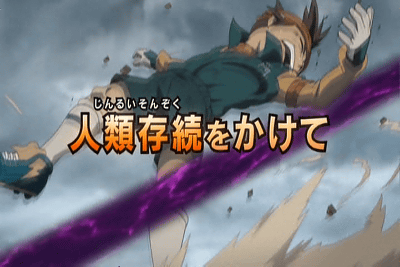 Just to be safe, it's football game.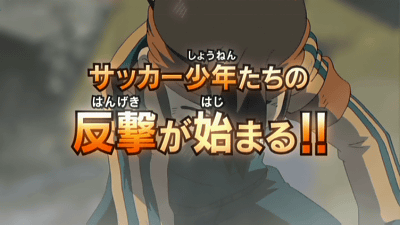 Here are some other characters. Shiro Fubuki, the ace striker in snowfield. Probably appears in "Blizzard" edition of the game.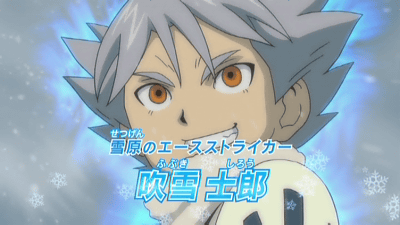 Toko Zaizen, a daughter of the Prime Minister.


Osaka-girl striker.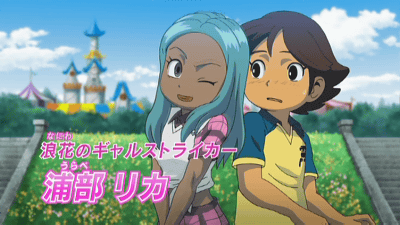 "Wave rider of the football field"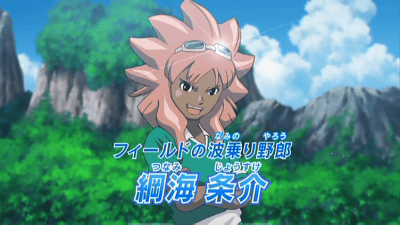 Newbie goal keeper.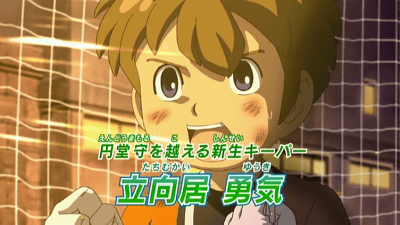 Kiyama Hiroto. An alien from outer space, with Japanese name.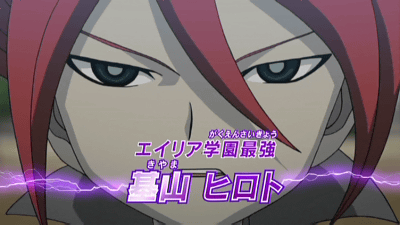 Heroes and villains of Japanese shonen anime and manga tend to have gorgeous "special techniques" and Inazuma Eleven is no exception. This is "Southern Cross Cut", Taking opponent's ball with blazing fire.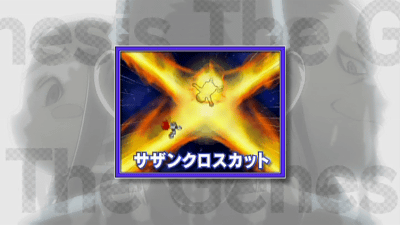 "Shooting Star Blade" It's soccer RPG, but we aren't sure why they would use blade in the soccer game.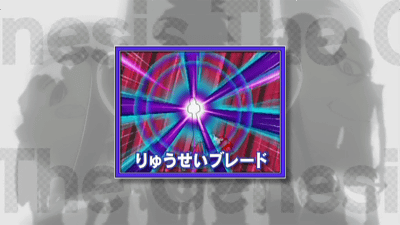 "Eternal Blizzard"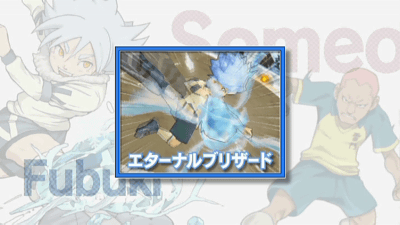 "The Tower".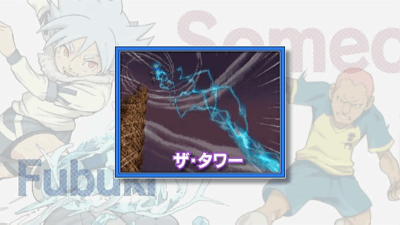 "Emperor Penguin No.1".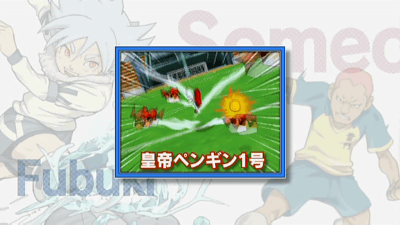 "Mugen The Hand".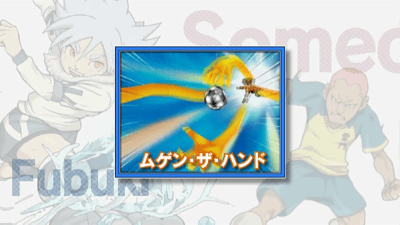 "Drill Smasher" Why do they need to drill something on the soccer field?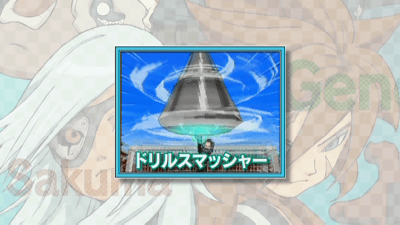 "Blazing Heat Storm" Summoning a fire giant. What a RPG.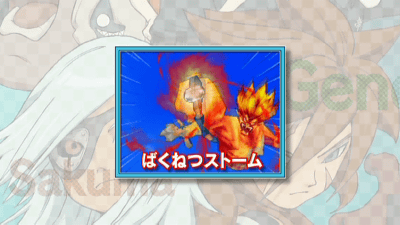 "Butterfly Dream" Reminds us Twin Shoot of Captain Tsubasa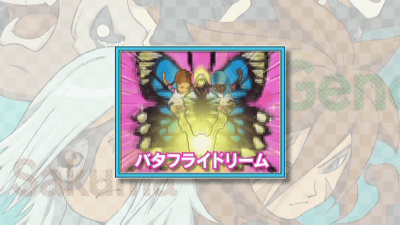 Not-so-good Points
-Touch pen control is too inconvenient.

You need to practice much to control characters. Especially, the console won't react properly to sliding motion of the pentip. After all, it's a sports game. If the control device is poor, it will ruin the game.

-Ingame movement of characters seems slow.
Because they are controlled by touchpen, they need to be slow enough to be caught by pentip. It depends on each player's skills, but it could be more faster for speedy gameplay.

Again it's only demo version. Hope these will be improved in the retail version.

The game's object is to beat Alia Gakuen, a middle school soccer team led by aliens.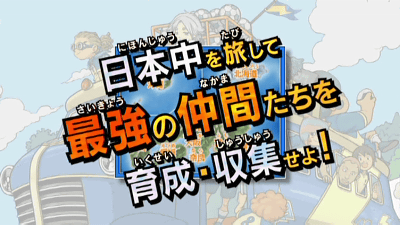 There are more than 1500 members prepared as your teammate.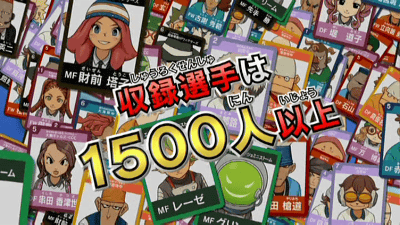 The beginning.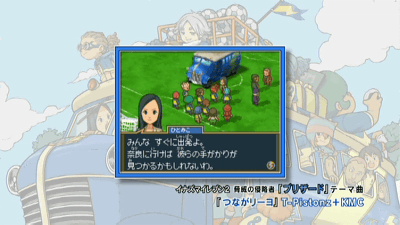 Soccer field in snow.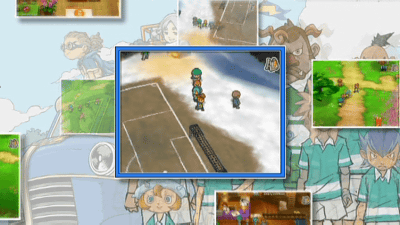 You have to raise your teammates' ability to win the game.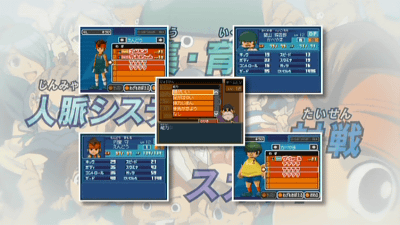 Pre-game briefing.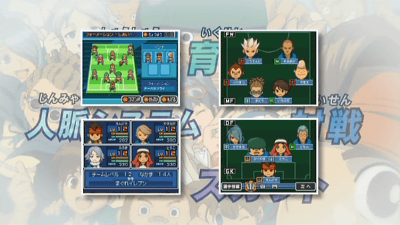 You can multi-play via wireless network up to four people.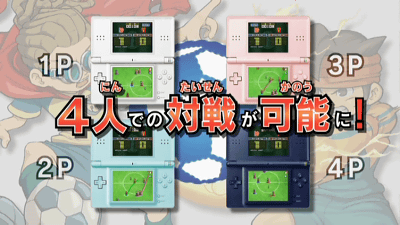 Aside from the controller problem, the game is impressive. Its screenplay on special move is dynamic and game play is crisp and speedy(though much improvement needed.)

Related Post:
"Layton", "Ninokuni", "Inazuma Eleven 2 Fire/Blizzard" exhibited at Level Five Booth in TGS2009 - GIGAZINE

Contents of Level Five's Free Giveaway bags - TGS2009 - GIGAZINE

Level 5's free TGS booklet had much information about "Ninokuni:The Another World" and such - GIGAZINE
in Review, Posted by darkhorse_log