Chocolate Bar Silicone Sleeve for 2.5" Hard Drive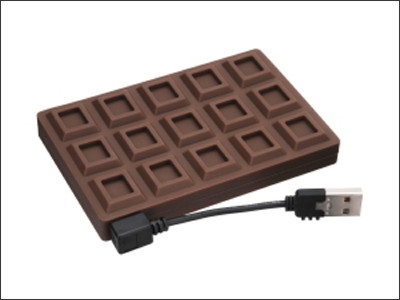 This chocolate-shaped silicone skin by Century will protect your external hard drive by preventing scratches, chips and fingerprints. Flexible, durable, easy to put on and looks great!

Read on for details and pics.
(Japanese)Razoku no Itachoko / Chocolate Brown(CRIC25U2BW) -CENTURY

Silicone Sleeve "Razoku no Itachoko"(lit. Naked Tribe's Chocolate Bar) provides a snug fit with flexible rubber-like material. Compatible with 2.5" hard drive (or SSD of the same size) with SATA interface.

Nothing complicated, just slip it on and connect to your computer via USB.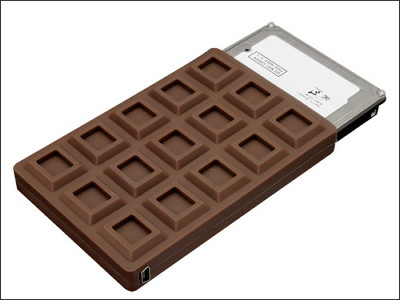 Comes in three colours (Chocolate Brown, Milk White and Strawberry Pink) with compact USB cable.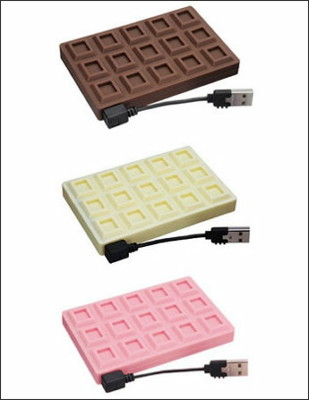 Specifications:
Product Number: CRIC25U2BW(Brown)/CRIC25U2WT(White)/CRIC25U2PK(Pink)
Interface: USB 2.0
Dimensions: 73 × 15 × 110mm
Weight: 53g
Cable Length: 90mm
OS: Windows 7/Vista/XP/2000, Mac OS 10.3 or later
Available online (brown, white, pink) for 980 yen (about $10) each.

Related Posts:
World's Sweetest iPhone Cover - GIGAZINE

Elecom's "Sundries" Earbuds shaped like Gums and Candies - GIGAZINE

Kawaii Candy Coloured "USB Bear Hub" with Four USB 2.0 Port and Alarm Clock - GIGAZINE

Star Wars R2-Q5 USB Hub that Beams and Beeps! - GIGAZINE