Video of Booth Babes Bowing and Waving in Line -TGS 2009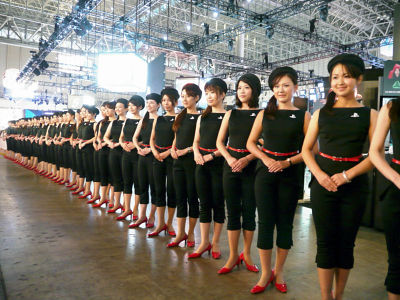 (This article was originally posted in Japanese at 22:30 Sep. 25, 2009)

Here's some videos of the gorgeous booth babes seeing the visitors off at Tokyo Game Show 2009, the babes you've seen in our previous post. So many beautiful women in line can be quite impressive, a bit intimidating, even.

Vids after the cut!
YouTube - Tokyo Game Show 2009 Booth Babes Video 01


YouTube - Tokyo Game Show 2009 Booth Babes Video 02


YouTube - Tokyo Game Show 2009 Booth Babes Video 03


YouTube - Tokyo Game Show 2009 Booth Babes Video 04


YouTube - Tokyo Game Show 2009 Booth Babes Video 05


Related Posts:
Gorgeous Booth Babes in Tokyo Game Show 2009 -Part. 1 - GIGAZINE

Booth Babes in Cosplay seen at 47th Amusement Machine Show Vol.01 - GIGAZINE

Booth Babes in Cosplay seen at 47th Amusement Machine Show Vol.02 - GIGAZINE

TAF 2009: Booth Babes in Cosplays - STAR BLAZERS, FULLMETAL ALCHEMIST, GURREN LAGANN and many more! - GIGAZINE

Booth Babes from Tokyo Motorcycle Show 2009 - GIGAZINE

More Booth Babes from Tokyo Motorcycle Show 2009 - GIGAZINE

Further Booth Babes from Tokyo Motorcycle Show 2009 - GIGAZINE

Booth Babes Cosplaying as various Game Characters at AOU 2009 - GIGAZINE