Manga Artist Keiji Nakazawa of "Barefoot Gen" Retires Due To His Weakening Eyesight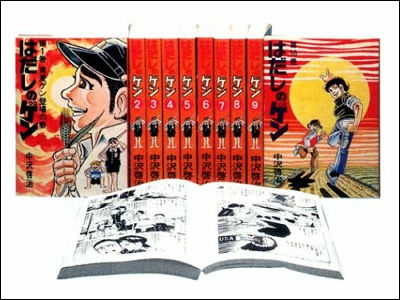 (This article was originally posted in Japanese at 11:28 Sep. 16, 2009)

Keiji Nakazawa, a Hiroshima survivor and the author of highly acclaimed anti-war manga Barefoot Gen, has announced his retirement as a manga artist yesterday due to his weakening eyesight resulting in inability to draw delicate lines. He has taken to oil paintings to express his messages, and will continue to supervise adaptations of his works. He stated "I will continue as an artist, until the day I see the abolishment of nuclear weapons with my own eyes."

Read on for details.
(Japanese)Author of "Barefoot Gen" Retires due to Eyesight Problems- Culture::Society::YOMIURI ONLINE

(Japanese)Chugoku Shimbun - Local News - Manga Author of "Gen" Retires

Nakazawa made the announcement in front of Hiroshima Peace Memorial.


Nakazawa was born in Hiroshima in 1939, aged six at the time of the atomic bombing to which he lost his father, older sister and younger brother instantly. An infant sister also died several weeks after the bombing, and his mother died in 1966 after long suffering radiation disease. It could be said Nakazawa himself barely survived by mere chance. Being called by the mother of a friend on his way to school, he was standing behind the school's fence at the moment of explosion, thus avoiding direct exposure to heat ray despite being less than a mile from ground zero.

Barefoot Gen is a semi-autobiographical work based on his experience during the war and aftermath of the A-bomb. Being a perfectionist when it comes to conveying his message, he drew all of the manga alone without using assistant. It was originally serialized in Weekly Shonen Jump since 1973 but was cancelled in 1974 when the magazine reduced pages after the 1973 oil crisis. It went on in other more provocative but less circulating magazines aimed at mature audience, "Shimin (Citizen)" in 1975-76, "Bunka Hyoron (Cultural Criticism)" 1977-80, and "Kyoiku Hyoron (Educational Criticism)" 1982-85. The series was eventually published in several editions of tankobon book collections, and has sold a total of over 10 million copies in Japan. It has been translated to 15 languages to date. As for English readers it's available in eight volumes by Last Gasp, and you can preview some sample chapters on the publisher's website.

After finishing the "First Part" of Barefoot Gen in 1985, Nakazawa was initially planning to start a second story arc, depicting Gen studying painting in France, but decided against it, thinking it's best to be left to the readers' imagination what became of Gen.

Nakazawa has long been suffering from diabetes. His left eyesight drastically weakened around 2000, and the cataract in his right eye has been worsening. His eyesight has not improved despite undergoing surgery in January, 2009.

Related Posts:
Novelist Kaoru Kurimoto of Guin Saga passed away for Pancreatic Cancer - GIGAZINE

The only public "Manga Library" in Japan exists in Hiroshima - GIGAZINE
in Note, Posted by darkhorse_log