Sandisk presented "Extreme Pro" Compact Flash series and "Memorystick Micro" for PSP Go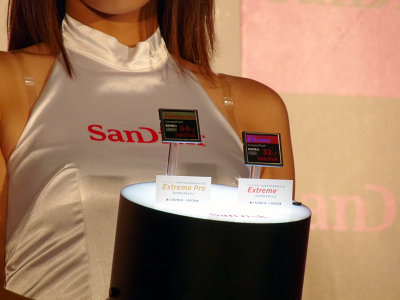 (This article was originally posted in Japanese at 12:57 Sept. 15, 2009.)

Sandisk today uncovered their world's fastest "Extreme Pro" compact flash card and "Memorystick Micro" card to be used on Sony's latest portable console PSP Go.

In particular, "Extreme Pro" realized twice faster transfer speed than former CF memory cards, which makes ten-megapix class SLR camera a lot easier to use. Olympic figure skating gold medalist Shizuka Arakawa was invited to the conference.

Read on for details.

"Shinyokohama Skate Center" was the site.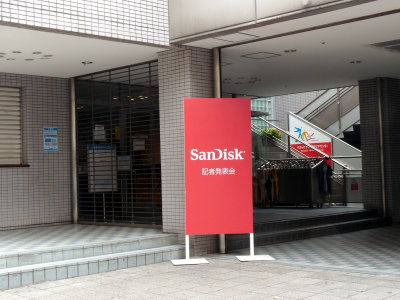 Just before the press conference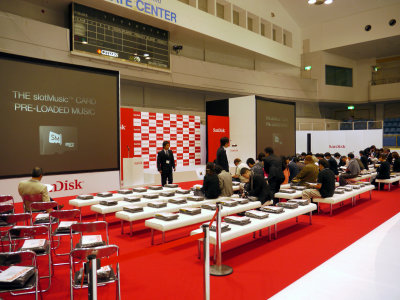 Blanket and disposable warmer was prepared due to the low temperature of the site.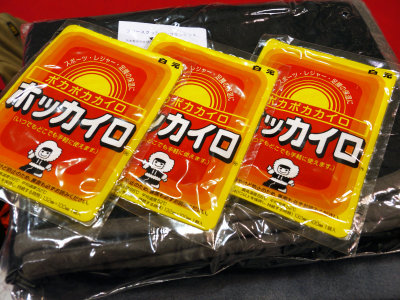 The blanket. With Sandisk logo.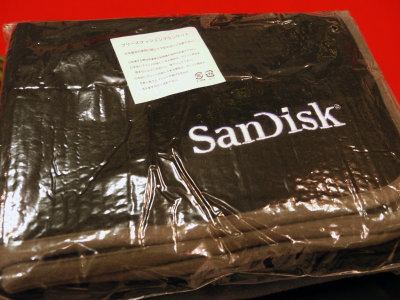 The monitor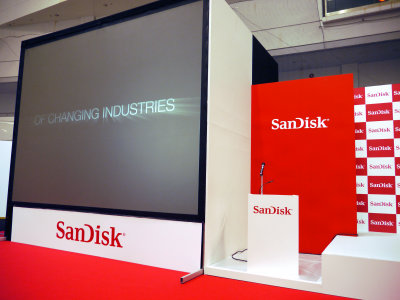 The Stage.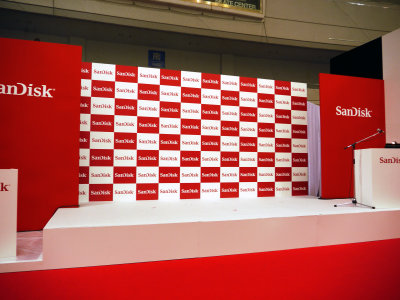 There will be special demonstration by Shizuka Arakawa on this skate link.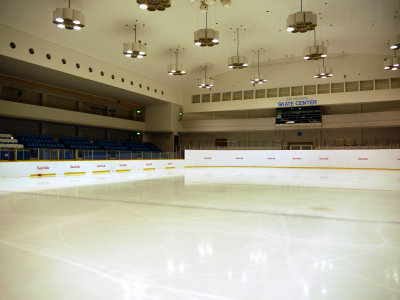 Sandisk advertisement.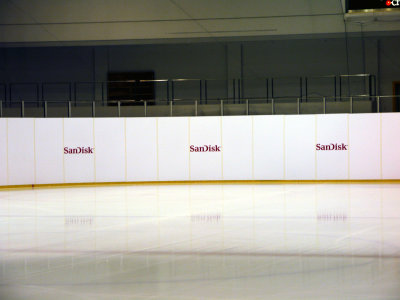 Atsuyoshi Koike, President of Sandisk Japan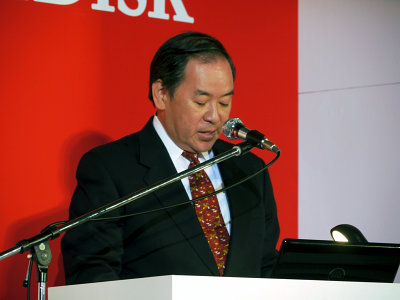 Cooperate Summary of Sandisk.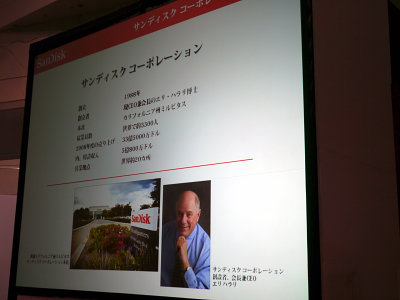 Products of Sandisk. Sandisk has the top share in the flash memory market.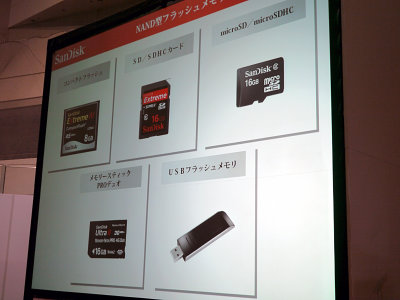 These flash memorys are used in various portable devices.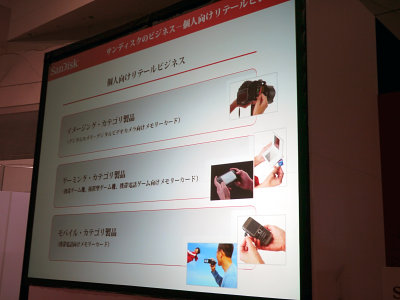 For enterprise uses, Sandisk provides internal flash memory and SSDs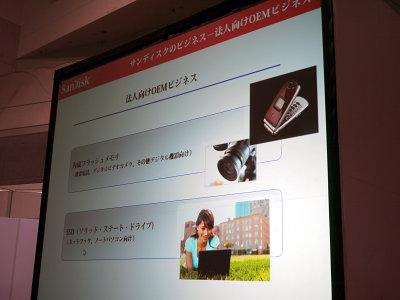 Sandisk is the top vender in US, Europe and Japan.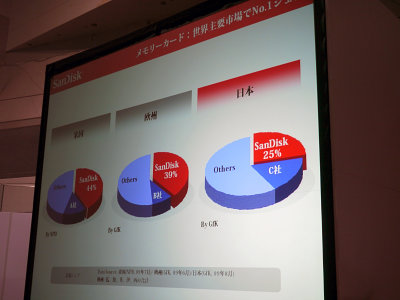 Flash memory is the key to the evolution of electronic devices today.


High-end flash memory of Sandisk is made in Yokkaichi, Mie prefecture.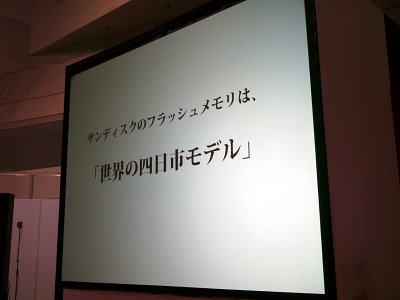 Cooperate summary of Sandisk Japan.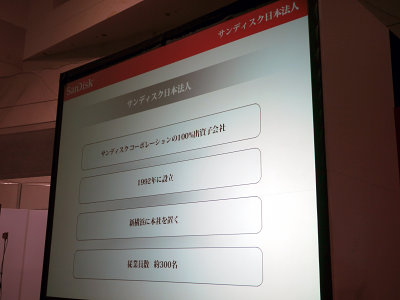 Cooperate objectives of Sandisk.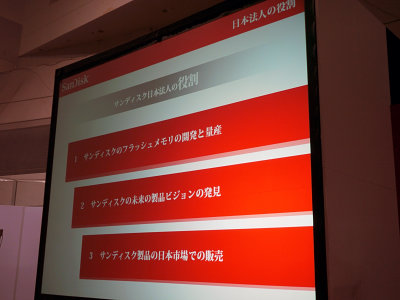 Marketing strategy of Sandisk They are to emphasize on branding.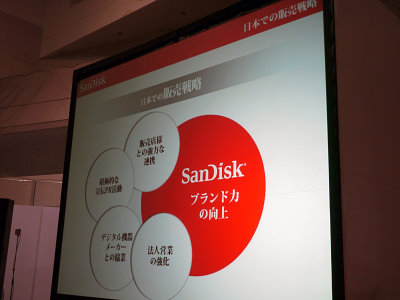 Collaboration with National Geographic Channel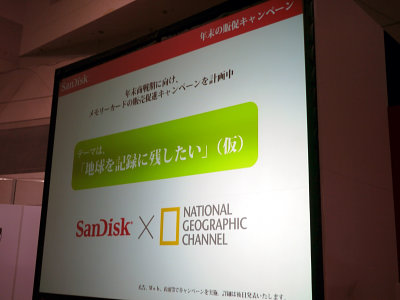 "Memory Stick Micro(M2)" to be released.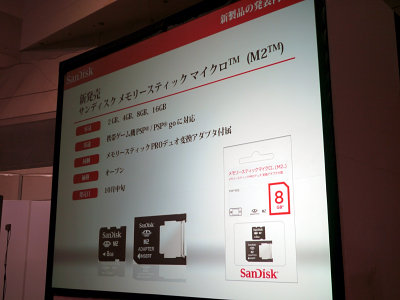 They think that game market is the next segment to focus on, for demand expansion.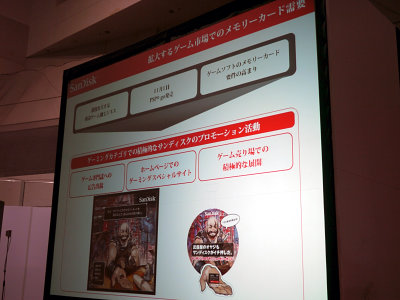 Now the key product is coming.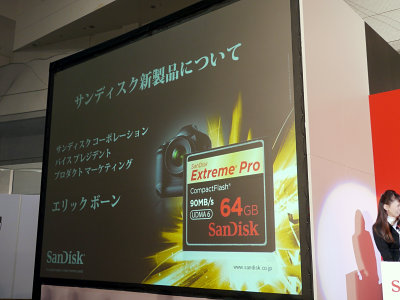 Eric Bone, Vice President of Product Marketing announced "Sandisk Extreme Pro"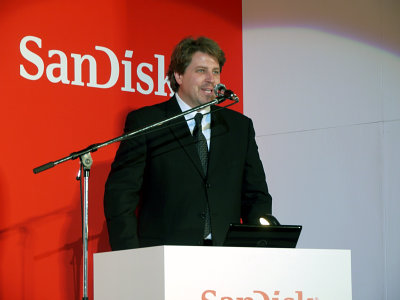 Spec of Sandisk Extreme Pro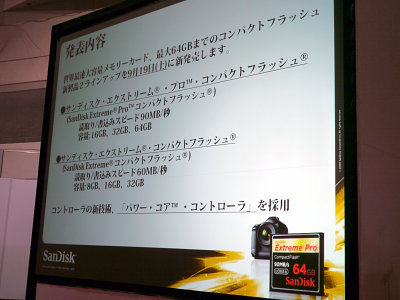 The demand for higher transfer rate is growing.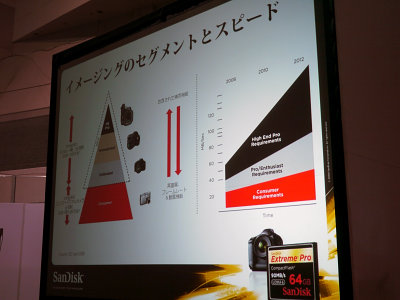 Here's the actual product.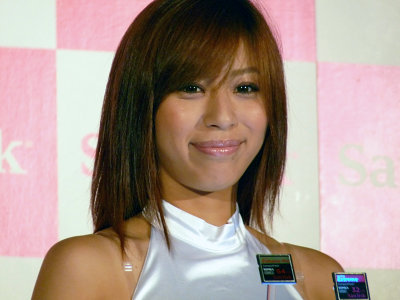 Compared with former "Extreme" line.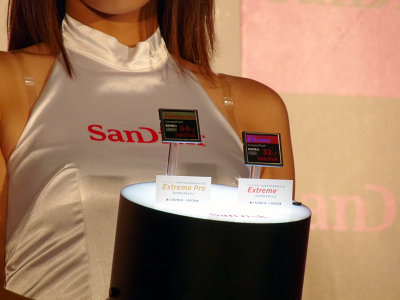 64GB at maximum capacity, high durability against temperature, humidity and shock and comes with life-time warranty, which makes the card the real "high-end" Coming on Sept. 19.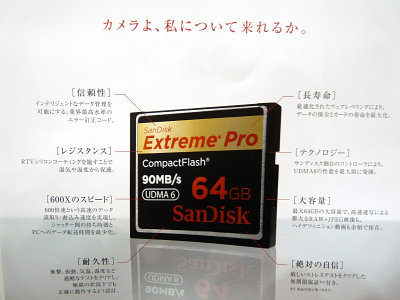 90MB/sec is twice faster than former card.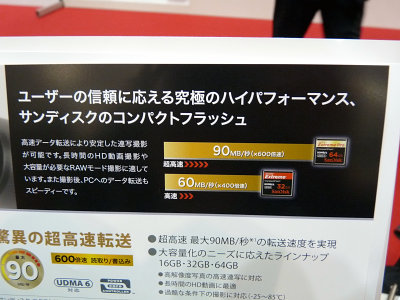 Comes in 16GB, 32GB and 64GB.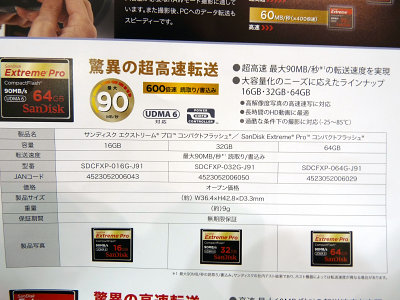 Power core controller is the key technology for faster transfer and higher durability.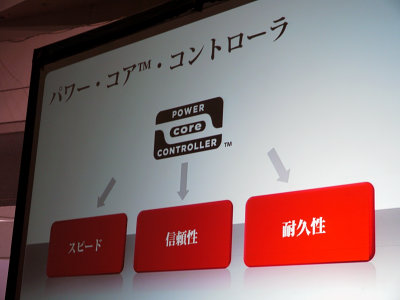 Dual lane architecture enables more efficient data transfer more efficient.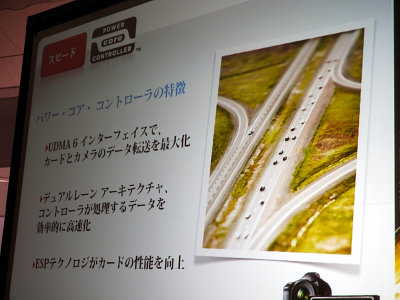 Inside.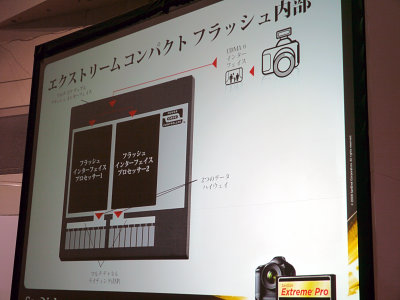 Speed comparison. Really it's extremely faster than former cards.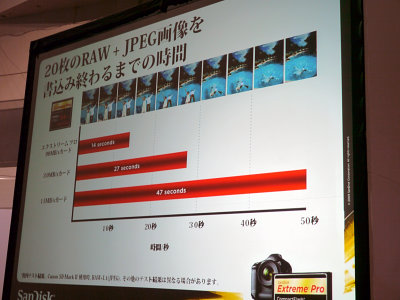 A quote saying how much the speed is important.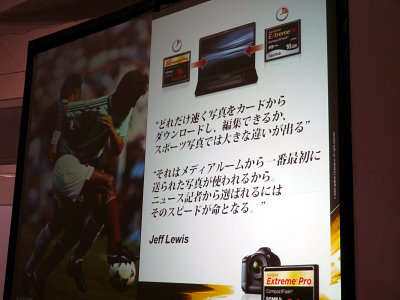 Reading speed is also fast.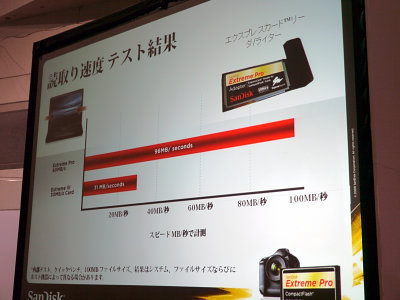 The faster the transfer speed is, the longer you can sleep.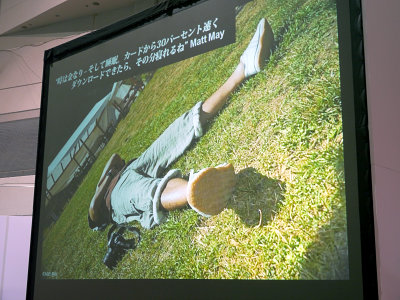 Works on extreme condition.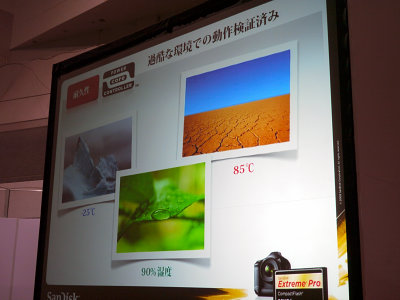 The card is also good for HD video cam.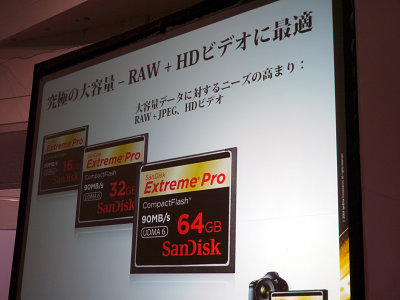 Quote No.2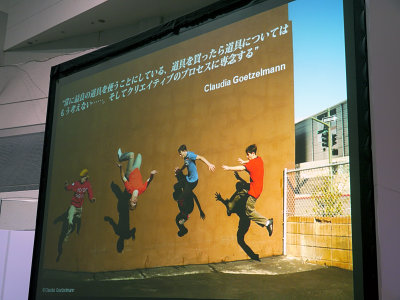 That's all for presentation.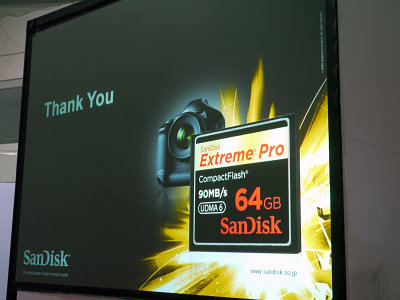 Product description of "Sandisk Extreme Pro" by a professional photographer.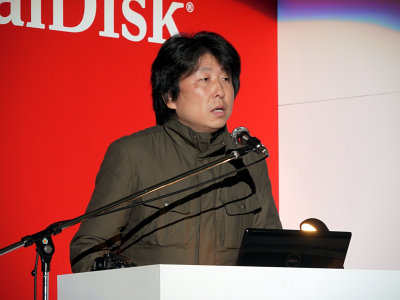 Using latest "EOS 7D" of Cannon, coming this October.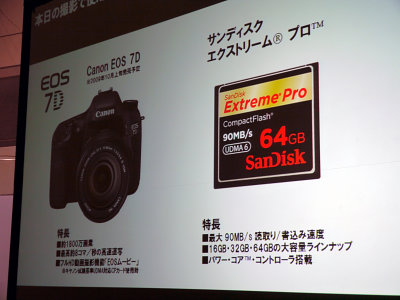 Fast enough for high fps shooting.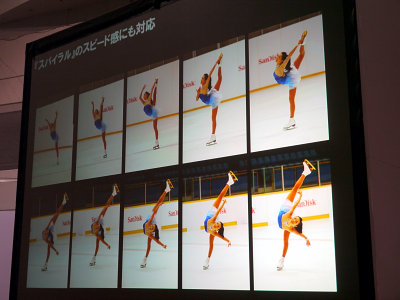 Works great on sports shooting.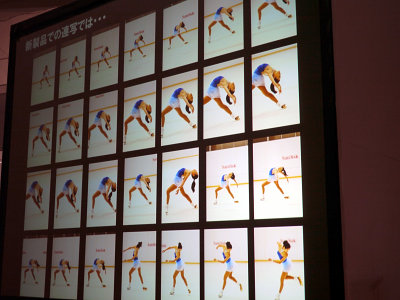 It won't miss the best shot.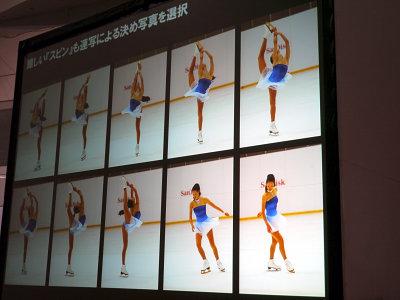 JPEG+RAW shooting would be more comfortable with this CG.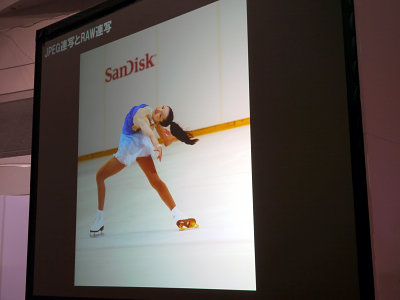 RAW shooting will be more practical with "Sandisk Extreme Pro".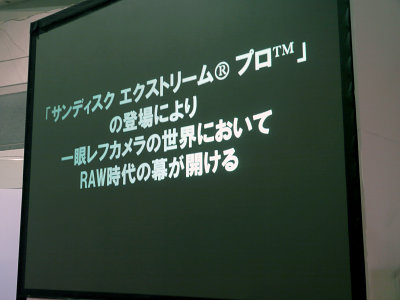 Q&A

Q:
How much the retail price will be?

A:
To be announced soon. Could be higher than existing Memory Stick PRO Duo for this includes adapters.

Q:
How is the roadmap for higher capacity?

A:
The advance on production process will make card's capacity bigger, but it will be no faster than existing trend. For now, it takes 12 to 18 months to go on to the next generation.

Related Post:
Video of tiny USB Flash Drive made in massive plant - GIGAZINE

"Check Flash" the complete maintenance utility for your flash memories - GIGAZINE

KDDI exhibited "Micro SD Wireless LAN Card" at Wireless Japan 2009 - GIGAZINE

Toshiba to release wordl's first "SDXC" flash memory with biggest capacity and fastest access speed - GIGAZINE

Sony Announced 2TB "Memory Stick XC", countering SDXC memory card - GIGAZINE