Turin Olympic Gold Medalist Shizuka Arakawa Demonstrated at Sandisk's Conference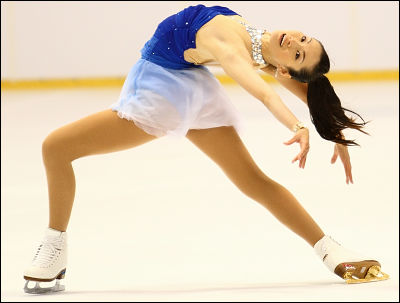 (This article was originally posted in Japanese at 19:34 Sept. 15, 2009.)

At Shinyokohama Skate Center, Sandisk held press conference and unveiled their new lineup for flash memory cards. In addition to product presentation, figure skater Shizuka Arakawa, the gold medalist of Turin Olympics showed her virtuosity on the tune from the opera "Turandot".

Read on for details.

Ina Bauer move.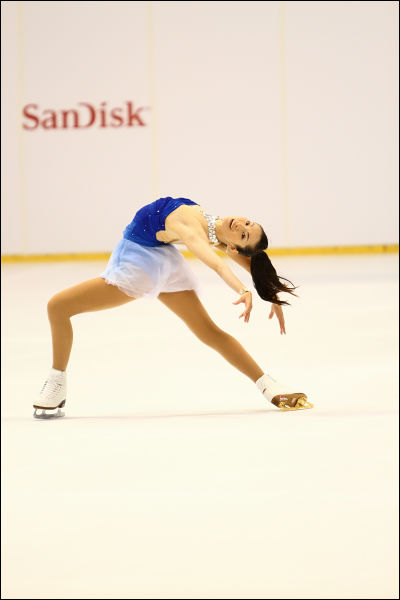 Bielmann Spin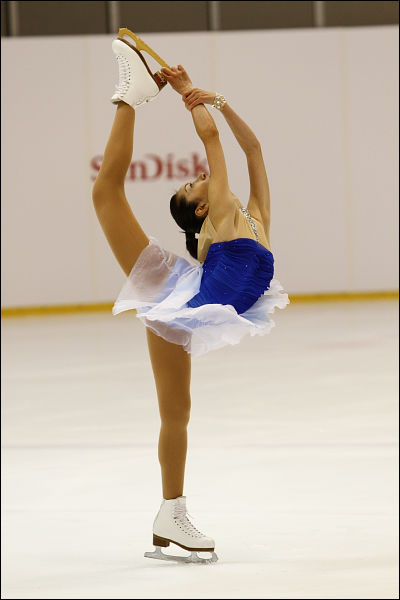 Photographer: Kazuya Gondo. Camera Cannon EOS 7D. In short, they want to demonstrate how fast Sandisk's flash cards transfer datas, which won't make photographers miss the shutter chance.

But, regretfully, shooting by press were prohibited while she was performing and we couldn't have a chance to test its speed.

Flower presentation.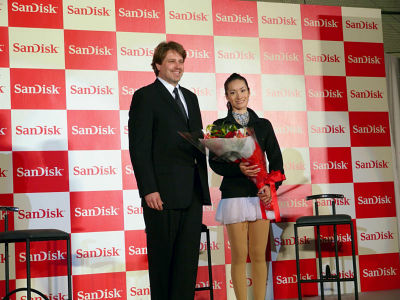 We've never seen her in this proximity.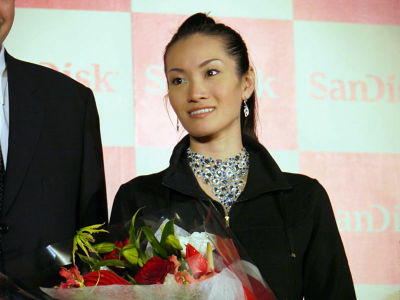 YouTube - Flower presentation to Shizuka Arakawa


The talk show.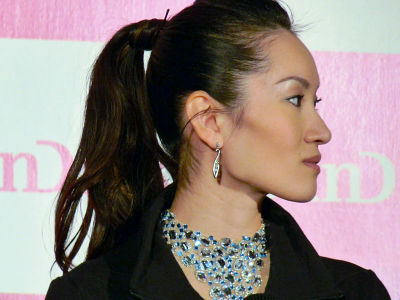 We were allowed to shoot her this time.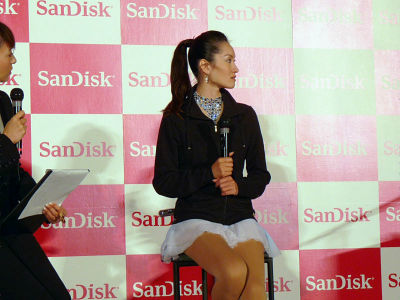 She started from the memory of Turin Olympics .
YouTube - Shizuka Arakawa Talk Show 01


"It would be wonderful if every blink was a shutter click"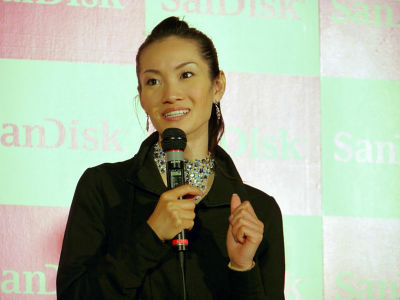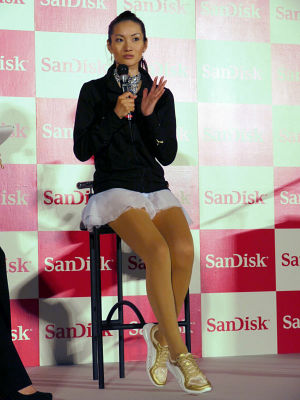 "Shooting is just wonderful."
YouTube - YouTube - Shizuka Arakawa Talk Show 02


"From a point of view of photographic subject, HD makes us more nervous for its sharpness and vividness. It seems that it won't miss any single fault.
YouTube - YouTube - Shizuka Arakawa Talk Show 03


"When the camera focuses on the nose of a dog, it's tail is out of focus..."
YouTube - YouTube - Shizuka Arakawa Talk Show 04


She also talked about her blog, full of pictures of her performance.
YouTube - YouTube - Shizuka Arakawa Talk Show 05


Shizuka Arakawa and Sandisk girl.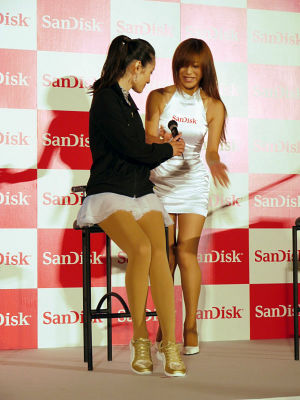 Look at her trained muscles on her leg!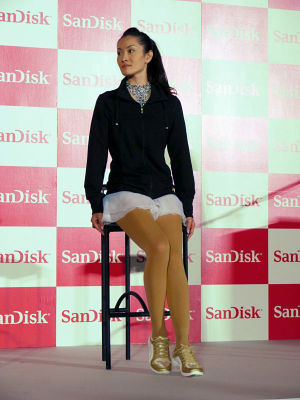 We were first surprised at her frankness.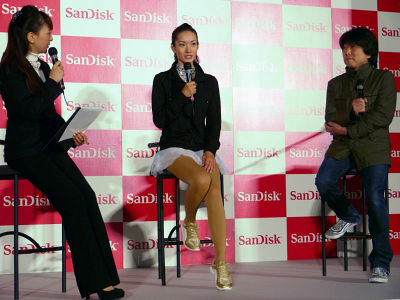 The site was build on the skate link. which made us freezing.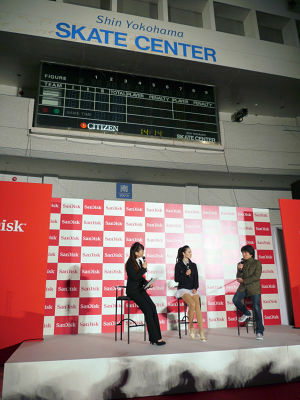 Looks like she is not bothered by the cold temperature.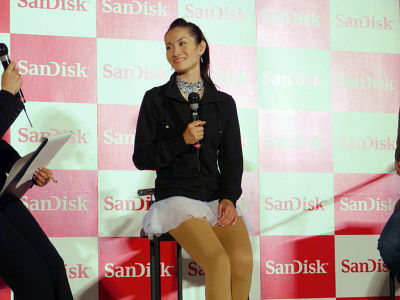 The photo session.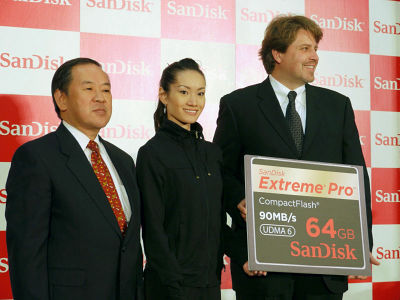 With Eric Bone, the vice president of Sandisk.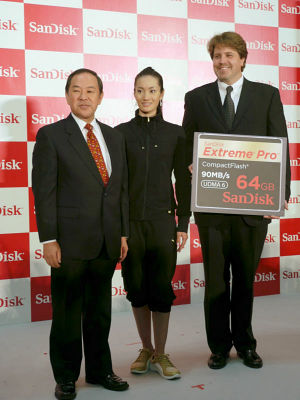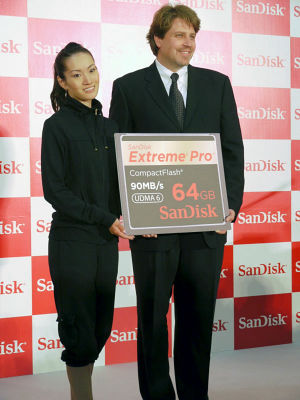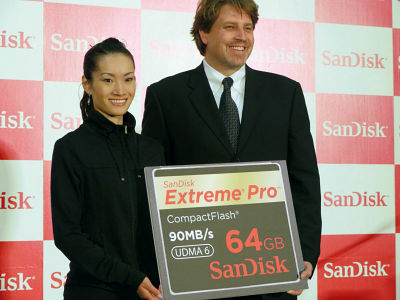 With Atuyoshi Koike, president of Sandisk Japan.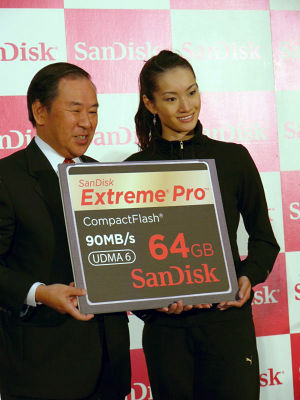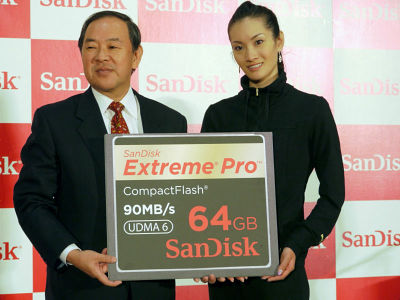 It's amazing to see Gold medalist skating in front of my eyes, on live, which is totally different from viewing on TV. You will be astonished by the sound of ice scraped by skate shoes and the wind she makes with her speed.

Related Post:
TAF 2009: Teenage voice actress Rina Hidaka and singer Azumi Inoue promoting "Before Green Gables" - GIGAZINE

TAF2009: More speed, more actions! HD re-mastered anime "DRAGON BALL Kai" - GIGAZINE

TAF 2009: Trailer of "Musashi: The Dream of the Last Samurai" and a talk show featuring Mamoru Oshii - GIGAZINE