"Dragon Quest III" to be adapted to Mobile Phone Game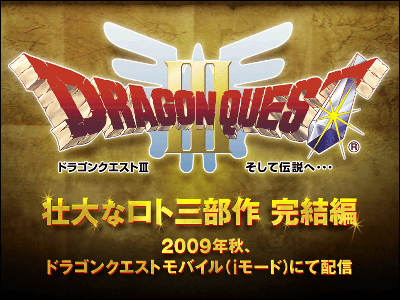 (This article was originally posted in Japanese at 17:34 Sep. 14, 2009)

The legendary Dragon Quest III (known as Dragon Warrior III in English) is considered the turning point in the Dragon Quest series, introducing the "Classes" (mage, cleric, fighter, etc.) and "Class Change" concept. And you can even call it one of the most epoch-making titles to date in the whole video game industry, as some of you might recall the mile-long queue of fans it caused on the original release date in Japan, February 10, 1988.

Now the game is to be released for mobile phones.

Read on for details and pics.
(Japanese)Dragon Quest Official Site Tenku no Daishinden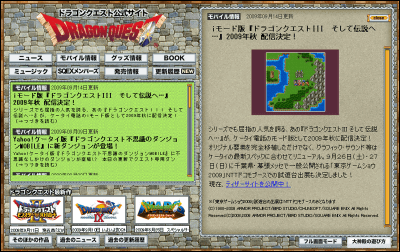 According to the official website, Dragon Quest III is to be released as a mobile Java game (a.k.a. i-appli) distributed via NTT docomo's i-mode wireless internet service this autumn.

Although it's been more than 20 years from its original release, the title still holds huge fan-base in Japan. The i-appli version adopts all the original elements and details with renewed and enhanced graphic and sound for the full benefit of top-notch cell phone handsets today (after all the original version was released on 2-megabit NES) according to the website, so it may gain new fans among young generation as well as bringing nostalgia to the now grownup original fans.

A playable demo is to be exhibited at NTT docomo's booth in Tokyo Game Show 2009 from September 24, and an official website launched today.

Dragon Quest III Soshite Densetsu e...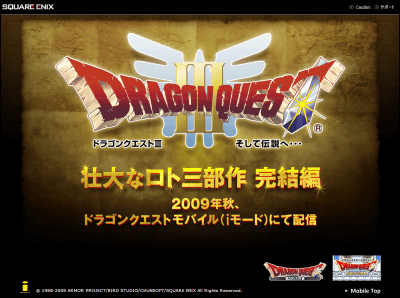 Related Posts:
List of games to be exhibited in Tokyo Game Show 2009 - GIGAZINE

Unique and Innovative Games up for "Sense Of Wonder Night" in Tokyo Game Show 2009 - GIGAZINE

"Dragon Quest 6" seems to be reconstructed for NDS - GIGAZINE

Only one game can be saved in "Dragon Quest IX" - GIGAZINE

Flash Game to Beat the Crap Out Of SANDY, the Annoying Fairy from DRAGON QUEST 9 - GIGAZINE

"DRAGON WARRIOR" script generates images with your favorite line - GIGAZINE