999-sec Anime Film of "Galaxy Express 999" Premiered on September 9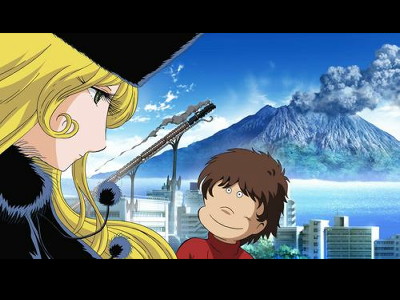 Yesterday was a very special day for Galaxy Express 999 fans obviously, for being the "999" day.

For one, special illustrated train tickets of Seibu Railway went on sale at stations in Nerima, Tokyo, for two, special steam locomotive train #999 ran Oigawa Railway in Shizuoka Prefecture, and for three, a new short film titled Ginga Tetsudo 999 Diamond Ring no Kanatae (Galaxy Express 999: Beyond the Diamond Ring) premiered in Kagoshima. The film is 16 min. 39 sec. long, which is exactly 999 seconds.

Read on for details and pics.
(Japanese)Toei Video - "Galaxy Express 999: Beyond the Diamond Ring"

The film was made to promote Kagoshima Prefecture as the "prefecture closest to space" with Japan's largest space development center Tanegashima Space Center located in Tanegashima. The title refers to the diamond ring effect, a feature of total solar eclipse which could be observed from the southern isles of Kagoshima this July 22nd.

The volcano in the back is Sakurajima.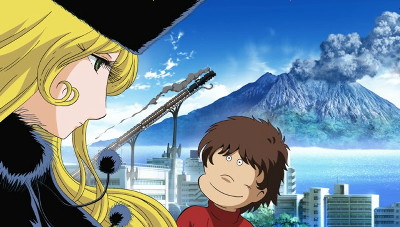 © Leiji Matsumoto, Toei Animation

July 22, 2009. Galaxy Express 999 made a brief stop at Kagoshima on the day of total solar eclipse. Tetsuro gives a pass for the 999 to a boy named Kakeru dreaming of becoming an astronaut, saying "It's up to you whether you can use this pass or not".
Now it's 2035, another total solar eclipse is expected in Japan, 26 years since the last one. What became of Kakeru...?

Staff:
Original Story: Leiji Matsumoto
Director: Noboru Ishiguro / Screenplay: Yoshimi Narita / Animation Production: Toei Animation / Original Concept, Planning: Kagoshima Prefectural Visitors Bureau, Young Astronauts Club Japan

Cast:
Tetsuro Hoshino: Masako Nozawa / Maetel: Masako Ikeda / Conductor: Kaneta Kimotsuki / Kakeru(grownup): Yakkun Sakurazuka / Kakeru(child): Saki Yasuda / Rika Adachi / Kanae Ito / Koichi Wakata

Astronaut Koichi Wakata voiced himself in the anime.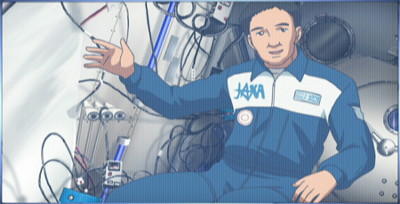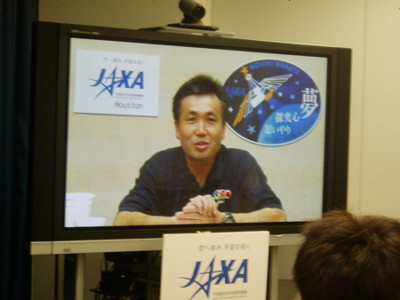 Creator Leiji Matsumoto of the series made an appearance at the premiere.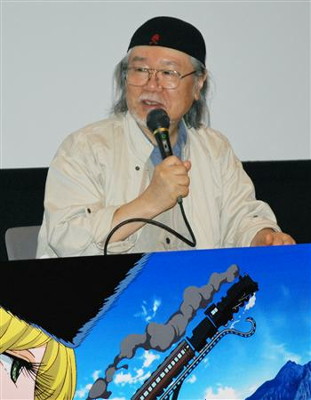 "'Don't give up on your dream' is the message of this film. I hope some of you have future career in space", he told the young audience.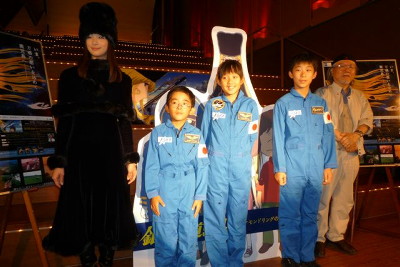 The film will run at theatre Mitte 10, Kagoshima, until the end of this year. The ticket price is 999 yen for adult and 500 for children (age 3-15).

By the way, 2009 is the 30th anniversary year of the first movie Galaxy Express 999, and it came out as a Blu-ray disc yesterday.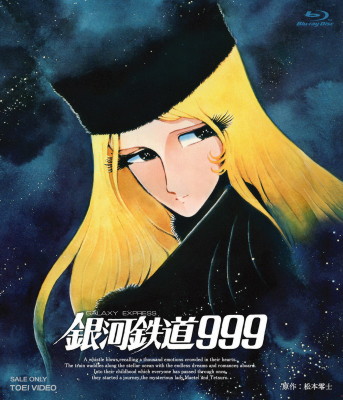 For fans in the greater Tokyo area, a set of commemorative train tickets went on sale at Seibu Railway's 12 stations in Nerima ward, Tokyo, for 990 yen (limited 2,999 sets, which promptly sold out).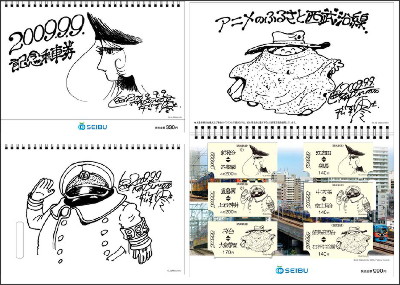 With illustrations of Maetel, the Conductor and Tetsuro.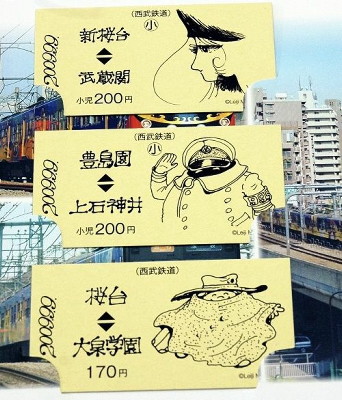 1,999 sets of special pins were also sold at station kiosks for 999 yen, which also sold out.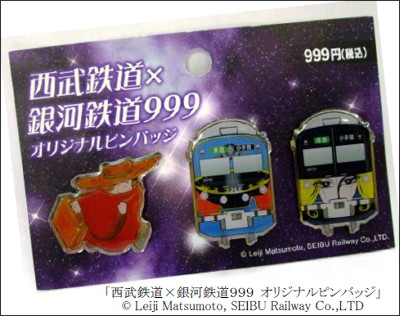 And another railway event, a special steam locomotive train named "Ginga Cho-tokkyu 999" ran the Oigawa Railway line, Shizuoka Prefecture.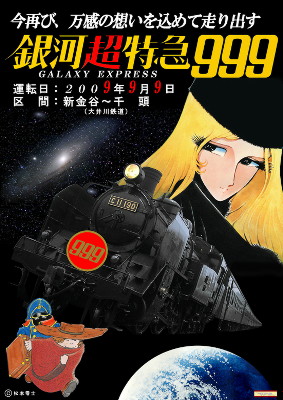 Lucky 370 passengers boarded the train, and many more fans gathered at stations to take pictures.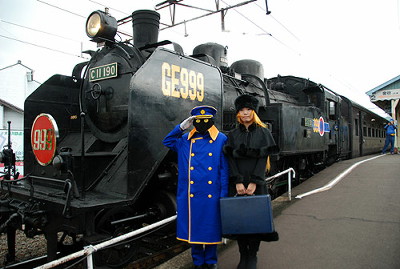 The destination sign.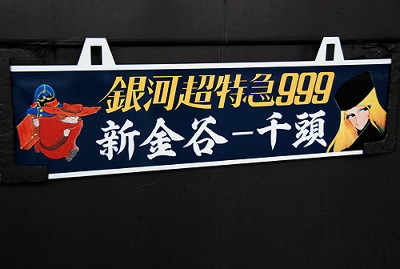 Side of the train.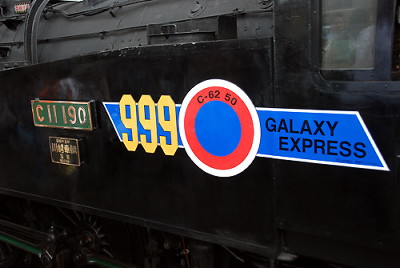 "GE999"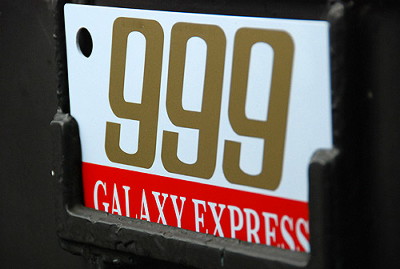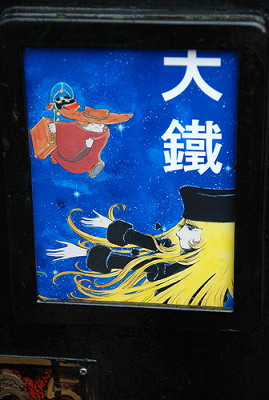 You can see more pics on the link below.

(Japanese)Special Train "Galaxy Express 9999" for the "999" Day on Oigawa Railway, Shizuoka(Mantan Web) - Mainichi.jp

Related Posts:
The 999th edition of JTB Timetable book released, with special GALAXY EXPRESS 999 cover - GIGAZINE

Cosmo Dragoon, Gravity Saber and Cosmo Gun from Leiji Matsumoto's Universe -WF 2009[SUMMER] - GIGAZINE

Kitaro and Neko Musume's announcements on Kitaro Train - GIGAZINE