Bizarre Bishounen Comedy "Patalliro!" Hits Its 100th Volume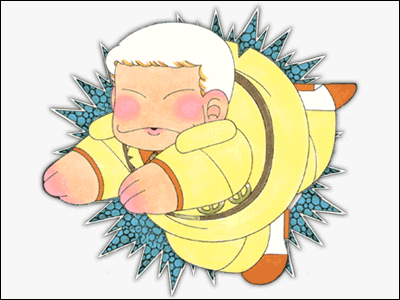 (This article was originally posted in Japanese at 22:00 Aug. 31, 2009)

Slapstick comedy Patalliro! is a long-running manga series by Mineo Maya, serialized in Hana to Yume since 1978. Set in the kingdom of Malynera, a diamond producing island located somewhere in the Bermuda Triangle, it follows the wacky adventures of Patalliro, the 10 year old vertically challenged diabetic boy-king. It was adapted to anime series in 1982 which was notably the first anime to present shonen-ai themes on television.

Counting the side stories and spinoff volumes such as Patalliro Saiyuki, Patalliro Genji-monogatari, and Kaseifu Patalliro!, the series will mark its 100th tankobon with its next publication.

Read on for details and pics.
(Japanese)Hana to Yume Comics Memorial Event for 100th Volume in Mineo Maya's Patalliro! Series ::Hakusensha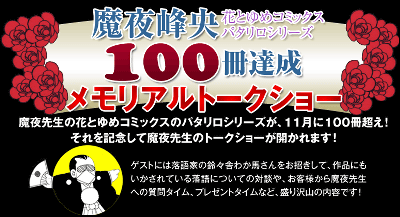 According to publisher Hakusensha's special website, Patalliro! franchise will reach its 100th volume with the publication of Vol. 83 of Patalliro! and a spinoff Demodori Kaseifu Patalliro! on November 5, 2009.

A special talk show will be held on November 29 at "Asagaya/Loft A" near Asagaya Station inviting creator Mineo Maya of the series, who is one of the few known male manga artists for shonen-ai manga. Rakugo artist Wakaba Reireisha will make a guest appearance.


By the way, we estimated how long will it take until the main series Patalliro! will reach its 100th volume. Judging by the publishing dates of last twelve volumes, they seem to be published about once in nine and a half months, so it will likely take 13 and a half years for another 17 volumes. The 100th volume can be expected to come out somewhere around May, 2023.

Vol. 72 - 2001/06/19
Vol. 73 - 2001/11/19
Vol. 74 - 2002/07/19
Vol. 75 - 2003/01/17
Vol. 76 - 2003/07/18
Vol. 77 - 2004/08/19
Vol. 78 - 2005/06/17
Vol. 79 - 2006/05/19
Vol. 80 - 2007/05/18
Vol. 81 - 2008/05/19
Vol. 82 - 2009/05/19
Vol. 83 - 2009/11/05

No manga and anime in Patalliro! franchise is translated to English to date, but don't hesitate to give it a go if you're learning Japanese or already fluent in it. The story focuses less on shonen-ai than on comedy, and the anime was hugely popular among both girls and boys, probably one of the very few titles with homoerotic context to be accepted widely by male audience.

You can read more about Patalliro! on the link below.

Aestheticism Articles: Patarillo

Related Posts:
Top 15 Most Captivating Manga at the Moment - GIGAZINE
in Note, Posted by darkhorse_log