Optimize your slow Adobe Reader with "PDF SpeedUp"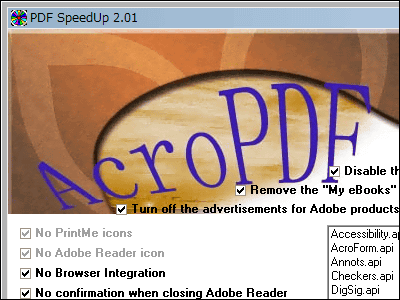 (This article was originally posted in Japanese at 14:25 Aug. 27, 2009.)

There are bunch of PDF links out there in the Internet. But everytime we come across it, we have to be frustrated with the slowness of genuine Adobe Reader application.

That is because of unwanted feature rich "plugins", splash screens, automatic update...and so on. If we can somehow skip these, the software gets much faster and more convenient.

"PDF SpeedUp" will enable to tweak such functions. It even supports tweaking on browser extension(will make your net-surfing much safer) and of course you can easily undo the change, in a click.

Read on for downloads and ho to use.

AcroPDF Systems - AcroPDF, PDF SpeedUp, Photoshop SpeedUp
http://www.acropdf.com/

Click on "Download Now" button on the site above.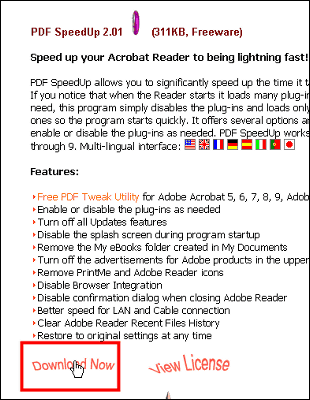 No install needed. Just click and boot.



Unfortunately the software has something wrong with multi-byte letters. You can click and change the language. Choose whatever language you want.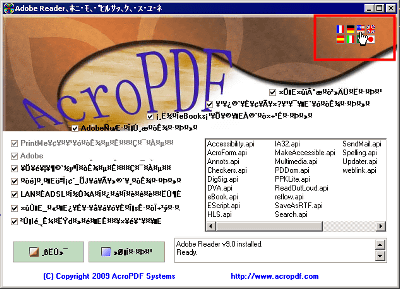 You may tweak yourself, or just click on "Optimize" button for automatic setting.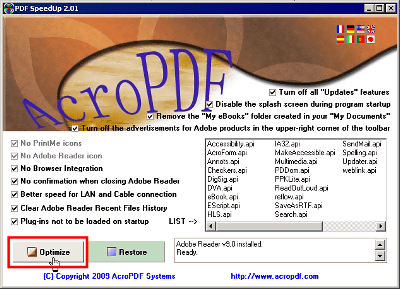 When you finish, click on "Yes" to boot Adobe Reader and check result. This will make your adobe reader much faster.



Click "Restore" to undo the change.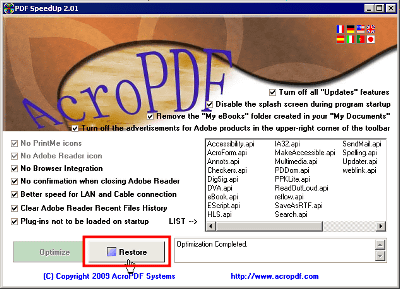 Click "Yes" to apply restore and boot the software.



We know there are many Adobe Reader clone and maybe adopting one of them is easier. But if you want to avoid compatibility problem, this "PDF SpeedUp" will help you alot.

Related Post:
"Check Flash" the complete maintenance utility for your flash memories - GIGAZINE

The Complete Instruction of "KeyHoleTV", the world-wide P2P TV viewer - GIGAZINE

"Process Hacker" will help you unveil mysteries of "svchost.exe" - GIGAZINE

"PDF reDirect" the totally FREE PDF generating software - GIGAZINE