Kawaii Candy Coloured "USB Bear Hub" with Four USB 2.0 Port and Alarm Clock

These candy coloured bears are "USB Hub Kuma"(lit. USB Hub Bear) 4-port USB 2.0 hubs with digital alarm clock by Japan Trust Technology who always comes up with the oddest gadgets.

Read on for details and pics.
JTT Online Shop "USB HUB KKKUMA! 4 Port USB 2.0 Hub with Clock"

Comes in three colours; white, yellow and pink.

"Cotton Candy" white.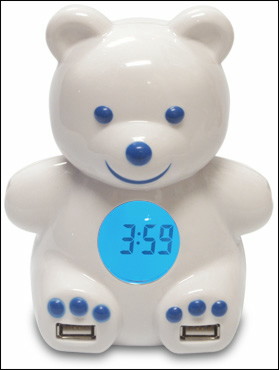 "Honey" yellow.


"Strawberry Milk" pink.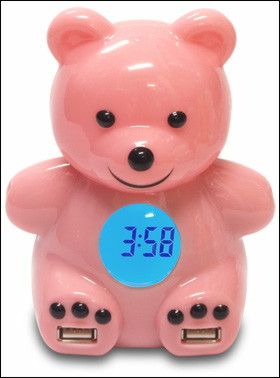 Digital alarm clock on his tummy. The blue backlight goes off when disconnected from computer, but the clock still work powered by one AAA battery.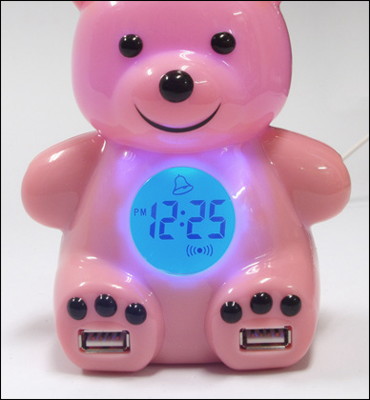 Back. The cable is 0.9m long.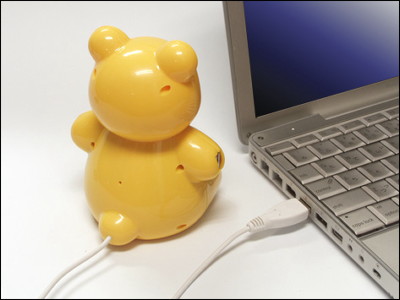 Four ports. You'd want to connect some cute flash drives, like the donuts in his left hand.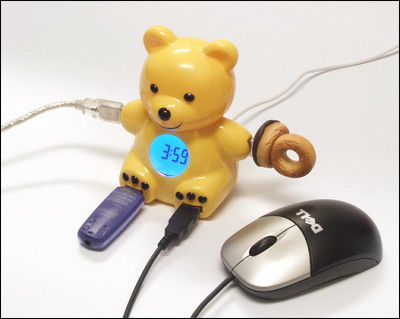 Available online for 1,480 yen (about $15) each.

Specifications:
Interface: USB 2.0
Number of Ports: 4
Power Source: AAA Battery or Computer
OS: Windows Vista/XP, MacOS X 10.4 or later
Dimensions: 102×90×128mm
Weight: 140g

Related Posts:
Most Adorable Desktop Speaker to make Puppy Dog Eyes at you - GIGAZINE

Back to Showa? World's First USB Light with Incandescent Light Bulb - GIGAZINE

Freaky Cool USB Mouse with Real Tarantula and Scorpion - GIGAZINE

All the Ducks are Swimming in the Water…in this Cute Optical Mouse - GIGAZINE

Cutest USB Flash Drive / Action Figure of Lupin III, Rei Ayanami, Ranka Lee and more! - GIGAZINE