Get Fit Watching Girls in French Maid Outfit with Moe Workout DVD "Maid-san shiki Radio Taiso!"

(This article was originally posted in Japanese at 20:48 Aug. 19, 2009)

A couple of months ago we've reported about Training with Hinako, the first ever anime workout DVD. Now somebody came up with another moe exercise DVD, this time featuring three waitresses from Maid cafe, quite possively the first of its kind.

It's titled "Maid-san shiki Radio Taiso" (lit. Maid-san's Radio Exercise), and a trailer is posted on YouTube.

Read on for details and pics.
Here's the trailer.

YouTube - Come on Everyone! Maid-san shiki Radio Taiso!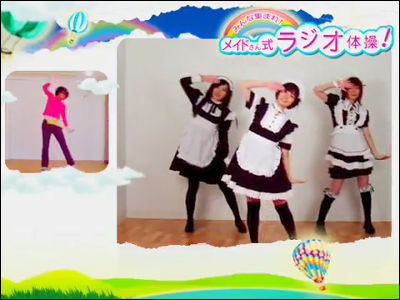 "Master, Let's exercise together!"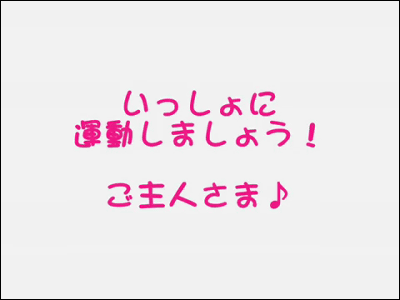 The official website.

Maid-san shiki Radio Taiso
http://www.planetplan.net/dvd.html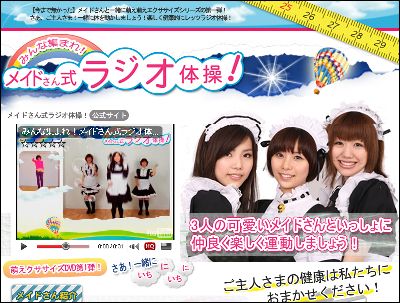 The three girls are named after fruits. Ichijiku(fig), Hassaku(Japanese citrus fruit similar to grapefruit) and Kiichigo(raspberry).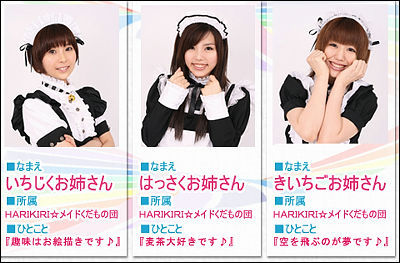 The three are employees of maid-themed reflexology practices Akiba Joshiryo, Akiba Fumikko Gakuen and Akiba Hizamakura Nurse Station in Akihabara. The DVD is now on sale for 1,500 yen (about $16) and they're planning on further health-themed DVD releases including a yoga video.

Related Posts:
TRAINING WITH HINAKO -The First Ever Anime Workout DVD - GIGAZINE

Weirdest combination ever, "Feudal Housemaid Cafe" to open in Akihabara - GIGAZINE