New variations for VAIO in a Pocket? New VAIO P is on FCC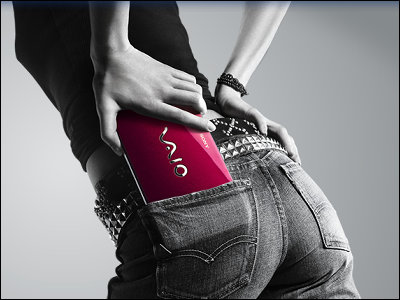 (This article was originally posted in Japanese at 11:32 Aug. 07, 2009.)

Last January Sony released epoch making "VAIO P", a high-performance pocket sized "Lifestyle PC". With high resolution LCD, hardware video accelaration and GPS, it well surpassed other netbooks. And now, a new machine is coming up to the line.

Read on for detail.

New Sony Vaio P On FCC, Slated For Fall Release | Sony Insider

According to the entry, FCC approved the device numbered "AK8PCH1RSL" posted by SONY. Named "PCG-1RSL" by Sony, it has same dimention as VAIO type P, and equipped with IEEE 802.11b/g/n wireless LAN and Bluetooth. The FCC document of "PCG-1RSL" will be disclosed in October.

The image which should be a battery label. Type number "PCG-1RSL" is written on it.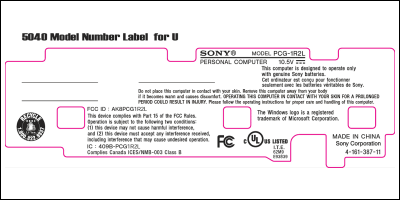 Related Post:
Sony's Very First Netbook "VAIO W" Announced - GIGAZINE

Sharp Mebius PC-NJ70A: World's First Netbook with Optical Sensor LCD Trackpad - GIGAZINE

Low price Netbook featuring Gachapin and Mukku from the children's show "Ponkikki" - GIGAZINE

Relax and surf the web, Bandai Namco to release "Rilakkuma" decorated Laptop - GIGAZINE

CeBIT2009: MSI's "X-Slim" laptop is as thin as 0.2 inchs at its thinnest point. - GIGAZINE

CeBIT2009: ASUS's "Dual Panel Concept" is a real "port-able" touch panel laptop - GIGAZINE