Videos of Yamaboko Floats in Pre-Parade Event "Yoiyama" of Kyoto's Summer Festival Gion Matsuri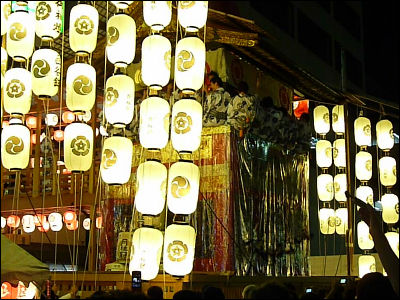 (This article was originally posted in Japanese at 02:49 Jul. 17, 2009)

Gion Matsuri is one of the most famous festivals in Japan that goes on for the whole month of July in Kyoto.

The highlight of the festival is the massive parade "Yamaboko Junko" where citizens in traditional costumes parade with floats called "Yamaboko". Kyoto's downtown area is reserved for pedestrian traffic on the night before the parade called "Yoiyama" and the floats are exhibited on the street illuminated by numerous chochin lanterns, accompanied by traditional hayashi music.

Here's our video footage!
Kyoto Gion Matsuri 2009 Yoiyama_01


Kyoto Gion Matsuri 2009 Yoiyama_02


Kyoto Gion Matsuri 2009 Yoiyama_03


Related Posts:
Video of whole procession in Kyoto's ancient "Aoi Matsuri" festival - GIGAZINE

Video of the ox carriage which determined the fate of Kyoto's Aoi Matsuri - GIGAZINE

We Chanced the Hazardous Fireball Ramen at Kyoto "Men Baka Ichidai" - GIGAZINE

Videos of Sento-kun and his Girlfriend-to-be at Taima Temple - GIGAZINE