KDDI Developed High-Speed Wireless Data Transmission Technology for USB Devices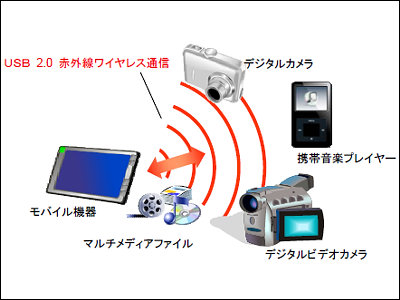 (This article was originally posted in Japanese at 12:02 Jul. 15, 2009)

USB must be the most common interface today to connect devices to a host computer, although for small peripherals such as keyboards and mice that require less data rates, wireless connections are becoming more and more popular for their convenience.

But in near future you might be able to make all your USB devices wireless without losing the bandwidth or making specific alternation. KDDI has announced the development of a technology to realize high-speed wireless data transmission between devices with USB2.0 port, basically by converting the USB signal to infrared light.

Read on for details.
(Japanese)(PDF)USB2.0 connection without cable realized by IrDA technologies::KDDI Research & Development Lab

According to the press release, KDDI's Research and Development Lab has realized wireless USB data transmission using high-speed infrared communications protocol IrSimple.

The USB-Infrared converter also acts as virtual host and virtual device when exchanging data among them. You don't need to install software or alter anything on your computer and peripherals.



With infrared communications being highly secure compared to other wireless technologies such as Bluetooth and WiFi, no authentication is required for each connection and you can start the session without missing a beat. Just make the infrared interface of the converters face each other.

In future the converter can be built into devices, and the module can be also used for standard infrared communications.

With the maximum data rate of IrSimple being as fast as 1Gbit/s, it is expected to perform well enough for USB 2.0 which rate 480 Mbit/s.

Related Posts:
3 New Models from KDDI's New Cell Phone Line "iida" - GIGAZINE

KDDI revealed today new cell phone lineup for 2009 spring sales - GIGAZINE

KDDI's new cell phone lineup for 2009 summer announced No.1/2 - GIGAZINE
in Note, Posted by darkhorse_log