All the Ducks are Swimming in the Water…in this Cute Optical Mouse

These ducks (and fish and frog and seal) may not physically cool you, but just occasionally glancing at the cute character swimming in the mouse will let you chill out. Perfect for summer!

Read on for details and pics.
(Japanese)Thanko RareMonoShop USB Optical Liquid Mouse | Cute Characters Swimming

Japanese gadget retailer Thanko Rare Mono Shop has been releasing this "Liquid Mouse" every summer. These three are this year's new line-up.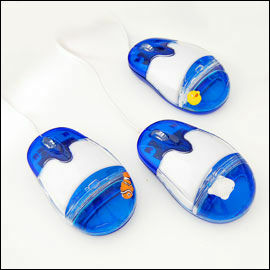 Admittedly it's not high technology or anything, not even wireless, but who needs a state-of-the-art mouse? We guess an 800dpi optical mouse will function smooth enough for anybody.

"Ahiru tan (Duckie)" sells best every year.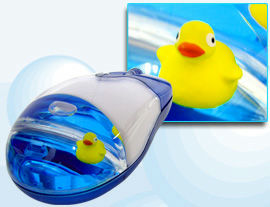 "Kakure-kumanomi tan" is a clownfish.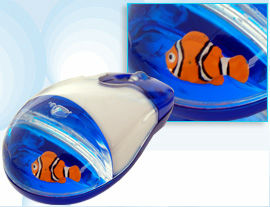 "Gomafu-azarashi tan". Seals are one of the favourite mammals to Japanese since Goma-chan in Shonen Ashibe, and the popularity was boosted still by the Tama-chan incident.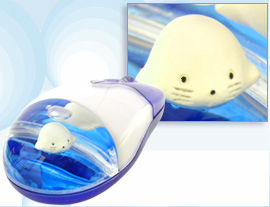 The above three are retailed at 1,480 yen (about $16) in Japan. But apparently Thanko also merchandise in the U.S. and they've got a frog version instead of clownfish. Last we checked, the Duckie was priced at $16.25, Seal and Frog at $18.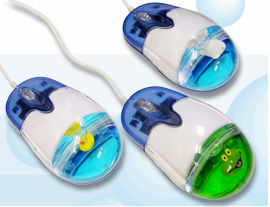 The frog might be last year's model but we can't tell the difference from the specs.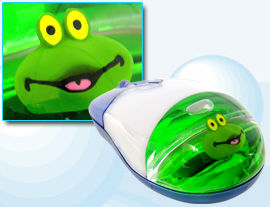 Requires: Windows2000/XP/Vista, MacOSX with a USB port
USB port: USB 1.1/2.0
Mouse: Optical mouse with cord and wheel
Energy saving
Powered by USB
Resolution: 800dpi
Size:
Mouse: 60 x 104 x 35mm 105g
USB cable: 144cm
Related Posts:
Freaky Cool USB Mouse with Real Tarantula and Scorpion - GIGAZINE

Most Adorable Desktop Speaker to make Puppy Dog Eyes at you - GIGAZINE

Cutest USB Flash Drive / Action Figure of Lupin III, Rei Ayanami, Ranka Lee and more! - GIGAZINE

Back to Showa? World's First USB Light with Incandescent Light Bulb - GIGAZINE