Square Enix officially announced new Final Fantasy Spinout and sequel for Saga Series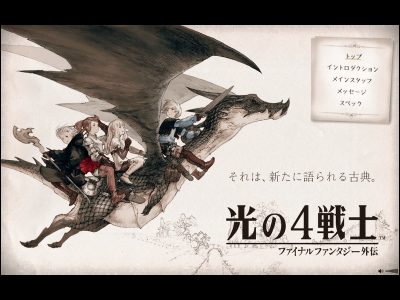 In prior post we noted Square Enix had launced count down site and today they have revealed the title. It's a sequel to Final Fantasy.

Actually the new title will be a spinout. Titled "Four soldiers of light", it will be some classic-game-in-new-technology for Nintendo DS.

And since the first RPG for gameboy Final Fantasy Legend marks 20th anniversary this year, some interesting project is secretly undergoing, a staff mentioned on her blog.

Read on for detail.

(JP)Four Soldier of Light - Final Fantasy side story -


According to the official site, Square Enix is to release "Four Soldier of Light - Final Fantasy side story -" on Nintendo DS in 2009 autumn. It's made as a orthodox RPG but remarkably it's multi-playable up to four players.

The story.
Brand is a boy living in Horn. It's his coming-of-age birthday, and the day he first has an audience with the king to be admitted as an adult. But on his arrival to castle he found that the princess has been kidnapped by "the witch of the north".

It's just orthodox story of four boys and girls, meeting and departing, conflicting and trusting each other, and saving the world.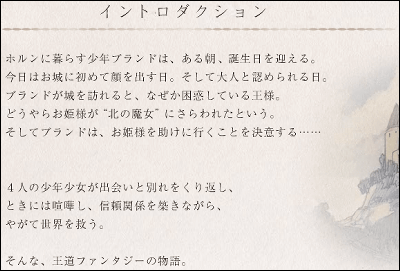 List of staffs. Tomoya Asano of FF3 and FF4 on DS for the producer, and Takashi Tokita of FF4 and Hanjuku Hero for the director.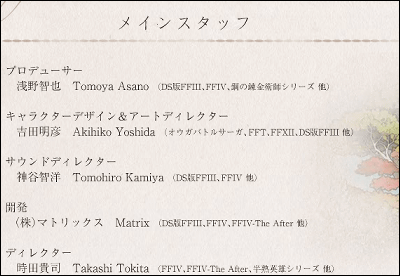 Message from developers. Seems that they aim for sense of nostalgia by emphasizing its orthodox story.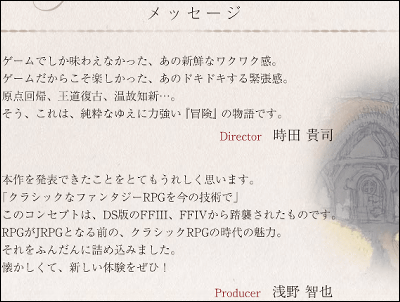 The teaser site was first taken as an advertisement for Final Fantasy Legend series since it's the 20th anniversary of the game. But according to the blog entry of Tomomi Kobayashi, the character designer of Final Fantasy Legend series, some unreleased project is undergoing.

Tomomi Kobayashi Official Blog >> 20th anniversary campaign of SaGa

It's officially announced that Final Fantasy Legend 2 is to be reproduced on Nintendo DS. What is "unreleased project" is all about?

Related Post:
SaGa or Not? Boy Riding a Dragon Appeared on Square Enix's Countdown - GIGAZINE